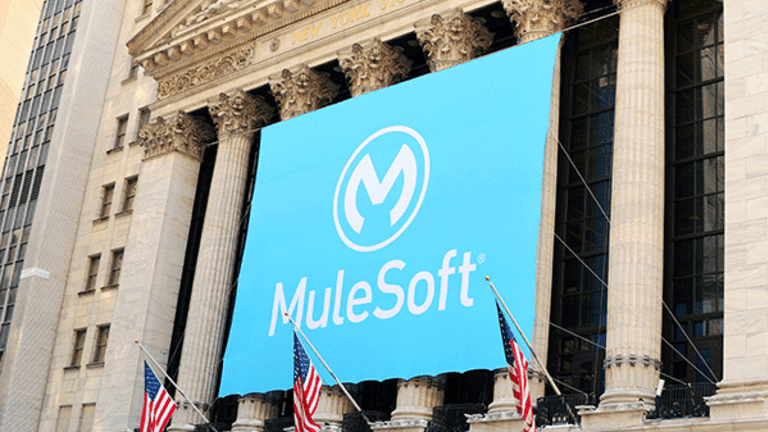 MuleSoft Shares Rocket Almost 40% in Stock Market Debut
The enterprise software maker is the second tech unicorn to go public this year after Snap.
Updated from 11:50 a.m. with additional information.
MuleSoft (MULE) , the second tech unicorn to go public this year after Snap (SNAP) - Get Snap, Inc. Class A Report , had an extremely auspicious start on Friday, opening trading at $25.02 a share and closing at $23.75 per share, just about 40% higher than its initial offering price of $17. At the closing price, MuleSoft'smarket capitalization stood at $3.1 billion.
The company priced its shares late Thursday, slightly above the top of its proposed range of $14-$16.
"The 'IPO pop' is in line with my expectations. Given the proliferation of applications within enterprises and MuleSoft's offering that helps to connect them and work with them, we believe MuleSoft sits in the sweet spot of spending," said Santosh Rao, head of research at Manhattan Venture Partners. 
Rohit Kulkarni, managing director at SharesPost, concurred. "It's healthy and indicative of heavy interests and strong demand by investors," Kulkarni said. "If MuleSoft keeps doing well, that bodes well for a dozen other enterprise software companies set to go public in the next few months. SharesPost provides private investment research. 
To be sure, a first-day surge this high is not always a good thing.
"A well-priced tech IPO should go up 20% after market. When it surges almost 50%, it usually means that they are under-priced," said Duncan Davidson, partner at venture capital firm Bullpen Capital. "But when there's so few of these tech IPOs in 2016, you can't blame the company or bankers for being cautious."
At $17 a share, MuleSoft is valued at more than $2 billion. The enterprise software maker was last valued at $1.5 billion by venture capitalists in May 2015, when it raised $128 million in private investments. Mule raised about $221 million in its IPO.
MuleSoft's public debut comes at a good time for initial offerings, just one day after that of trendy parka maker Canada Goose (GOOS) - Get Canada Goose Holdings, Inc. Report  , whose shares rose 26% on their first day of trading, and two weeks after Snap (SNAP) - Get Snap, Inc. Class A Report 's  blockbuster IPO, which raised $3.4 billion and saw shares gain 44% on their first day.
As the first major enterprise software IPO of the year, MuleSoft's IPO performance is being watched closely by analysts and investors.
Fellow tech unicorn Snap had a huge debut, but the company is B2C and shares have since returned to earth. The only two other tech companies with comparable valuations, Uber and Airbnb, are both unlikely to go public this year.
MuleSoft's IPO performance will also be a signal for industry peers deciding whether to go public or stay private. The software company provides an integration platform for connecting SaaS (software as a service) and enterprise applications in the cloud and on-premise, a market where companies from traditional tech behemoths such as IBM (IBM) - Get International Business Machines Corporation Report , Oracle (ORCL) - Get Oracle Corporation Report and Google parent Alphabet (GOOGL) - Get Alphabet Inc. Class A Report  are vying with nimble startups like Apigee (APIC) and Jitterbit  for market share.
Mulesoft makes money from subscribers to its application programming interface (API) management and application integration software services. The company counts Coca Cola (KO) - Get Coca-Cola Company Report , McDonalds (MCD) - Get McDonald's Corporation Report , Spotify and Bank of America (BAC) - Get Bank of America Corp Report as major clients, but hasn't turned a profit yet. In 2016 MuleSoft posted a $49.5 million loss on $187.7 million in revenue, compared to a $65.4 million loss on $110.3 million in revenue in 2015.
According to market research and consulting firm MarketsAndMarkets, the system integration market size is estimated to grow from $270 billion in 2016 to $388 billion by 2021, for a compound annual growth rate of 7.5%. One of MuleSoft's major rivals, Apigee was also snapped up by Google last September for $625 million.
Investors are paying close attention to the MuleSoft IPO to see whether the tech IPO market has recovered from the downturn last year. 2016 was the worst U.S. tech IPO market performance in a decade, with only 16 public offerings raising a total of $1.8 billion. While Snap's IPO has boosted market confidence, its abnormally high valuation makes MuleSoft a better barometer to gauge the market's health.
Venture capital backers are likely to cash in big from the MuleSoft IPO. The company has the support from a roster of well-known Silicon Valley vanture capital firms, including Salesforce (CRM) - Get salesforce.com, inc. Report Ventures, software company ServiceNow (NOW) - Get ServiceNow, Inc. Report , Cisco (CSCO) - Get Cisco Systems, Inc. Report Investments, Adage Capital Management, Bay Partners, Brookside Capital, Hummer Winblad Venture Partners and Lightspeed Venture Partners. Lightspeed holds the largest stake at 17.1% and is also a major investor in Snap.
Goldman, Sachs & Co. and J.P. Morgan Securities LLC are acting as joint lead book-running managers for the offering. Bank of America Merrill Lynch is acting as an active book-running manager. Allen & Company LLC, Barclays Capital Inc., and Jefferies LLC are acting as book-running managers and Canaccord Genuity Inc., Piper Jaffray & Co., and William Blair & Company, L.L.C. are acting as co-managers. Citadel Securities is acting as the NYSE Designated Market Maker for the offering.
Watch the lastest videos from Jim Cramer:
Here Is What Jim Cramer Expects From Trump's Meeting With Angela Merkel