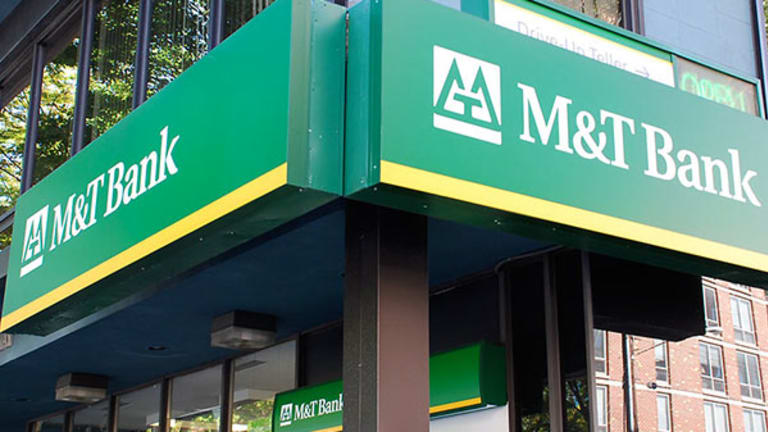 M&T, 5 Other Banks Shine in Deep Data Dive
A detailed analysis by Sterne Agee shows M&T's stock trading below historical valuations, while the company's core earnings performance has improved in a tough operating environment.
NEW YORK (TheStreet) -- In the midst of an epic two-year run for the sector, with tepid overall earnings performance, bank stock investors may be wondering if there is anything left to buy. Sterne Agee analyst Brett Rabatin and his analyst team have identified a handful of names trading below historical average valuations while showing improved core earnings performance.
"Investors have largely shrugged off lackluster earnings for the sector over the past several quarters with expectations for a more favorable yield curve, greater operating leverage, and improving loan growth in 2014," Rabatin wrote in a note to clients on Monday.  The analyst also wrote that the Sterne Agee Bank and Thrift Index is up 37% this year and now trades "at an elevated" 15.5 times estimated 2014 earnings, 14 times estimated 2015 earnings and 1.8 times tangible book value.
"Importantly, we would note that the SA Bank Index has seen 2-3x multiple expansion through the year, despite forward estimates only increasing 3% and 2% over the last twelve and six months, respectively," Rabatin added.  Those are pretty stark numbers that could indicate that we're nearing the end of the bull run for banks, and that investors had better become more selective. 
Most banks have been suffering from narrow net interest margins, because the Federal Reserve has kept the short-term federal funds rate in a range of zero to 0.25% since late 2008.  While the increase in long-term interest rates this year, in anticipation of a tapering of Federal Reserve bond purchases, has had some positive effect on net interest margins, banks have also seen a decline in noninterest income as the increase in long-term rates has led to a decline in mortgage loan volume.
Last week's economic numbers were quite strong. Assuming the unemployment rate continues to improve, short-term rates will begin to rise within the next year or two, and bankers will be breathing a sigh of relief as the parallel rate rise boosts their bottom lines.
Meanwhile, the largest U.S. banks will be facing tremendous pressure after federal regulators release their final set of guidelines to enforce the Volcker Rule, a feature of the Dodd-Frank bank reform legislation that bans "proprietary trading" by the largest banks.  Volcker could lead to decisions by the largest banks to spin-off their investment banking operations and could also provide a wonderful opportunity for non-bank financial firms to build their businesses.
Adding to that uncertainty is the continuing focus of the Department of Justice and regulators on the largest banks.
With so much to worry about, it's easy to understand why some of the best-known U.S. banks are trading at discounted levels to tangible book value or earnings estimates:
Shares of JPMorgan Chase (JPM) closed at $56.06 Friday and trade for 1.5 times tangible book value, according to Thomson Reuters Bank Insight, and for and 9.3 times the consensus 2014 EPS estimate of $6.01.  The shares trade for 8.8 tiimes the consensus 2015 EPS estimate of $6.36. 
Citigroup (C) closed at $51.49 Friday and trades for 0.9 times tangible book value and 9.5 times the consensus 2014 EPS estimate of $5.41.  The stock trades for 8.7 times the consensus 2015 EPS estimate of $5.95. 
Rather than just highlight banks trading at the largest discounts to the sector, Sterne Agee's analysts identified banks trading at discounts to historical median two-year P/E valuations for the past 20 years, as well as banks showing year-to-date returns on assets (ROA) based on "core pretax, pre-credit (PPI) profitability."
Among large-cap banks,  Fifth Third Bancorp (FITB) of Cincinnati, Citigroup, Wells Fargo (WFC) and M&T Bank (MTB) of Buffalo, N.Y., "are currently trading at only 77%-87% of their historical 20-year FY2 P/E multiples," according to Rabatin, however, large-cap banks, "MTB is the only company trading at a discount to its historical FY2 P/E multiple while generating positive PPI ROA growth vs. historical trends."
On a quarterly median basis, M&T's ROA, based on ROA before credit costs and taxes (PPI ROA) for the first three quarters of 2013 was 2.39%, which was above the company's 10-year median of 2.31% and slightly above its pre-crisis 2006 median of 2.38%.
M&T's reported after-tax ROA for the first three quarters of 2013 was 1.48%, improving from 1.23% a year earlier.  This is an impressive improvement, considering the distraction the company has faced from elevated regulatory compliance expenses.
M&T in August 2012 agreed to acquire Hudson City Bancorp (HCBK) of Paramus, N.J, in a deal originally valued at about $3.7 billion in cash and stock. The merger was expected to be completed during the second quarter, but the two companies in April announced that the time needed to gain regulatory approval of the deal would be "extended substantially," because M&T had "learned that the Federal Reserve has identified certain regulatory concerns with M&T's procedures, systems and processes relating to M&T's Bank Secrecy Act and anti-money-laundering compliance program."
The two companies extended the date after which either company could walk away from the deal until Jan. 31, 2014, but also said in April "there can be no assurances that the merger will be completed by that date."
M&T's shares closed at $114.30 Friday.  The shares have returned 19% this year, underperforming the Sterne Agee Bank & Thrift Index, as well as the KBW Bank Indexundefined, which was up 30% and the S&P 500undefined, which was up 27% year-to-date through Friday.  The shares trade for 13.5 times the consensus 2014 EPS estimate of $8.49 and for 12.1 times the consensus 2015 EPS estimate of $9.41.
Sterne Agee analyst Todd Hagerman rates M&T a "buy," with a $135 price target, representing upside potential of 18%.
Moving onto small-cap and mid-cap banks, there are five names with "buy" ratings from Sterne Agee, which are also "trading below their historical two-year out earnings multiple with positive recent PPI ROA growth trends," according to Rabatin:

RELATED STORIES:
Three Housing Takeaways From Jobs Report
Big-Bank Stock Buybacks Should Be Much Higher in 2014
Citigroup Still Loved by KBW, Despite Downgrades
Turkish Stocks Will Implode If Islamic Democracy Unravels in 2014
-- Written by Philip van Doorn in Jupiter, Fla.
>Contact by Email.
Philip W. van Doorn is a member of TheStreet's banking and finance team, commenting on industry and regulatory trends. He previously served as the senior analyst for TheStreet.com Ratings, responsible for assigning financial strength ratings to banks and savings and loan institutions. Mr. van Doorn previously served as a loan operations officer at Riverside National Bank in Fort Pierce, Fla., and as a credit analyst at the Federal Home Loan Bank of New York, where he monitored banks in New York, New Jersey and Puerto Rico. Mr. van Doorn has additional experience in the mutual fund and computer software industries. He holds a bachelor of science in business administration from Long Island University.