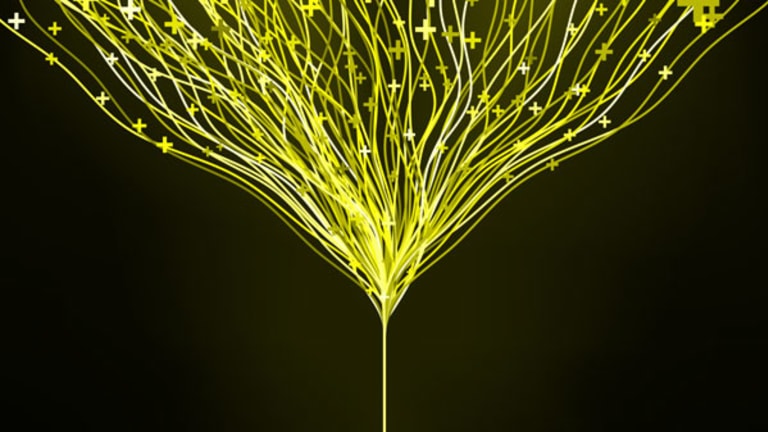 Move Over First Solar: GE Ups Ante in Thin Film
General Electric ups the ante in the thin film solar market war, taking aim at First Solar'a monopoly of the sector.
NEW YORK (
) -- The virtual monopoly that
First Solar
(FSLR) - Get Report
maintains in the thin film solar market received another wake up call on Thursday, when
General Electric
(GE) - Get Report
announced a major ramp of its fledgling thin film business and plans to construct a 400 megawatt thin film solar module plant in the U.S. that will bring its investment in thin film solar to $600 million. In making the big thin film announcement on Thursday, GE said it had completed the acquisition of PrimeStar Solar, in which GE has held a majority equity stake since 2008.
It's not the first shot across the bow in terms of competitive threats to First Solar and its dominant position in the thin film market. In fact, the venture capital-backed and federal loan-supported thin film upstarts have been making waves for years about surpassing First Solar's cost advantage, yet while the likes of Solyndra, Miasole and Nanosolar have had big IPO dreams, none have yet made a dent in First Solar's market position or been able to sell their story as an IPO. Additionally, GE's original investment in PrimeStar made its thin film intentions clear. However, it's in the least a reminder that the First Solar domination of the thin film market can't be locked up forever.
GE noted in its thin film solar announcement that it has achieved a 12.8% thin film panel efficiency, which "surpasses all previously published records for CdTe thin film, which is the most affordable solar technology in the industry."
First Solar reported a 75 cent/watt cost of production in the most recent quarterly report. While GE said that its efficiency reached an industry record, it did not disclosure cost per watt guidance for commercial productions.
Solar investors have been here and done this before with the thin film upstarts all saying that they would ultimately be more efficient and cheaper than First Solar, with Solyndra being the prime example of a company that said it would "eat First Solar's lunch" with its efficiency and cost, but has failed to live up to its potential and has had to scrap its IPO and cut back on operations.
Victor Abate, vice president of GE's renewable energy business, said in the GE statement, "We are addressing the biggest barrier for the mainstream adoption of solar technology -- cost -- and the NREL certification proves that we are on track to deliver the most affordable solutions for our customers."
Pavel Molchanov, analyst at Raymond James, said one reason that he has been cautious on First Solar shares is the fact that First Solar's virtual monopoly in the thin film market can't last, and the GE news, while not a big surprise, is part of this evolving story.
"The short answer is GE could eventually become a real competitor to First Solar, but First Solar remains today a de facto monopoly in thin film. For GE, scaling up to 400 megawatts could be a 2013 event," Molchanov said, though he added that this was just an estimate based on solar market dynamics and it's possible GE could scale somewhat quicker.
The Raymond James analysts said that there will be winners among the thin film upstarts too, even if the road has been rocky so far, and the competitive landscape in thin film will be more challenging over time whether it is GE taking on First Solar or one of the venture-backed companies. "There are few barriers to entry in thin film," the analyst added.
With GE, it's a little different, in terms of GE being an 800-pound industrial gorilla in the thin-film room as opposed to a tech startup with big dreams. GE needs neither the helping hand of the venture world or loan guarantees from the government -- like the $400 million one given to Abound Solar -- to make its move in the thin-film world. The General Electric balance sheet is a distinguishing factor for it as compared to the handful of thin film companies that plan to compete directly against First Solar. "GE certainly has the tech skill set and balance sheet to fund these projects but at the same time, some of the venture-backed firms will scale successfully in thin film," Molchanov said.
GE also noted in its thin-film solar release that its $600 million plant will be the largest in the U.S. in the solar space, though one important factor it did not note is that First Solar and
SunPower
(SPWRA)
have the lion's share of their manufacturing of solar panels based in Asia due to cost and tax considerations. Additionally, First Solar manufacturing operations are segmented into facilities that produce 250MW to 275 megawatts of thin film modules, so as it adds lines --and it did recently expand in the U.S. adding a Mesa, AZ production plant -- it is only at the level of 250MW to 275MW at a time.
GE noted 100MW of new thin film projects sales alongside the 400MW capacity expansion plan. To put that in perspective, First Solar is already at 2 gigawatts of capacity today and will be close to the 3GW mark by year-end 2012.
GE also plans to be a major player in the deployment of large-scale solar power plants, the market where First Solar, SunPower and
MEMC Electronic Materials
(WFR)
, through its SunEdison affiliate, have acquired pipelines of project business.
First Solar shares were down 2% on Thursday, though most of the major solar stocks were experiencing declines in line with the First Solar loss. First Solar shares have declined 8% over the past five trading days to their lowest level since the Japanese earthquake and nuclear disaster sent the solar sector into a rally.
A location for the new GE thin film plant in the U.S. has not been selected, and typically comes down to a bidding war between states and municipalities for a "sweetheart deal" including some combination of tax, real estate and utility concessions.
-- Written by Eric Rosenbaum from New York.
RELATED STORIES:
>>Solar Earnings Watch: Power-One
>># Key Solar Stock Trading Triggers
>>Green Energy Winners: Nat Gas Vehicle Plays
>To contact the writer of this article, click here:
Eric Rosenbaum
.
>To follow the writer on Twitter, go to
.
>To submit a news tip, send an email to:
.