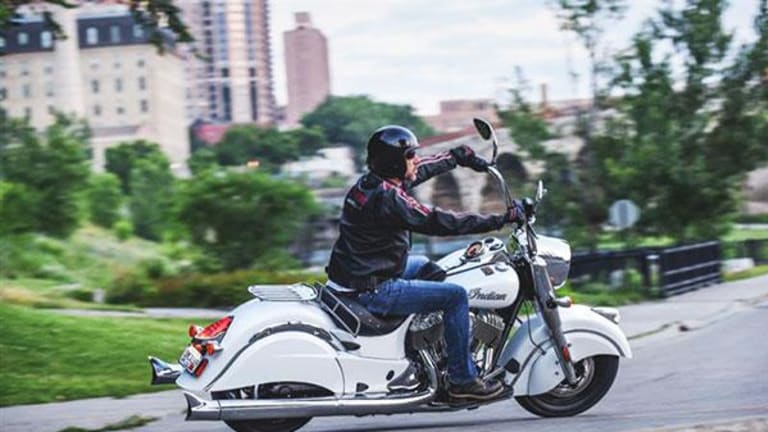 3 New Badass Indian Motorcycles That Will Probably Make Polaris Investors Happy
There is more going on in the world of transportation than Uber, Tesla and Lyft. Here's some hot new motorcycles from Polaris-owned Indian.
Step aside Tesla (TSLA) .
While we were wandering the floor of AimExpo 2017 in Columbus, Ohio we found some seriously badass motorcycles. Among the top ones we caught were at the Polaris (PII) owned Indian's booth. Just one look at these bad boys and even a non-rider would want to slip on a helmet and go for a ride.
So which ones did we like most at TheStreet? I must admit, with parents who rode a Harley Davidson (HOG) , I tend to gravitate toward bikes with nostalgia. And as a woman with a small stature, I also lean to midsize, low rise with great control and easy maneuverability. And of course, it's gotta be packed with cool features. So my favorite was without a doubt the Indian Scout Bobber.
Indian Scout Bobber
This ride gives a nod to the 1920's iconic Scout. It's stripped down with shortened fenders and blacked out. It's a good move for Polaris to attract a younger generation of riders. You might recall when Indian got into motorcycles in 2014 the bikes were touring bikes and cruisers. They had saddlebags and big windshields. The Scout has none of that. They dropped the bags, it's stripped down and looks like it is ready for a run through New York City. 
Chieftain Dark Horse, Indian Roadmaster Elite
For more great picks we caught up with Kevin O'Reilly, Vice President of Marketing for Indian. He gave us a full rundown of the Indian Scout Bobber, Chieftain Dark Horse and the Indian Roadmaster Elite. Polaris seems to have made an Indian motorcycle for everyone, price points ranged from $11,000 to $37,000.
If these rad bikes are hits, Polaris investors may continue to ride a wave of good fortune -- shares are up a cool 30% this year. 
Don't miss these top stories on TheStreet: