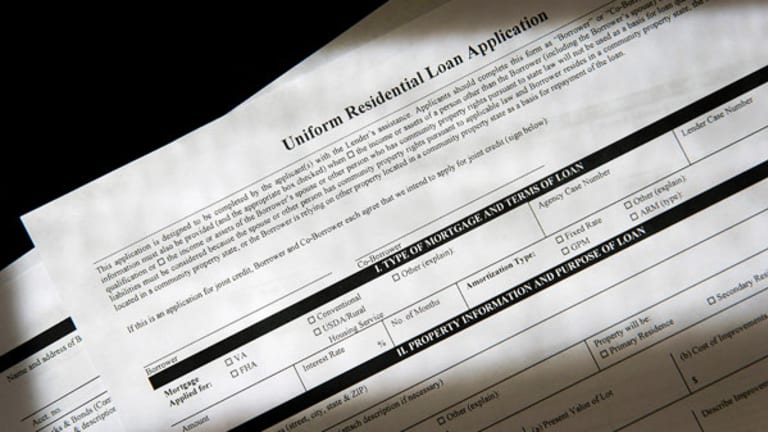 Mortgage Rules Could Remove Half of Today's Market
Economist Sam Khater of Core Logic finds that only half of current originations meet new requirements under the qualified mortgage rule.
NEW YORK (
) -- New mortgage rules aimed to create more responsible lending practices could eliminate more than half of the mortgage-origination market in the long run, according to an analysis by CoreLogic economist Sam Khater.
The
Consumer Financial Protection Bureau
recently released rules that would, starting in January 2014, require all lenders to ensure that the borrower has an ability to repay their mortgage.
The rules provide to banks enhanced legal protection if they make a "qualified mortgage" -- loans that meet strict limits on debt-to-income ratios and upfront fees and that are devoid of toxic loan features such as interest-only loans and negative amortization loans that were widely prevalent in the boom years.
The CFPB rule excludes loans that conform to the underwriting standards of Fannie Mae, Freddie Mac and the Federal Housing Administration for a period of seven years or for as long as the agencies are in conservatorship, whichever ends sooner.
Since the three agencies account for 90% of all originations, the rules are expected to have limited impact in the near term.
Over the long term, once the government-sponsored enterprises (Fannie, et al.) are out of the picture, the rule could affect 48% of all originations, according to Khater.
Taken together with the soon-to-be-proposed qualified residential mortgage (QRM) rule, which is expected to stipulate a minimum down payment for loans that can be sold to investors, the new rules could remove nearly 60% of the origination market, he estimates.
The economist studied 2.2 million loans with a base year of 2010. Loan features that do not meet the qualified mortgage test were sequentially removed.
The study also removed loans with credit scores of less than 640, which would fall under the category of "subprime." Banks making subprime loans would have less legal protection so they presumably won't make such loans in the future.
The study also removed loans that do not have a minimum down payment of 10%, which is expected to be the minimum requirement under the QRM rule.
The provision that borrowers' debt doesn't exceed 43% of their income has the largest impact on the market, affecting 24% of all originations. The standard of full documentation would eliminate an additional 16% of all originations.
The qualified mortgage rule essentially aims at reducing layers of risk in a loan by specifying debt-to-income thresholds and higher underwriting standards. The question is: Will it succeed?
According to Core Logic, the rule, while eliminating 60% of today's loans, will also succeed in getting rid of 90% of the risk. The serious delinquency rate -- the share of borrowers behind on their payments for more than 90 days -- drops 36% under the new debt-to-income threshold, for instance.
A 1% reduction in originations of loans with a down payment of less than 10% and a credit score of less than 640 could reduce serious delinquencies by 2% and 6%, respectively, the study showed.
-- Written by Shanthi Bharatwaj in New York
Disclosure: TheStreet's editorial policy prohibits staff editors and reporters from holding positions in any individual stocks.