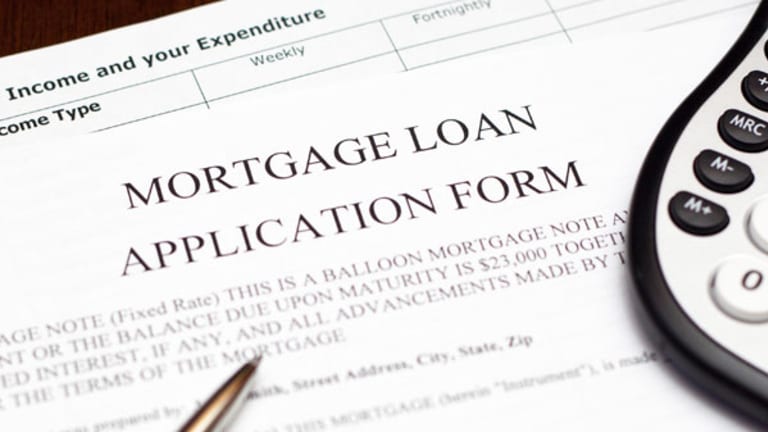 Mortgage Banking Picks for Rising Rate Environment
Mortgage banking names have taken a beating, but not all of them are losers, according to FBR Capital analyst Paul Miller.
NEW YORK (
) -- Mortgage banking names have taken a beating in recent weeks as a rapid rise in interest rates threatens to hurt refinancing and origination volumes.
Mortgage rates have shot up 50 basis points in one week, after Federal Reserve Chairman Ben Bernanke said the central bank may taper bond purchases if economic data continues to show progress.
Mortgage applications have already begun to react to the rise in rates. Applications declined 3% last week on a seasonally adjusted basis to the lowest level since November 2011, as refinancing applications dropped to its lowest level in two years. However, purchase applications proved to be the silver lining, up 16% year-over-year, suggesting that borrowers are not yet dissuaded from higher interest rates.
Still, the volatility has shaken up the mortgage industry, prompting FBR Capital analyst Paul Miller on Wednesday to lower earnings estimates and price targets for
Flagstar Bancorp
(FBC) - Get Flagstar Bancorp, Inc. Report
,
HomeStreet
(HMST) - Get HomeStreet, Inc. Report
,
PHH
(PHH)
and
RedWood Trust
(RWT) - Get Redwood Trust, Inc. Report
.
"Though we remain positive on the space as a whole and believe that enough opportunity remains for those mortgage banks we like to achieve long-term success, we concede that previous near-term earnings targets and valuation multiples are likely no longer achievable given a materially declining pace of originations in the back half of this year should rates remain flat," he wrote.
The price target for HomeStreet was lowered from $27.50 to $25. PHH saw its price target reduced to $24 from $28. Redwood now has a price target of $18 compared to $23 previously.
Still, the analyst maintains that some special servicers and beaten-down mortgage banks remain good opportunities in the current market.
Miller believes mortgage banks levered to the purchase market, as opposed to the refinancing market, such as Homestreet will likely fare better than peers. He also continues to recommend Flagstar, which is down about 30% year-to-date. Flagstar trades at about 61% of its 2014 tangible book value, according to Miller's estimates.
Mortgage servicers, he says, are actually big winners from rising interest rates in the mortgage space. This is because when interest rates rise, the risk of prepayments decreases, lengthening the life of a mortgage loan, which in turn means a longer stream of cash flows. That increases the value of mortgage servicing rights or MSRs.
Nationstar Mortgage
(NSM)
,
Walter Investment
(WAC)
are poised to benefit as they have a large portfolio of "credit-sensitive mortgages that are unlikely to prepay" according to the analyst. PHH also stands to benefit from the "write-up" in MSR assets.
Higher rates have clouded the market for jumbo mortgages, which had begun to take off. "The jumbo securitization market has all but closed," according to Miller, which is bad news for Redwood Trust, which has been the leading securitizer of prime jumbo loans. Miller believes that the recent rise in interest rates puts the company's $8 billion guidance of jumbo loan securitizations at risk.
Still, he continues to recommend Redwood. "Our primary reason for investment in RWT shares is a return of the private-label securitization market, which provides revenue to the company through both gain-on-sale and retained subordinate tranches," he wrote in a report. "We believe this thesis remains intact, and ultimately we continue to recommend shares given what is now a more modest premium to book value and a 7% dividend yield."
-- Written by Shanthi Bharatwaj New York.
>Contact by
.
Disclosure: TheStreet's editorial policy prohibits staff editors and reporters from holding positions in any individual stocks.