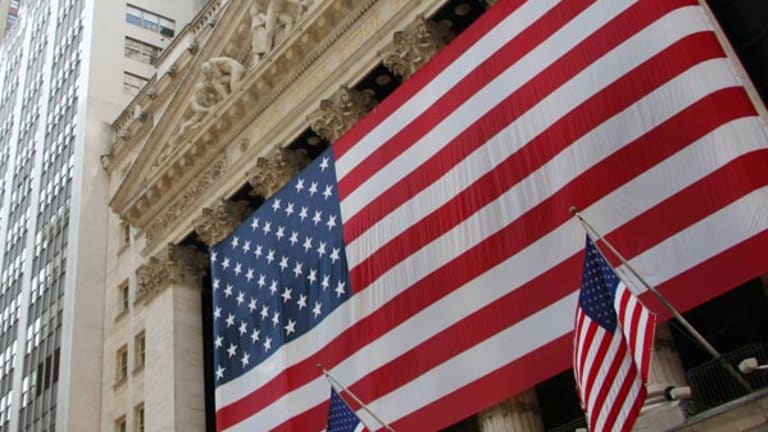 Morning Briefing: 10 Things You Should Know
U.S. stock futures fall as worries over possible U.S. military action against Syria grow; Larry Summers to be named next Fed chief, a report says; Bill Ackman sells his stake in J.C. Penney.
NEW YORK (
) -- Here are 10 things you should know for Tuesday, Aug. 27:
1.
-- U.S. stock futures were trading lower Tuesday as worries grew that the U.S. could be nearing military action against Syria for its alleged use of chemical weapons.
Secretary of State John Kerry said there was undeniable evidence Syria used chemical weapons against rebels, adding that Syria will be held accountable for its actions.
European stocks were slumping while Asian shares finished Tuesday's trading session with losses. Japan's Nikkei 225 index declined 0.7%
2.
-- The
in the U.S. Tuesday includes the Case-Shiller 20-city Index for June at 9 a.m. EDT, and consumer confidence for August at 10 a.m.
3.
--
on Monday fell as investors wondered whether the U.S. will take overt military action to unseat the Assad regime in Syria.
The
S&P 500
lost 0.4% to 1,656.78. The
Dow Jones Industrial Average
dropped 0.43% to 14,946.46. The
Nasdaq
slipped 0.01% to 3,657.57.
4.
--
likely will be named chairman of the
Federal Reserve
in a few weeks,
CNBC
reported, citing a source from "Team Obama."
Summers is "still being vetted" so it might take a little longer, the source told
CNBC
.
Summers, a former Treasury secretary, is up against Fed Vice Chairman Janet Yellen to be the next Fed chief, most Fed-watchers have speculated.
5.
-- Treasury Secretary Jacob Lew told Congress that the government will run out of money to pay its bills in mid-October unless lawmakers raise the country's borrowing limit, which is capped at $16.7 trillion.
Lew said in a letter to Speaker John Boehner released Monday that the government is running out of accounting maneuvers it has used to avoid hitting the borrowing limit. He pressed Congress to act so Treasury can keep paying the government's bills.
Lew said it's impossible for Treasury to predict exactly when the borrowing limit will be reached. But he warns that if action isn't taken soon, the government could be left with $50 billion in cash by mid-October. He said that wouldn't be enough to cover Social Security payments, military personnel salaries, Medicare and other programs for an "extended period."
6.
-- Pershing Square Capital Management's
is selling his entire stake in
J.C. Penney
(JCP) - Get J. C. Penney Company, Inc. Report
.
The activist investor and J.C. Penney's largest holder of common stock announced in a release as well as a registration offering by the retailer with the
Securities and Exchange Commission
that Pershing Square would be selling all 39 million shares.
The stake, about 18% of the
common stock, is worth about $526 million, based on J.C. Penney's closing stock price on Friday.
J.C. Penney will not receive any proceeds from the sale of the shares.
The company last week reported a wider-than-expected loss of $586 million, or $2.66 a share, in the second quarter chock full of extraordinary charges pulling the number down. Net sales slumped 12% year over year, and gross margin fell to 29.6% in the quarter. The company plans to end the year with $1.5 billion of cash.
The dismal earnings results followed a very public battle with Ackman, who sought to shake things up at the board and executive levels to get the company's turnaround moving faster. Ultimately, Ackman lost that battle and resigned his board seat.
7.
--
Tiffany
(TIF) - Get Tiffany & Co. Report
, the luxury retailer, is expected by analysts on Tuesday to report second-quarter earnings of 74 cents a share on revenue of $941.4 million.
Tiffany posted net income of 72 cents a share on revenue of $886.8 million in the year-earlier quarter.
8.
--
TiVo
(TIVO) - Get TiVo Corp. Report
is expected by analysts to post a fiscal second-quarter loss of 10 cents a share when the digital video recorder company posts results after Tuesday's closing bell.
9.
--
Starbucks
(SBUX) - Get Starbucks Corporation Report
announced plans to open its first cafe in Colombia.
The coffee chain said the Bogota store will open in the first half of 2014.
Starbucks said it has "aggressive plans" to open cafes across Colombia over the next five years. CEO Howard Schultz said he expected to have up to 50 stories in Bogota and other major cities by then.
10.
--
Apple
(AAPL) - Get Apple Inc. Report
has begun sharing with retail employees the details of a new program that will allow Apple Store customers to
for credit toward a new one,
AllThingsD
said it has confirmed after reports surfaced about the trade-in program at
9to5Mac
and
MacRumors
.
The program is currently scheduled to go live in September, sources told
AllThingsD
, though there's a lack of clarity around the final launch date.
-- Written by Joseph Woelfel
>To contact the writer of this article, click here:
Joseph Woelfel
>To submit a news tip, send an email to:
.
Copyright 2013 TheStreet.com Inc. All rights reserved. This material may not be published, broadcast, rewritten, or redistributed. AP contributed to this report.