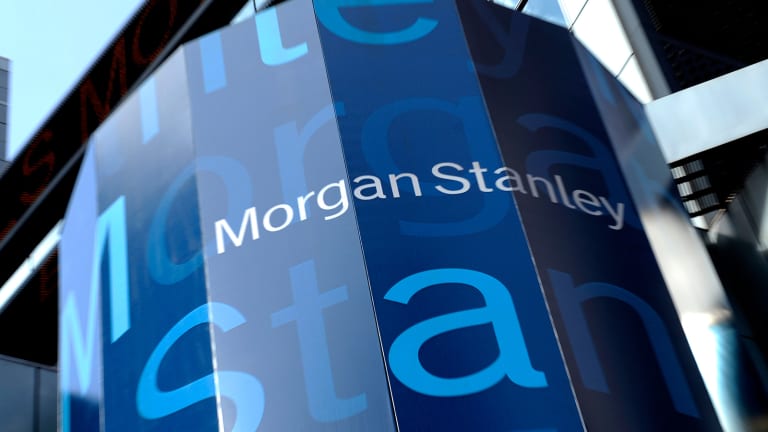 Morgan Stanley Whips Estimates as Investment Banking Shines
Morgan Stanley's bond-trading revenue drops just 4%, one of the best second-quarter performances on Wall Street.
Updated from 7:18 a.m. on Wednesday, July 19, 2017.
Morgan Stanley (MS) - Get Morgan Stanley Report   posted higher quarterly earnings than analysts projected as an investment banking bonanza trumped the low volatility curbing bond-trading revenue across Wall Street.
Earnings of 87 cents a share compared with the 76-cent average of estimates from analysts surveyed by FactSet. Net income climbed 11% to $1.59 billion in the three months through June, the New York-based company said in statement on Wednesday, July 19.
"In many ways this quarter provided a robust test of our business strategy," CEO James Gorman said on a conference call with analysts. "While many trading businesses were affected by benign markets characterized by low volatility in the absence of meaningful macro events, other business lines demonstrated resilience."
Total investment banking revenue climbed 28% as underwriting of stock and bond offerings surged, reflecting the "diversity of our global M&A and capital market franchise," Gorman added.
Fixed-income trading revenue -- which had seen dramatic growth last year amid Britain's decision to leave the European Union and the U.S. presidential campaign, dropped 4% to $1.24 billion, the firm said. Comparable businesses at JPMorgan Chase & Co. (JPM) - Get JPMorgan Chase & Co. Report , Bank of America Corp. (BAC) - Get Bank of America Corp Report and Goldman Sachs Group Inc. (GS) - Get Goldman Sachs Group, Inc. Report all reported double-digit declines -- Goldman's more than twice as large as the others.
While higher revenue pushed compensation costs up 6% to $1.7 billion in institutional securities, the business that includes trading, Morgan Stanley continued to benefit from last year's streamlining, which included cutting a quarter of the fixed-income unit's staff.
The bond-trading business outstripped a revenue estimate of $1.1 billion from Credit Suisse analyst Susan Roth Katzke, as well as an internal target of $1 billion.
"Everything we do better than that -- with the same expenses, capital and balance sheet -- is obviously a gift," Gorman said.
The bank climbed 3.3% to $46.62 in New York trading on Wednesday. Altogether, its shares have gained 37% in the wake of Donald Trump's surprise victory in the U.S. presidential race, outperforming both the KBW Bank Index and the broader S&P 500.
The firm is working to cut as much as $1 billion in expenses through this year through its Project Streamline initiative, which was introduced in early 2016 and aims to reduce expenses relative to revenue. The efficiency ratio, a measure that tracks that relationship, improved to 72% in the second quarter, slightly better than the full-year target of 74%.
"During the remainder of 2017, our focus will be on completing all remaining initiatives and making sure that the culture of cost discipline represented by Project Streamline remains best practice," CFO Jonathan Pruzan said on the call. "This will help ensure that the savings achieved to date remain permanently out of the expense base."
Morgan Stanley's return on equity, a gauge of how well companies use shareholders' money, dipped to 9.1% as of June 30, a drop of more than three percentage points from the start of the year but still in line with Gorman's goal of 9% to 11% by year's end. The benchmark was 8% in 2016.
Last month, Morgan Stanley joined rivals boosting investor payouts closer to 100% of net earnings after spending nearly a decade building sufficient capital buffers to satisfy the Federal Reserve after the 2008 financial crisis.
The firm, which was part of a predecessor to the current JPMorgan before the Great Depression of the 1930s, is raising its quarterly dividend 25% to 25 cents and may buy back as much as $5 billion of its stock through June 2018.
"While we intend to invest in our business as opportunities present themselves, we're determined to use any excess capital to continue to reduce our share count," Gorman said on the call.
It's the fifth straight year the bank has increased its payout: Morgan Stanley bought back $500 million of its stock in the three months through June.
More of What's Trending on TheStreet: