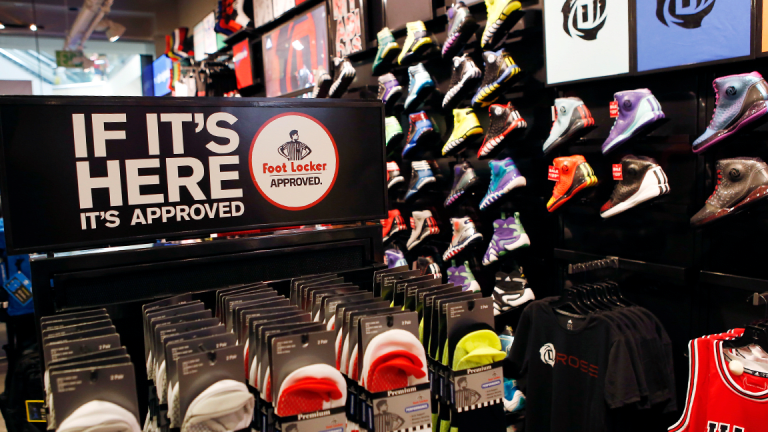 Morgan Stanley's Bears Slightly Bullish on Foot Locker's Earnings Expectations
Foot Locker is scheduled to report earnings on Friday.
Morgan Stanley seems to have conflicted feelings about Foot Locker Inc.  (FL) - Get Report ahead of its earnings release. 
Analysts at the firm expect Foot Locker to report earnings of 72 cents a share on Friday, August 24, slightly ahead of Wall Street's consensus estimate of 70 cents. However, the firm's expected same-store sales growth of 0.6% is lower than Wall Street's 0.8% expectation.
Morgan Stanley maintained its "underweight" rating and $44 price target, a 14% downside from the stock's opening price Monday.
"We remain confident in our long-term Underweight thesis, given our work that indicates NKE's DTC (direct to consumer) growth poses a significant threat to FL's top line," analyst Lauren Cassel wrote. "NKE is increasingly focused on its direct-to-consumer strategy, particularly online, and our analysis suggests 46% of Nike.com SKUs are not available on FootLocker.com."
Nike Inc. (NKE) - Get Report has made no secret of its intentions to lean heavily on its direct-to-consumer business in the future as a way to grow revenue and Morgan Stanley believes that this will "reduce the amount of 'unique' product sold into Foot Locker over time."
The firm cited an AlphaWise survey which suggested that 34% of 15 to 24-year-olds, Foot Locker's core customers, prefer to shop either at their favorite brands' own stores or online. 
The bears at Morgan Stanley are confident that over time Nike, and other vendors, will begin holding onto exclusive sneaker releases to sell through their own channels, leaving rabid sneaker buyers with no choice but to shop through direct-to-consumer channels.
That migration away from Foot Locker's stores has Morgan Stanley estimating a long-term margin compression to 8%, down from 10% last year and a peak of 13%. 
Foot Locker shares were rising nearly 2% on Monday.