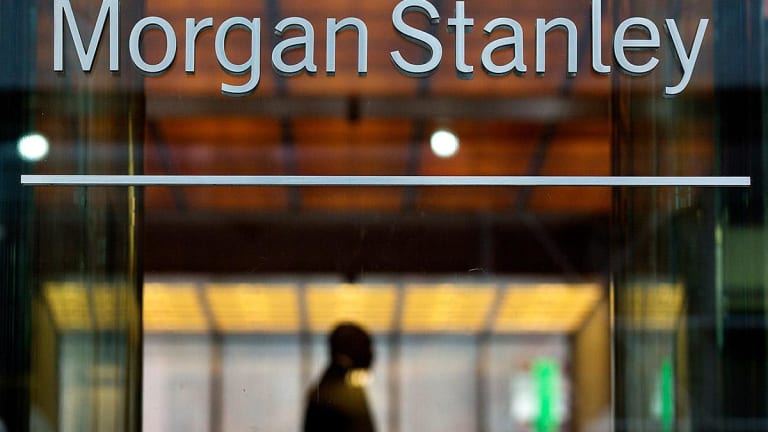 As Morgan Stanley Regains Its Footing, Pressure on Its Stock Should Subside
With the bar set low ahead of earnings day, Morgan Stanley's all-around beat will likely serve as encouragement for investors to set aside concerns that had started to mount in the latter part of 2018.
Following a very tough fourth quarter marked by turbulence in the markets and a government shutdown that hurt nearly all business segments, Morgan Stanley (MS) - Get Report has delivered a decent set of results to kick off 2019 on a higher note. 
A Slow, Welcome Recovery
To be fair, expectations seem to have been subdued, with analysts anticipating a severe year-over-year top- and bottom-line contraction of 10% and 20%, respectively, ahead of earnings day. It remained to be seen whether client sentiment and re-leveraging would pick up the pace quickly in 1Q19 following the fourth quarter jitters, if at all.
With the bar set low, Morgan Stanley's revenue and earnings beat will likely serve as encouragement for investors to set aside concerns that had started to mount in the latter part of 2018, likely injecting a bit of adrenaline into the stock in the near term.
Noteworthy this quarter was a resilient wealth management business, one of the largest and most relevant of Morgan Stanley's segments. Revenue growth was timid but welcome, considering the tough early 2018 comps and the market decline observed last quarter. Deferred compensation plans no longer served as the material headwinds that they had been in 4Q18, which helped to not only keep segment revenues afloat but also propel pre-tax margin to a very encouraging 27%.
Institutional securities did not fare as well, with both investment banking and trading revenues dropping by double digits. Softness in investment banking was not a surprise, and it's reasonable to expect the IPO deal flow to slowly recover from a turbulent fourth quarter. To that point, it was encouraging to hear Morgan Stanley's management team reinforce that the banking backlog continues to look solid, which should bode well for future quarters' revenues.
While Morgan Stanley's early 2019 rebound came together slowly, picking up the pace towards the end of the quarter, the company seems to have done a very competent job at keeping costs under control. Compensation expenses dropped 5% year-over-year, helping to soften the blow of declining revenues. The bank once again delivered respectable ROE of 13% following the pitiful performance witnessed last quarter, reaching the high end of the company's target and likely helping to set profitability expectations a bit higher for the remainder of the year.
Stock Should Have Room To Advance
Morgan Stanley's stock had a rough first quarter compared to the rest of the sector, gaining only 6% while the financial services industry (IYG) - Get Report climbed nearly twice as high and peer Goldman Sachs (GS) - Get Report rushed ahead by an even more impressive 18%. The underperformance is justifiable, given how impactful the unfavorable market conditions in the fourth quarter had been to the company's recent financial results.
Morgan Stanley's 1Q19 numbers, even if not overwhelmingly robust, will likely wipe the slate clean and reset performance expectations for the remainder of the year at more bullish levels. Challenges will probably continue to exist, especially on the institutional side of the business that tends to be highly sensitive to market forces outside the company's control. But it looks like the unfavorable, perfect-storm conditions seen last quarter may have been left behind, with a more optimistic narrative starting to take shape.
Trading at a de-risked current-year P/E of 10.0x on healthy long-term earnings growth expectations of over 10%, this stock could rush ahead and catch up with the rest of the market in the next several weeks.
Goldman Sachs is a holding in Jim Cramer's Action Alerts PLUS member club. Want to be alerted before Jim Cramer buys or sells GS? Learn more now.
The author holds a long position in MS.