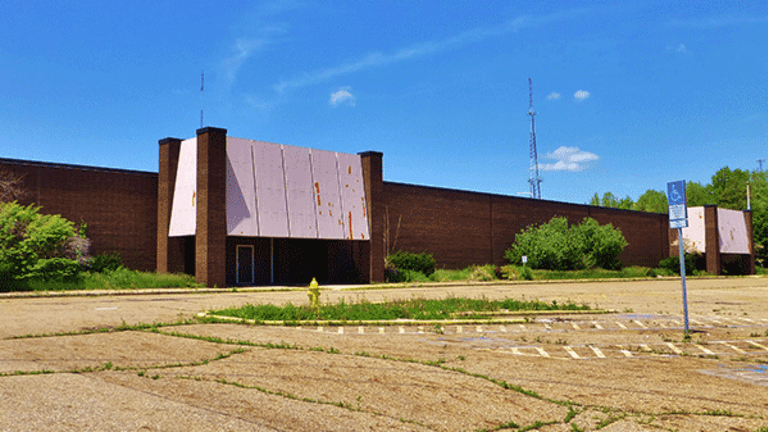 Morgan Stanley Is Predicting Sears Will Die Soon, Making This Rival a Huge Winner
The troubles for Sears continues.
Now more than ever, there is serious doubt that Sears Holdings Corp. (SHLD) will still be operating in 2018.
After Sears CEO Eddie Lampert went on yet another blog-post rant on Monday, this time aimed at one of the dying retailer's vendors, the company's shares plunged as much as 14%. And on Sunday, Morgan Stanley wrote casually about the possibility of a Sears bankruptcy in 2017.
"[Sears] one- and two-year credit default swaps imply the market is pricing a high profitability of default over the next 12 to 24 months," Morgan Stanley said in a note. "If Sears files for bankruptcy this year and subsequently liquidates, JCP could be a major beneficiary."
That's right, Morgan Stanley is already predicting who will come out the big winner from a likely Sears Chapter 11 filing and possible liquidation, and it's J.C. Penney (JCP) - Get J. C. Penney Company, Inc. Report . That surely comes as a slight relief to J.C. Penney, whose stock has also been declining after posting a disastrous first quarter. Last year, after a 33-year hiatus, J.C Penney started selling home appliances again, making its business prepared to benefit should Sears die. 
READ MORE: J.C. Penney May Have No Other Choice but to Aggressively Close More than 300 Stores by 2020
"While JCP comps would likely be negatively impacted for one quarter in a liquidation scenario, they would then likely see four quarters of flat to [positive] low-single-digit comps which would lead to greater free cash flow and allow JCP to pay down more debt than anticipated," Morgan Stanley wrote.
On a company earnings call last week, J.C. Penney CEO Marvin Ellison touted appliances as one of the retailer's strongest-performing categories, delivering positive comparable store sales despite the retailer's overall same-store sales decline of 3.5% for the quarter.
"We remain very excited about appliances," Ellison said, noting that J.C. Penney is focused on becoming "a dominant home retailer."
Still, Morgan Stanley said in its note that J.C. Penney's problems are "unlikely to improve or go away," leading its analysts to predict further store closures beyond the 138 planned for this year. The firm also said it doubts that "EBITDA ever grows again," estimating that it will come in at $838 million for the full 2018 year, compared to its previous expectations for $938 million.
Meanwhile, Sears shares have been under attack ever since Lampert began his Trump-like rants against the media last week, showing only that the CEO of the Sears and Kmart stores could be coming unhinged as the retailer clearly struggles to stay afloat.
In a rare and borderline completely out-of-touch interview with the Chicago Tribune last Wednesday, Lampert blamed media reports for his inability to get the retailer out of its certain decline and suggested that Sears is "ahead" of rivals J.C. Penney , Macy's (M) - Get Macy's Inc Report  and Target (TGT) - Get Target Corporation Report . On Monday, he aimed his anger at One World Technologies, which he publicly berated for taking a "very aggressive step of filing a lawsuit against us as they seek to embarrass us in the media to force us to let them out of their contract." 
Sears said recently that same-store sales since the start of the year plunged 11.9% between both its Sears and Kmart brands. Excluding one-time gains related to the sale of the Craftsman tool business and certain real estate, Sears lost between $190 million to $230 million, worse than a year ago when it lost $181 million.
The retailer, in announcing the recent departure of CFO Jason Hollar after only six months, also hinted that it will move to shutter more stores beyond the round of 150 closures it just completed.
To try and keep the lights on a little while longer, Sears has outlined more than $1 billion in cost savings this year through layoffs, store closures and other restructuring efforts.
More of TheStreet's top stories:
Here's How Home Depot Is Trying to Destroy Dying Sears