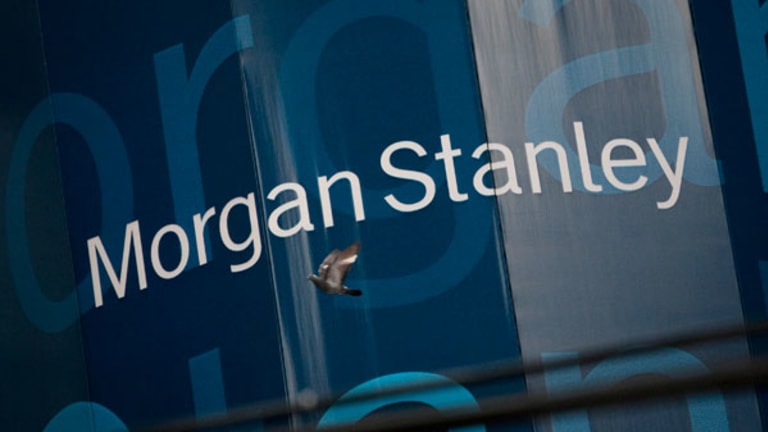 Morgan Stanley, Goldman Brutalized by Proposed Capital Rules: Citi
The investment banks will need major adjustments to comply with proposed leverage capital rules, according to Citi analyst Keith Horowitz.
NEW YORK (
) -- Proposed leverage capital rules for large banks may hit
Goldman Sachs
(GS) - Get Goldman Sachs Group, Inc. Report
and
Morgan Stanley
(MS) - Get Morgan Stanley Report
the hardest, according to Citigroup analyst Keith Horowitz.
Federal regulators on July 9 proposed new leverage capital requirements for the nation's banks, just one week after the
Federal Reserve
finalized its rules to implement the Basel III capital requirements.
The large banks have for several years been on a path to full compliance with Basel III, with most reporting estimated June 30 Basel III Tier 1 common equity ratios at or near the levels that will be required when the rules are fully implemented in January 2019.
But things are not so simple for the big banks, because of federal regulators' new requirements and the added complication of the Basel Committee's proposed changes for ratio calculations.
The U.S. regulators have proposed U.S. bank holding companies with total assets of at least $700 billion or at least $10 trillion in assets under custody, be required to maintain
supplementary
Basel III Tier 1 leverage ratios of 5%, with their bank subsidiaries being required to maintain minimum supplementary Basel III Tier 1 leverage ratios of 6% in order to be considered well-capitalized.
The proposed rules affect the following U.S. holding companies and their bank subsidiaries:
The Basel III Tier 1 common equity ratio is a
risk-based
ratio, meaning a bank's assets are weighted, as defined by regulators. Cash or U.S. Treasury bonds, for example, have zero risk-weightings. A one-to-four family residential mortgage loan that was properly underwritten, with the borrower keeping current on payments, is assigned a 50% risk-weighting. Any other one-to-four family mortgage loan has a 100% risk weighting.
But the leverage ratio
isn't risk based
, meaning that the banks must hold the same amount of capital for a non-risky asset, such as cash, as they do for a risky asset, such as a junk bond or a loan that lacks collateral.
Under Basel III, banks are required to maintain leverage ratios of 4%, while the global systemically important financial institutions (GSIFIs) are also required to maintain supplementary leverage ratios of 3%. The supplementary leverage ratio requirement is lower, because it incorporates off-balance-sheet assets in the denominator.
By raising the leverage ratio requirements for the big U.S. banks, federal regulators are putting them at a disadvantage to large foreign competitors that will continue to be required to maintain supplementary Basel Tier 1 leverage ratios of 3%. This defeats the purpose of Basel III, which was meant to be an international framework for leveling the playing field while strengthening banks.
Basel Committee Throws a Huge Monkey Wrench
The Basel Committee on Banking Supervision (BCBS) in June made several proposals for changes to the calculation of the denominator for the supplementary Basel III leverage ratio, complicating banks' understanding of just which off-balance-sheet assets will be included, how low their leverage ratios might go, and how much capital they must build up or assets they must shed to comply with the rules.
The Federal Reserve, Office of the Comptroller of the Currency and the Federal Deposit Insurance Corp. didn't determine whether or not they would adopt the BCBS proposal for calculating the leverage ratio. The comment period for the proposed rules ends on Oct. 21.
"We estimate that leverage ratios would fall ~45 bps on average if the proposed
BCBS changes are adopted, driven largely by additions to the denominator of netted secured financing transactions (-20 bps) and derivatives collateral (-15 bps)," Horowitz wrote in a note to clients. "Written credit derivatives would account for the remaining 10 bps, while counterparty credit risk related to secured financing transactions would have a minimal impact," he added.
The analyst cautioned that "more granular data than that available in public disclosure would be needed to get a precise estimate, including transaction by transaction data for secured financing transactions and better disclosure around written credit derivatives."
So much for the "simple and transparent measure of capital adequacy" touted by the U.S. regulators in their proposal on July 9.
Goldman Sachs's reported June 30 Tier 1 leverage ratio was 4.8%, under the rules proposed by U.S. regulators, while Morgan Stanley's was 4.2%.
"We see GS and MS as most impacted under the proposed changes," by the BCBS, Horowitz wrote. "GS would see a 90 bps decline in the leverage ratio to 3.9% due to written credit derivatives and derivatives collateral, while MS would see a 70 bps decline to 3.5% due to netted secured financing transactions and derivatives collateral."
Those ratio estimates are for the holding companies, and a far cry from the required 5% to be considered well-capitalized. The two companies' bank subsidiaries will have a 6% requirement.
Here's a summary of Horowitz's estimates for supplementary Basel III Tier 1 leverage ratios under the Basel Committee's proposed changes to the leverage ratio calculation, as of June 30, leaving out his own firm, Citigroup.
Wells Fargo's supplementary Basel III Tier 1 leverage ratio of 7.0% as of June 30, under federal regulators' proposed rules. Under the BCBS proposal for changing the leverage ratio calculation, Horowitz estimates the company's supplementary Basel III Tier 1 leverage ratio would decline slightly to 6.9%.
State Street's June 30 leverage ratio was 5.4%; under the proposed BCBS calculation change, the ratio would drop to 4.8%.
Bank of America's leverage ratio was 5.0% as of June 30. Under the proposed BCBS calculation change, the leverage ratio would decline to 4.6%.
JPMorgan Chase's June 30 leverage ratio was 4.7%; under the BCBS proposal, the ratio would decline to 4.3%.
Bank of New York Mellon's leverage ratio was 4.0% as of June 30. The ratio would be unchanged under the BCBS proposal.
Horowitz provided additional caveats for his estimates. Goldman Sachs and Wells Fargo "did not disclose their supplementary leverage ratios for 2Q, so there is no adjustment to reconcile to leveraged assets. He also noted again that "the rules are not final and uncertainties remain."
Goldman and Morgan Stanley face the biggest capital shortfalls under the BCBS proposal, according to Horowitz's estimates, but Bank of New York Mellon and JPMorgan Chase may have to make significant changes in order to comply with whatever rules the U.S. regulators settle on.
The good news for investors is the banks will have until January 2018 to achieve full compliance with the new leverage ratio requirements.
-- Written by Philip van Doorn in Jupiter, Fla.
>Contact by
.
Philip W. van Doorn is a member of TheStreet's banking and finance team, commenting on industry and regulatory trends. He previously served as the senior analyst for TheStreet.com Ratings, responsible for assigning financial strength ratings to banks and savings and loan institutions. Mr. van Doorn previously served as a loan operations officer at Riverside National Bank in Fort Pierce, Fla., and as a credit analyst at the Federal Home Loan Bank of New York, where he monitored banks in New York, New Jersey and Puerto Rico. Mr. van Doorn has additional experience in the mutual fund and computer software industries. He holds a bachelor of science in business administration from Long Island University.