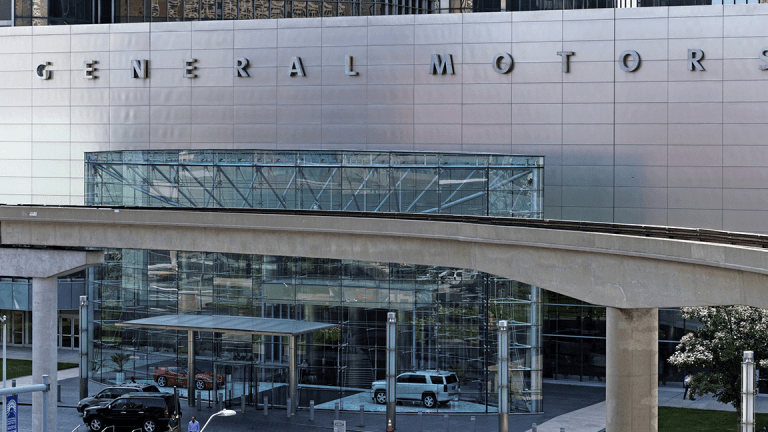 General Motors Stock Stumbles as Morgan Stanley Cuts Rating
Analyst Adam Jonas has been right on GM before. Now, he's saying the stock could have 'run too far too fast.'
Morgan Stanley is moving 'to the sidelines' for this automaker.
Analyst Adam Jonas slashed his rating for General Motors Co. (GM) - Get Report to "equal weight" from "overweight" Wednesday, Oct. 25, assigning a price target of $43 to GM shares. That implies about a 6% downside from GM stock's opening price Wednesday.
"Our downgrade is an expression of our view that the stock may have run too far too fast," Jonas wrote.
In September 2016, Jonas predicted GM stock would climb 50%, and he was right. Shares are up over 50% since he made that original call. In June 2017, Jonas offered another bullish GM call, suggesting the sum of its parts could rocket shares higher.
But now, Jonas is scaling back his rosy outlook on General Motors.
"Our overweight thesis that GM could change the narrative and drive share price higher has played out, leading us to move to the sidelines," Jonas wrote.
Investor expectations have "gotten a bit ahead of themselves," the analyst wrote. GM investors widely believe that the company is far ahead of the competition in fully autonomous transport. They've also got high hopes on GM's ability to unlock value through strategic action.
The push for fully autonomous vehicles represents some risk, Morgan Stanley said. "Investors should consider the risk to public safety and reputation that firms pushing the edge of autonomous transport are taking," Jonas wrote. GM is leading the pack as the first to test fully autonomous models in downtown San Francisco, but that could be because "other firms did not want to run the risk of a serious accident in such a densely populated and difficult driving environment."
GM reported strong second quarter results Tuesday, Oct. 24, that sent shares higher on renewed optimism. With that, though, Morgan Stanley said it remains bearish on the U.S. auto cycle and wants to "reduce exposure to our group on the back of strong results."
Jonas and his team are substantially below Wall Street with their earnings estimates. For 2018, they're lower by 17% and for 2019 lower by 25%.
Just after the bell, GM shares were lower 2.2% to $45.43.
More of What's Trending on TheStreet: