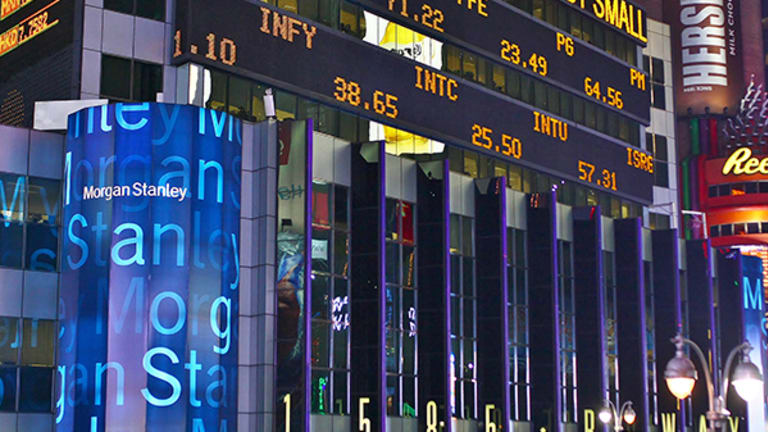 Morgan Stanley Continues to Approach Its Return on Equity Target
John Gorman, the investment bank's chief executive, has changed the business focus, setting a ROE goal of 10%, which is in sight.
Morgan Stanley (MS) - Get Free Report Chief Executive John Gorman continues to pursue his goal of reaching at least a 10% return on shareholder equity.
He is the only top executive at any of largest financial institutions in the country to set a specific target for ROE. And that 10% ROE is considered to be equal to what many analysts call the theoretical cost of capital of the largest banks in the U.S.
Morgan Stanley posted an 8% return on shareholder equity for the year, up from 7.8% last year. However, in the second half last year, the company posted an ROE of 8.7%.
Although Morgan Stanley, like other major banking institutions, benefited from the frothy financial markets that followed the presidential election, Gorman is emphasizing wealth management because it produces more stable results than the trading results on which rivals count. Furthermore, this area is less regulated that other areas in the banking sector.
Lending to wealth management clients soared 24% in the fourth quarter from a year earlier, reaching $69 billion. This also represents an all-time record for the bank.
Still, returns are still running below the 10% goal. Like the other major banks that aren't earning back their cost of capital, Morgan Stanley continues to buy back its stock, implicitly conceding that it can't itself invest the funds provided at a positive carry.
Morgan Stanley bought back $3.5 billion in shares last year, which was above the amount of repurchases in 2015 that totaled $2.1 billion. Expectations are for stock repurchases to be even higher this year.
It should be noted, however, that seven Morgan Stanley executives, including Gorman, recently sold a fair amount of the company's stock.
Morgan Stanley has the right focus. Gorman has accepted that the financial sector has changed, and that the banking industry may need to be restructured and produce a model that isn't so dependent on short-term volatility and can create sustainable competitive advantages.
Meanwhile, other large banks have just emphasized cutting costs and increasing trading profits. The former doesn't really represent a change in the banking model and the latter is highly volatile.
However, though Morgan Stanley is moving in the right direction, it may not be doing so with the innovation that is really needed.
This article is commentary by an independent contributor. At the time of publication, the author held no positions in the stocks mentioned.