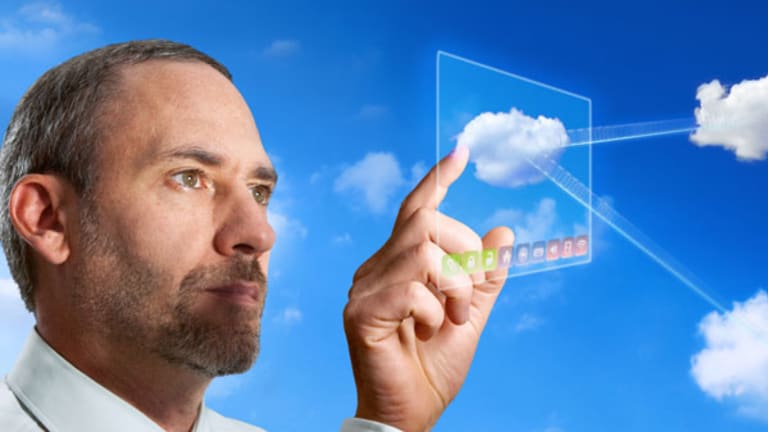 Morgan Panic in Part Due to CEO Misquote
The Times reported that John Mack said Morgan Stanley needed to merge -- but he didn't.
How quickly the business media forgets what they apparently should never have said -- much less so prominently -- in the first place.
Look. As readers and viewers know, The Business Press Maven has been shouting himself blue for well over a year, warning people away from financials because of the murky nature of their balance sheets. A bottom?
Can't be declared amid murkiness
has been my mantra. That said, beyond wholesale public panic unhinged from reality, I haven't fathomed a reason for the heedlessly plummeting stock prices of
Goldman Sachs
(GS) - Get Goldman Sachs Group, Inc. (GS) Report
and
Morgan Stanley
(MS) - Get Morgan Stanley (MS) Report
this week.
Then came a front-page story yesterday that, considering, made my cerebral cortex feel as if it just got placed in a vise.
The New York Times
quoted John Mack, the CEO of Morgan Stanley, telling Vikram Pandit, the CEO of Citigroup, that all was lost if Morgan did not merge. "We need a merger partner," he supposedly said, "or we're not going to make it."
What a bazooka. Even if Morgan was seeking a merger for safety, did it really need one? Moreover, was it really dead without one? Above all, why oh why would Mack, no dummy, be dumb enough to say this? Admitting that you are a terminal case in this accelerated environment of doom does not give you even limited time to save yourself. It was not only a bazooka but one pointed by Morgan at its own head.
Well, loosen that vise. It turns out the realness of the quote fell out somewhere between Santa and the Easter Bunny, and the
Times
soon retracted it in the most serious way: through an Editor's Note. Its two sources for the quote weren't there to hear it directly, and the reporters hadn't even asked Morgan Stanley for comment.
Bad stenographers, bad!
As if this were not bad enough, it gets worse. Though the
Times
fixed its mistake, the mistake's larger contribution to the discourse and to the tailspin at Morgan -- and, by extension, Goldman -- is not being factored in. Early this morning,
Reuters
ran a story about the carnage at Morgan, giving reasons for the
that did not mention the false nature of this prominent all-is-lost quote:
"Morgan's Mack insists the firm can remain independent, and with its capital and cash balances both solid. Still, the bankruptcy filing of
Lehman Brothers Holdings Inc
and bailout of
American International Group Inc
(AIG) - Get American International Group, Inc. Report
this week added fuel to the fires spreading across the marketplace.
Morgan Stanley shares have plunged 55 percent in just the past four days amid the same kind of speculation that brought down Bear Stearns Cos Inc and Lehman and convinced
Merrill Lynch & Co Inc
(MER)
it should merge with
Bank of America Corp
(BAC) - Get Bank of America Corp Report
."
Well, uh, it's not quite "the same kind of speculation that brought down" the others, is it? After all, Lehman was saying things were great when they were not. Here, Mack was saying things were lost when they -- uh, wait. He wasn't saying things were lost.
While it does seem apparent that Mack might be searching for some sort of big investment in his firm or perhaps a merger partner, the search was still being called "frantic" in today's
Financial Times
. But if the alarmist quote was fiction, maybe he is less than "frantic." Also, Morgan's stock went from awful to up as Thursday progressed yesterday and as traders realized the quote was fake -- which was not mentioned in the
as a motivating factor in the turnaround:
"Morgan Stanley's frantic attempts to find a partner come as its shares have been hammered by concerns over its ability to survive as one of the last two large investment banks. The stock, which has fallen 71 per cent over the past year, was down 30 per cent at $14.79 at lunchtime in New York."
Even
The Wall Street Journal
did not mention the issue of the quote when itemizing how Morgan Stanley went on the offensive. Morgan did all the things the
Journal
mentioned, including fighting back at shorts and at poaching brokers from
JPMorgan
(JPM) - Get JPMorgan Chase & Co. (JPM) Report
. But Morgan also made clear that it hadn't predicted its own demise, and it demanded the retraction it got.
This one is the best, though. The
New York Post
, as always, crowed about the
Times
error in one article with the headline: "
"
And the lead: "The New York Times is still trying to figure out the old newspaper truism, 'Never let facts get in the way of a good quote.'
"The editors of The Times ran an embarrassing note yesterday discrediting one of its most attention-getting stories about the Wall Street crisis: that troubled Morgan Stanley wanted a quick marriage with equally troubled
Citigroup
(C) - Get Citigroup Inc. Report
to save their respective hides.
"It turns out the sole quote on which the tale was based was never uttered, the editors' note admitted."
But in an article from the same business section titled "
FUNDS FLEE MORGAN, GOLDMAN FOR JPMORGAN
," the
Post
didn't mention the false quote as a factor. In fact, it said the run of funds from Morgan and Goldman might end if the stock stabilizes. But, uh, the stock is more likely to stabilize once the panicked public realizes that the quote that incited a lot of the panic was retracted.
How quickly the business media forget. Even what is in their own section.
At the time of publication, Fuchs had no positions in any of the stocks mentioned in this column.
Marek Fuchs was a stockbroker for Shearson Lehman Brothers and a money manager before becoming a journalist who wrote The New York Times' "County Lines" column for six years. He also did back-up beat coverage of The New York Knicks for the paper's Sports section for two seasons and covered other professional and collegiate sports. He has contributed frequently to many of the Times' other sections, including National, Metro, Escapes, Style, Real Estate, Arts & Leisure, Travel, Money & Business, Circuits and the Op-Ed Page. For his "Business Press Maven? column on how business and finance are covered by the media, Fuchs was named best business journalist critic in the nation by the Talking Biz website at The University of North Carolina School of Journalism and Mass Communication. Fuchs is a frequent speaker on the business media, in venues ranging from National Public Radio to the annual conference of the Society of American Business Editors and Writers. Fuchs appreciates your feedback;
to send him an email.