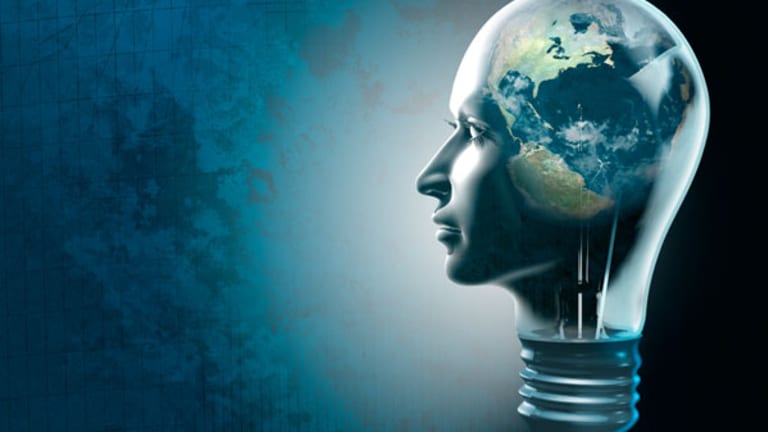 More Solar Subsidy Cuts on Deck in Germany
Germany is expected to announce its latest plan to reduce support for solar installations any day now.
NEW YORK (
) -- Solar analysts have been talking about a variable feed-in tariff cut in Germany as the best way forward for the solar industry for at least a few weeks. New reports from Street analysts and foreign press desks suggest that a draft of new solar subsidy reductions will be introduced to Germany's parliament in the coming days.
In December, the main industry lobby group for solar in Germany, the BSW, said it would not be opposed to a mid-year cut in the feed-in tariff rate, a big departure from the outset of 2010, when the German solar industry fought Germany's environment minister tooth-and-nail over proposed cuts -- and won some big concessions.
One thing seems clear: the introduction of some kind of new feed-in tariff proposal to moderate growth in Germany's solar market is imminent.
Jesse Pichel, analyst at Jefferies, has been talking about the introduction of a variable FIT for weeks, and from the other end of the solar analyst spectrum, Axiom Capital solar bear Gordon Johnson wrote at the end of last week that an FIT proposal would be sent to parliament in a matter of days.
Pichel has previously stated that the German solar industry has reached across the table this year, as opposed to last year, as a preemptive negotiating tactic, because it wants to avoid a scenario where solar goes from a huge market to a hard-stop market in Germany overnight. The German solar industry had also said weeks ago that it would be willing to accept the move-up of a portion of the 2012 FIT reduction plan to 2011.
>>Solar Outlook 2011: the German Question
As Barclays lays out in its note about the variable FIT -- and as has also been discussed previously -- the level of a mid-year feed-in tariff cut in Germany would be based on the level of demand between March and May (normalized annually), and if demand rises, so would the FIT reduction. Barclays also indicates that the FIT reductions slated for 2011 would mean a 2012 plan that only reduced FITs by 9%, as opposed to 21%.
The chart presented by Barclays shows a FIT formula as follows:
Less than 2.5 GWp: FiTs would be increased by 2.5%
Less than 3.5 GWp, no extra cut
Less than 4.5 GWp: 3% FiT cut
Less than GWp: 6% FiT cut
Less than 6.5 GWp: 9% FiT cut
Greater than 6.5 GWp: 12% FiT cut
Reuters
reported on Monday that it has reviewed a draft of the FIT reduction plan, and in addition to the proposed cuts outlined by Barclays, there will be a 15% FIT reduction if installations through May reach above the 7.5GW mark.
There are a few important considerations right off the bat with any new round of political negotiations in Germany over the future growth rate of solar. For one, it's been a long road in the past from a draft being introduced to the German Parliament to it actually being passed into law, with many twists and turns and a final legislative action that, at least last year, looked nothing like the original proposal. The big difference this time around is the German solar lobby actively involved in the draft, as opposed to reacting to the German environment minister's plan.
From this perspective, it would be a positive if the German government and solar industry reached agreement as early as January on FIT cuts, since last year, solar stocks traded with volatile swings throughout the year based on the uncertainty and political wrangling in Germany.
Stifel analyst Jeff Osbourne write in a note on Tuesday morning that, "On the positive side, it looks like rhetoric about a cap has died down, which would have been the worst outcome for investors."
Of late, solar stocks have been rising and for the first time in months, new money is flowing into the sector. On Tuesday, solar stocks were remaining largely in the positive after the 2011 outlook from German solar inverter leader
SMA Solar
was in line with what the company had previously indicated. SMA Solar spooked solar investors toward the end of 2010 when it suggested there could be large price declines in 2011. Recent spot-market pricing in solar has also suggested weakness in Germany.
However, when SMA Solar reported its fourth quarter results and 2011 outlook on Monday, it maintained its outlook, as opposed to presenting a worsening scenario in Germany. With 40% of the solar inverter market, SMA Solar is an industry bellwether, and an important read on conditions in Germany. SMA Solar shares were rising , in on Tuesday, as were shares of inverter rival
Power-One
(PWER)
in a sign that a sober outlook from SMA was already anticipated by the market.
>>Solar Winners: Solar Finally Feeling the Love from Investors
In the least, the latest political news out of Germany was not having the impact that it has been known to have in the past: solar stocks were not experiencing a volatile swing on scraps of German parliamentary information filtering out into the press. In fact, the solar trade on Tuesday was a bet that mid-year cuts in Germany would lead to another classic demand pull-in, and Street estimates would have to be revised upwards in a German solar market that was supposed to noticeably decline in 2011.
"It's tough to game politics ahead of an election, but there doesn't seem to be any party really against solar --
just more generally against over-spending -- and then there are the utilities and nuclear industry with their own interests. In this case the industry is trying to build consensus rather than letting politicians grandstand," Jefferies' Pichel says, adding that he believes the German government is still committed to its target of 51.5GW of solar by 2020.
Yet the ultimate issue for solar is the level of price declines as a result of the FIT cuts, and whether the price declines required to offset the FIT reductions will allow solar companies to book profits.
Barclays stakes out the position in its Thursday note that the latest political twist in Germany is going to lead to one more round of heightened solar demand in Germany before it falls off in the second half of the year -- the classic boom and bust that has played out in the past.
Barclays analyst Vishal Shah writes, "The new proposal likely creates a rush to complete installations in Q1/Q2 supporting our 1H11 outlook for industry fundamentals. However this proposal likely impacts 2H11 pricing and volumes to the German market. We are currently modeling 4.5GW annual installations in 2011 (800MW Q1, 1.5GW Q2, 900MW Q3, 1.3GW Q4). This new proposal likely creates some upside risk to our Q2 installation assumptions, downside risk to Q3/Q4 assumptions. Overall, we believe German installations would still remain in the 4-5GW range in 2011."
Barclays predicts prices will fall by 10% from the first quarter to the fourth quarter, ending the year at $1.45/watt.
One hard-to-pin-down aspect of the draft as Barclays outlines it is how much demand could be installed in a matter of months in Germany. The formula is based on normalized demand between March and May. The German solar installation tends to get going after the winter ends and peaks in June. Yet last June, installations came in above 2.2GW, stoking fears that Germany would be a 10GW market in 2010. If there is a classic demand pull-in during the period between March and May, could it be another pull-in like the June surprise, which would put the normalized annual installation level potentially above the worst-case scenario in the formula outlined by Barclays and the
Reuters
report?
Stifel's Osbourne wrote on Tuesday, "Should this proposal become law, we see Q211 volumes likely being much higher than we are modeling, as there is likely bound to be a rush of demand, although most likely less than the 2GW installations we saw in June of 2010 ahead of last year's mid-year subsidy reduction."
Axiom's Johnson says that simply predicting the classic demand pull-in scenario is not taking into account the recent demand lull in Germany and the ongoing risks. Germany solar installations were disappointing ahead of the annual feed-in tariff cut in January, a potential sign that the demand pull-in scenario isn't going to repeat itself in Germany.
The bearish solar analyst adds to his thesis the fact that what caused the massive demand pull in the first half of 2010 was a combination of uncertainty around what that level of the cut was going to be until the very last minute, which caused mass speculative trading, and investment rates of return which were 30%-40% higher rates than they are today. "With both of these dynamics non-existent, we do not think the first half 2011 will be similar to 1H10 without a significant moderation in module prices," Johnson wrote on Thursday.
The Axiom Capital analyst thinks there will be demand elasticity, but after the FIT cut on January 1 already caused a pricing decline, another mid-year cut could mean that module prices need to fall by as much as 40% to maintain attractive rates of return on solar projects, at roughly 8%.
"While we do acknowledge that there could be some demand elasticity response, we believe the fall in module prices necessary to cause the onset of demand elasticity would drive fundamentals, and thus stock prices, across the solar value chain materially lower."
Stifel analyst Jeff Osbourne remains concerned about the level of pricing declines to result from the FIT reduction and a disconnect between potential declines and Street models for solar pricing in 2011. "Given a likely cut in July, we would not be surprised to see prices drop to ¿0.95/W-1.00/W to drive similar return rates post July. At current exchange rates, we believe this is about 10-15% below where the street is modeling pricing for the industry in 2H11," the Stifel analyst wrote.
Barclays wrote that its selective bias remains in favor of
Trina Solar
(TSL)
,
MEMC Electronic Materials
(WFR)
and
Suntech Power
(STP)
; and it is negatively biased toward
JA Solar
(JASO)
,
LDK Solar
(LDK)
, and
Power-One
(PWER)
.
The Power-One short position has been typified by the belief that it can't diversify away from its position in Germany fast enough to maintain its rapid 2010 growth.
JA Solar is constantly nagged by skepticism about its ability to maintain cell pricing in a weak demand market, and its as-of-yet unproven ability to insulate its cell production from spot weakness by becoming more vertically integrated. JA Solar was downgraded to sell by Stifel last Friday.
More FIT reductions in Germany, although well-telegraphed at this point -- and far better than a cap on German installations -- would mean one thing: increasing focus on low-cost production and the shakeout among solar producers which many expect will typify 2011.
Evergreen Solar
( ESLR), which had 64% of its sales from Germany in the third quarter, recently announced that module prices were falling so rapidly that it had to shut down its U.S. manufacturing plan because it could not be run profitably.
All in all, though, the only math that matters in this equation is which solar companies can still make money and run their factories near full capacity at the level of the price dip that results in 2011.
And it's clear there remains a big divide between the bulls and the bears over this all-important number, with Barclays predicting module prices fall by 10% by the fourth quarter 2011, and Axiom Capital seeing a decline of anywhere from 40% to above 50%.
We've been here and done this debate before in solar.
-- Written by Eric Rosenbaum from New York.
RELATED STORIES:
>>Solar Grinch: Spain Does the Unthinkable
>>The Solar Mystery Market of 2011 is...?
>>Solar Winners: Solar Finally Feeling the Love from Investors
>To contact the writer of this article, click here:
Eric Rosenbaum
.
>To follow the writer on Twitter, go to
.
>To submit a news tip, send an email to:
.