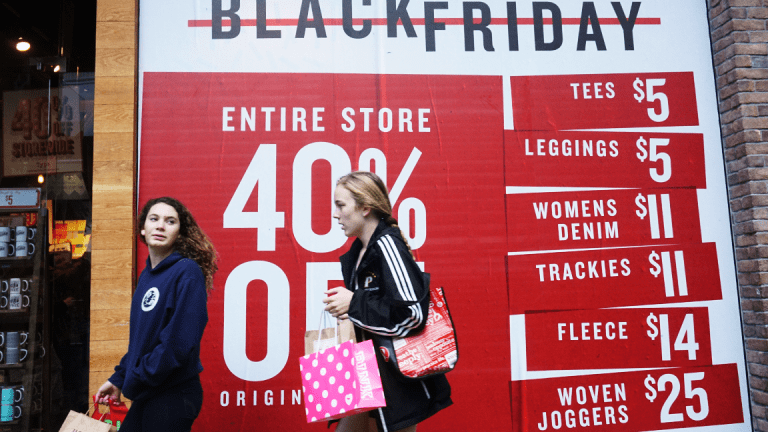 E-Commerce Beats Bricks-and-Mortar In Traffic Over Black Friday Weekend
At least in terms of body count.
It's happening: Cyber Monday eclipsed Black Friday this year in shopper turnout, according to a new report from the National Retail Federation.
More than 81 million shoppers perused online offerings Monday, Nov. 27, compared to the 77 million who showed up in stores on Black Friday. But there is overlap between the groups. Of the 174 million Americans who shopped between Thanksgiving Day and Cyber Monday this year, 64 million went through both channels.
Those who did also spent more money than their one-channel counterparts. Multichannel shoppers spent $82 more on average than the online-only shopper and $49 more than the bricks-and-mortar patrons.
Overall, the five-day period was a touchdown for American retail: the 174 million shoppers far exceeded the NRF's estimate of 164 million. But the touchdown was scored from midfield, according to NRF CEO Matthew Shay.
"The game is no longer played at either end zone," he told reporters Tuesday, Nov. 28, pointing to the omnichannel consumer behavior. "Retail is a game that's played at the 50-yard line now."
The average per-person spending over the five-day period was $335.47, according to the report, and the biggest spenders were Millennials between ages 25 and 34. They spent an average of $419.52. The NRF declined to disclose the total number in sales for the period.
The NRF wasn't the only group to find the blurring of lines between online and physical shopping. Adobe Analytics showed that while Cyber Monday may have been the biggest day for online shopping, Black Friday posted considerable e-commerce sales at a total revenue of $5.03 billion. That's compared to Cyber Monday's $6.59 billion. Both days posted year-over-year growth of nearly 17%.
Between Thanksgiving and the following Monday, about $17 billion was spent online.
Cyber Monday Will Be So Hot It Will Force Retailers to Rethink Their Existences
The NRF points to high consumer sentiment, an overall healthy economy and favorable weather conditions that contributed to the successful five days. "Retailers are acutely aware of how their shoppers are behaving and they're meeting them where they want to shop, how they want to shop," Shay said. "It speaks to the continuing evolution of the industry."
NRF advised against comparing this year's numbers to its 2016 report, which found that more than 154 million consumers shopped over Thanksgiving weekend, spending an average of $289.19 per person.
Within online sales, the breakout trend was the rise of mobile. Cyber Monday revenue from smartphones grew 39.2% year over year, according to Adobe, with 47.4% of all web visits originating from a mobile device. 
Assuming that overall spending increased year over year, it seems that rising e-commerce sales may have compensated for slightly dwindling foot traffic in stores. Analytics firm ShopperTrak found that visits to physical stores on Thanksgiving Day and Black Friday dipped 1.6% compared to last year's.
As for the hottest items of the year, electronics once again take the cake. The most searched item during the Thanksgiving period was the Google Home Mini, the Bluetooth voice-assisted speaker that consumers could buy for $29 on Black Friday, according to online commerce marketing platform Criteo SA (CRTO) - Get Criteo SA Report . Apple Inc.'s undefined Air Pods, Sony Inc.'s (SNE) - Get Sony Corp. Report Playstation VR and the Oculus Rift virtual reality set were also among the most popular consumer electronic products, Adobe shows.
In toys, NERF Guns -- created by Hasbro Inc. (HAS) - Get Hasbro, Inc. Report -- were the most popular, based on social media buzz. In video games, Super Mario Odyssey, by Nintendo Co. Ltd. (TYO) - Get Direxion Daily 7-10 Year Treasury Bear 3x Shares Report , was at the top and its console, the Nintendo Switch was the most popular console.
Which retailers captured the most market share? According to market intelligence firm SimilarWeb, Amazon.com Inc. (AMZN) - Get Amazon.com, Inc. Report captured the highest percentage of online shoppers on Thanksgiving and Black Friday, driving 38.9% of all web traffic. That's compared with 14.1% for Wal-Mart Stores Inc. (WMT) - Get Walmart Inc. Report and Best Buy Co. (BBY) - Get Best Buy Co., Inc. Report with 9.3%. Target Corp. (TGT) - Get Target Corporation Report came in fourth place with 9.3% and Kohl's Corp. (KSS) - Get Kohl's Corporation Report at fifth with 3.5%.
Correction: An earlier version of this story had a headline that suggested erroneously that e-commerce sales were higher than brick-and-mortar sales over Thanksgiving weekend. In fact, more people shopped online than in-stores, but no data indicates e-commerce revenue exceeded that of physical stores. 
More of What's Trending on TheStreet: