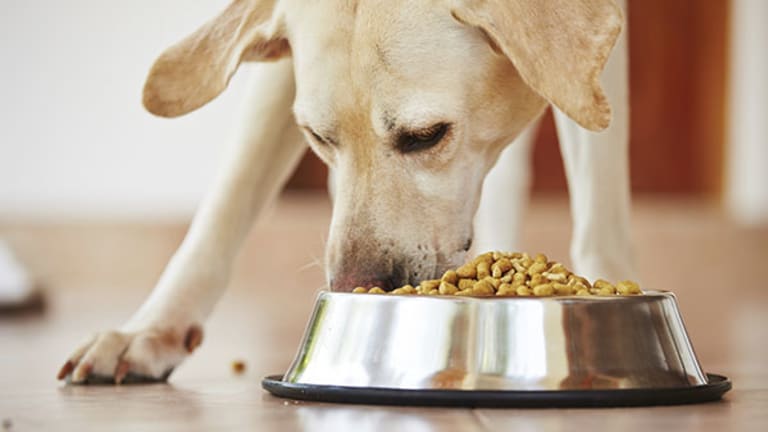 More Dogs Are Sleeping in Their Parent's Bed and That Hints at Strong Sales of Expensive Pet Food
Premium pet food spending could top $13 billion over the next decade.
Does your pet sleep in your bed? If so, the stock analysts over at Citi think you will spend more money on fancy pet food.
According to a new report, the U.S. pet food category has grown at a compound annual growth rate of 4.6% over the past ten years driven in large part by humanization, or the phenomenon of pet owners who think of their pets as a true part of the family. The analysts cite a study that indicates that 43% of U.S. pets sleep in their owners' bed every night as evidence that pet owners view their pets like their children, and are willing to shell out big bucks for pricier pet food.
Nearly 95% of American pet owners viewed their dog or cat as a "member of their family" in 2015, up from 88% in 2007. Meanwhile, vet hospital chain VCA (WOOF) - Get Free Report found that 43% of pets sleep in their owners' bed every night, while 28% sometimes do, 24% never do and 5% do only when their owners' significant other is out of town.
The Citi analysts use the VCA figure as a benchmark for the maximum for the long-term penetration of premium pet food. There's 164 million pets in the United States, yielding a total addressable market for premium pet food of about 70 million pets.
"As a result of humanization, pet parents tend to focus more on the well-being of their pet, and are willing to pay a premium for pet food of higher quality that delivers a health and wellness benefit," they write.
This shift is apparent in the market share gained by small, premium pet brands such as Blue Buffalo Pet Products (BUFF) , which has come at the expense of traditional mass market brands. At the Global Pet Expo in Orlando last month, the floor exhibits for the large manufacturers predominantly featured premium/natural pet food lines, points out Citi, with the mass market brands generally having little to no presence.
"Clearly that speaks to where the large companies themselves see where the pet food market is going in terms of growth," says the analysts.
The pet food market in the United States is worth $28 billion, the analysts estimate, with the potential to reach $35 billion over the next ten years. Of that $28 billion, 68%, or $19 billion, is in traditional mass pet food, while the premium pet food business has a 32% market share. That number could reach $13.4 billion, or 38%, over the next decade.
That fancy food comes at a price: the analysts find that for the owner of a medium-sized dog or cat, trading up to premium food and treats costs an extra $234 or $100 per year, respectively, while "natural" food costs $298 more than traditional dog food and $128 more than traditional cat food.
"In our view, this low absolute difference to ensure your pet had better food is a reasonably low barrier to induce consumers to trade up and bring about the further premiumization of the overall category," they write, adding that the 68% of American households that own pets tend to be skewed toward higher incomes.
As the millennial generation gets older, they're buying pets for the first time, and as a generation they are thought to be more focused on health and wellness even for their pets, notes Citi. They're also more willing to pay up for healthier, premium food relative to Generation X and Baby Boomers.
Smucker (SJM) - Get Free Report is trying to focus on the "mass premium opportunity" through Nature's Recipe, one of its premium brands. In January, Smucker launched the brand in the mass and grocery channels, despite the brand earning the majority of its $100 million in annual sales in pet superstores.
"By moving the brand into the grocery and mass channels, Smucker is offering grocery consumers an-entry-level premium brand (bringing the superstore 'halo' with it) that compares more favorably to the competitive set," says the Citi analysts. "Critically, Smucker is attempting to capitalize on the potential for grocery consumers to trade up by broadening access to a premium product in a channel that consumers visit more frequently to do everyday shopping (i.e., eliminates special trip just to the pet superstore)."
Purina, owned by Nestle (NSRGY) - Get Free Report , is losing ground to these health-focused new entrants. To stem the market share losses, Nestle in 2015 bought natural/organic pet food maker Merrick for a reported $300 million. "Nestle may have thus decided to act as an incubator, using its balance sheet to buy new entrants and disruptors, and then leveraging its distribution capabilities and scale to roll out the niche brand," the analysts speculate.
Colgate (CL) - Get Free Report , in contrast, has struggled to adapt to increased online spending on pet food. Its Hill brand has historically had a very strong presence in the pet specialty retail channel, says Citi, but has struggled at times to balance the inherent channel conflict.