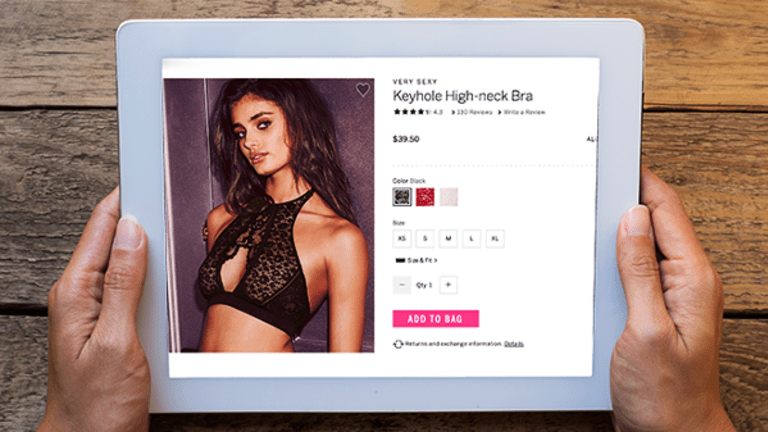 More Brands Are Getting Into the Lingerie And Loungewear Business
And it's not great news for Victoria's Secret.
Why is the markup on underwear so high, especially for women? Finding decent, non-tacky separates sans questionable animal prints or a logo splashed across the rear is an easy feat if you don't mind paying the price. Representative of the ridiculous prices and styles are the offerings from Victoria's Secret, wholly owned by  L Brands (LB) - Get L Brands, Inc. (LB) Report , which waffles back and forth between matronly and dominatrix like an Amish teen on Rumspringa. 
Shares of L Brands tanked Thursday, down 14%, after the company beat on earnings estimates but missed on revenue expectations. Victoria's Secret is seeing incredible pressure, with comp-store sales expected to fall 20% this month, and TheStreet's Founder Jim Cramer pointed it out as a "dramatic guide down." Maybe it has to do with the price and ridiculousness of their wares. 
Like, what is this? The purpose of underwear is so you can actually wear it under clothes. Maybe adding women to their board who would be forced to wear the product would help, but who knows? 
Pink, the younger brand within VS carries more versatile underwear and loungewear as a cohesive, younger lifestyle brand. But at a certain point grown women don't really want to shop at the same brand they remember from high school. One would like to think they've moved on from JV to Varsity, but that's more of an existential battle between you and your lost youth. 
This is where Gap (GPS) - Get Gap, Inc. (GPS) Report  shines. It's intimates collection is at an overall reasonable price point and decent quality with frequent sales and stacked discounts. From the looks of its website, it seems the company is expanding its intimates and loungewear collection, which is the right move for their demographic who would get turned off by Victoria's Secret aesthetic and price point. 
Madewell, the younger "I just came back from study abroad and it changed my life" sister brand of J. Crew, just entered the lingerie space with cool girl intimates at an attainable price point in the neighborhood of $30. Abercrombie & Fitch (ANF) - Get Abercrombie & Fitch Co. Class A Report is also throwing its hat back into the lingerie ring with the revival of its Gilly Hicks lingerie brand, available at Hollister. The loungewear on the A&F site also looks disturbingly good with cute sale bralettes for $12. 
On the less expensive end, Amazon (AMZN) - Get Amazon.com, Inc. Report is entering the lingerie space with $10 bras, which could be harmful to Walmart's (WMT) - Get Walmart Inc. Report and Target's (TGT) - Get Target Corporation Report demographic, but they wouldn't probably affect Victoria Secret's bottom line. 
With so many mid-tier brands entering the loungewear and lingerie space providing much needed alternatives to the previously not terribly inclusive market, VS needs to get their act together.