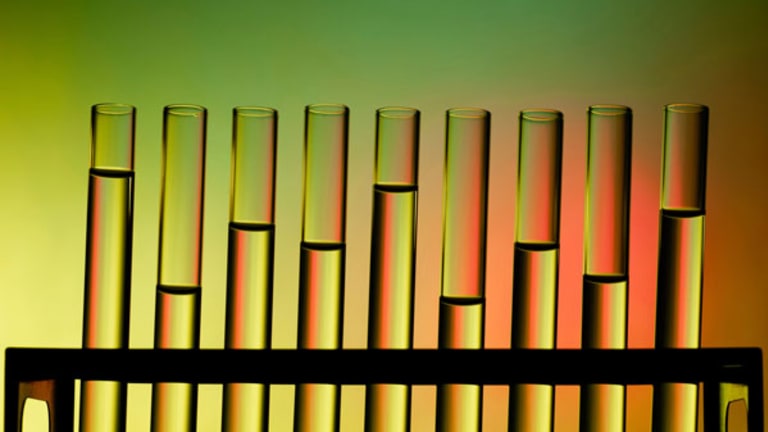 More Biotech Twitter Mailbag: Orexigen, Affymax, YM Bio, Spectrum & More
Biotech columnist Adam Feuerstein responds to biotech stock questions posed by his Twitter followers.
BOSTON (
) -- More responses to my special midweek, all-Twitter version of the Biotech Stock Mailbag:
Make sure to also check out
, with answers to questions about
Gilead Sciences
,
Chelsea Therapeutics
,
Onyx Pharma
,
BioSante
,
Dendreon
and
Titan Pharma
.
@kevinmcgreevey:
"How does $orex keep going up with that joke of a drug?"
I don't consider
Orexigen Therapeutics'
(OREX)
obesity drug Contrave to be a joke. Contrave is probably inferior to
Vivus'
(VVUS) - Get VIVUS, Inc. Report
Qnexa but it's better than
Arena Pharmaceutical's
(ARNA) - Get Arena Pharmaceuticals, Inc. Report
lorcaserin, which isn't much more effective than placebo.
Don't forget, Contrave was the only obesity drug of the three to win a positive advisory panel vote last year. Lingering cardiovascular safety concerns was the outstanding issue that prevented FDA from approving it.
@pelion2001:
"Dose of reality needed w/ OREX phase 2 interim min 2 yrs off + stock flying."
I'm surprised traders are surprised that Orexigen shares are moving higher -- up as much as 30% since last Thursday -- in sympathy with the positive panel vote on Vivus' Qnexa. Don't we see this type of speculative trading pattern all the time?
I agree with the sentiment that Orexigen's fate is not tied directly to Vivus or last week's panel decision, which means Orexigen's recent uptick is hard to justify on a fundamental basis.
Be especially wary of the millions of low-priced warrants outstanding as a potential future dilutive event. The way I look at obesity drug stocks today, however, is that they trade more on sentiment than fundamentals and sentiment is surging positive. Maybe that will change if/when Vivus' Qnexa is approved and investors switch to shorting the launch.
@RFederer2:
"Adam, any opinions on what AFFY does when (if) it gets approved? Is high teens a possibility?"
Admittedly, these are some very rough, back-of-envelope calculations, but I'd say
Affymax
(AFFY)
at $10.50 and a $260 million enterprise value is pricing in about $200 million in peginesatide sales by 2015. At this point, I believe you need to be very bullish on the once-monthly anemia drug to justify a stock price in the high teens.
This is simplistic, but I split the current $2 billion dialysis market for anemia drugs into three equal buckets. The first bucket is controlled by
Davita
(DVA) - Get DaVita Inc. Report
, which is basically locked up under contract to use
Amgen's
(AMGN) - Get Amgen Inc. Report
Epogen. I assume Affymax and its peginesatide marketing partner
Takeda
get no Davita business.
Fresenius
(FMS) - Get Fresenius Medical Care AG & Co. KGaA Report
controls the second third of the anemia drug business. It also has a contract with Amgen to buy Epogen but the deal is non-exclusive. Can Affymax tap 20% of Fresenius' business? Sounds reasonable to me, which equates to about $130 million in peginesatide sales.
The last third of anemia drug sales comes from small- and mid-sized, independent dialysis clinics. These guys don't get the sweetheart Epogen discounts from Amgen that Davita and Fresenius enjoy today so they're probably most open (and eager) for competition. Let's say Affymax can win a third of this bucket, or $200 million.
Peginesatide sales of $330 million at the end of 2015, of which Affymax receives half, risk adjusted at 90% given the looming approval decision, discounted back by 20%, yields a net present value of $73.7 million. Apply a five-times-sales multiple and you get an Affymax enterprise value of $368 million.
Please don't take these numbers to the bank but you get the idea.
Risks to the Affymax story: Amgen is an entrenched competitor that may be more difficult than anticipated to beat. Affymax and Takeda will operate the peginesatide business through a 50-50 joint venture; I generally don't like these setups because the smaller partner (Affymax) is at a disadvantage i.e. Onyx Pharma in its Nexavar joint venture with Bayer.
@HemPaddy:
"Why is YMI so low profile even after showing GREAT results - Street is not buying YMI story?"
Referring to
YM BioSciences
( YMI) as "low profile" sounds like a polite euphemism for unloved? Ignored? Distrusted?
You ask a great question; unfortunately, I don't have a definitive answer. YM Bio shares at $2 have barely nudged higher since the presentation last December of strong
phase II data on its myelofibrosis drug CYT387
.
The '387 data, particularly the positive anemia response, were strong, right? I thought so.
When I ask buyside investors about why YM Bio seems so unloved, I get responses like these:
We don't believe the anemia response data. We don't trust management given YM's poor track record. Why hasn't YM Bio been able to land a partner for '387? The company's recent financing was too dilutive. The company won't be able to enroll patients in its planned phase III study because
Incyte's
(INCY) - Get Incyte Corporation Report
Jakafi is already on the market. Who cares about a second-to-market myelofibrosis pill?
Some of these concerns are silly, others more reasonable but still defensible. Whether you're a true believer in YMI and '387 or not, the valuation gap between the company and Incyte is too large to ignore. I'm not sure if or when sentiment shifts.
@gidra150:
"Adam, how's the funding look for Aastrom, think they'll raise the capital?"
The phase III "Revive" study was initiated recently but there is no word yet on first patient enrolled," says an
Aastrom Biosciences
(ASTM)
spokesman. Aastrom is sticking with its guidance of having the
completed this quarter.
@sstrella
"Could you please cover $COYG for your next mailbag? Thanks :)"
You mean, "Come On You Gunners"? Har har… Admittedly, Arsenal beat up on my beloved Spurs in Saturday's North London derby but who's still in third place?
Oh when the Spurs come marching in….
@lk_101:
"Any thoughts on $sppi earnings? Should i get in short before you write an article?"
You can't out-snark the king of snark, my friend.
Spectrum Pharmaceuticals
(SPPI) - Get Spectrum Pharmaceuticals, Inc. Report
reports fourth-quarter 2011 results on Thursday, March 1. Current consensus has Spectrum earning 31 cents a share on total revenue of $52.7 million.
I don't know the precise revenue breakdown but investors, as always, will focus on Fusilev sales first, Zevalin second. In the third quarter, Fusilev sales totaled $41 million; Zevalin $7 million.
RBC Capital, one of five firms covering Spectrum, has fourth quarter Fusilev sales pegged at $45 million.
Spectrum shares dipped temporarily in the middle of the month after
Teva
(TEVA) - Get Teva Pharmaceutical Industries Ltd. Report
announced (via FDA's web site) that it expects a "limited resupply" of leucovorin by the end of March. Spectrum has played the leucovorin shortfall quite well so we'll see how Fusilev sales react if leucovorin supplies do increase later this year.
Longs have lorded over the shorts in Spectrun for quite some time, but shorts aren't going away. February short interest in the stock ticked up 16% month over month to 15.8 million shares.
@robpichardo:
"Any insight on $CBLI as Israel/Iran heat up?"
Wow! Talk about speculative trading ideas… Sure, if Israel attacks Iran, triggering a nuclear event of some kind, then yes,
Cleveland BioLabs
(CBLI) - Get Cytocom Inc. Report
(developers of a suspect anti-radiation drug) shares will rise once again, just like they did after the Japanese earthquake and tsunami severely damaged that country's nuclear power plants.
@EyePasta:
"In the mailbag, please discuss Arena's chances in light of recent Vivus nod. Give the cancer stuff a rest though!! Non issue."
The positive Vivus FDA panel vote has no bearing on
Arena Pharmaceuticals
(ARNA) - Get Arena Pharmaceuticals, Inc. Report
and its obesity drug lorcaserin. And no, tumor risk has not been put to rest, nor has the drug's potentially problematic cardiovascular safety profile. What Areniacs fail to recognize is that FDA reviews drugs based on a balance of risk and benefit. Lorcaserin's risks remain high, its benefit low. That's not a good place to be.
Also, please read
Part 1 of today's Biotech Twitter Mailbag
.
--Written by Adam Feuerstein in Boston.
>To contact the writer of this article, click here:
Adam Feuerstein
.
>To follow the writer on Twitter, go to
http://twitter.com/adamfeuerstein
.
>To submit a news tip, send an email to:
.
Follow
TheStreet
on
and become a fan on
Adam Feuerstein writes regularly for TheStreet. In keeping with company editorial policy, he doesn't own or short individual stocks, although he owns stock in TheStreet. He also doesn't invest in hedge funds or other private investment partnerships. Feuerstein appreciates your feedback;
to send him an email.