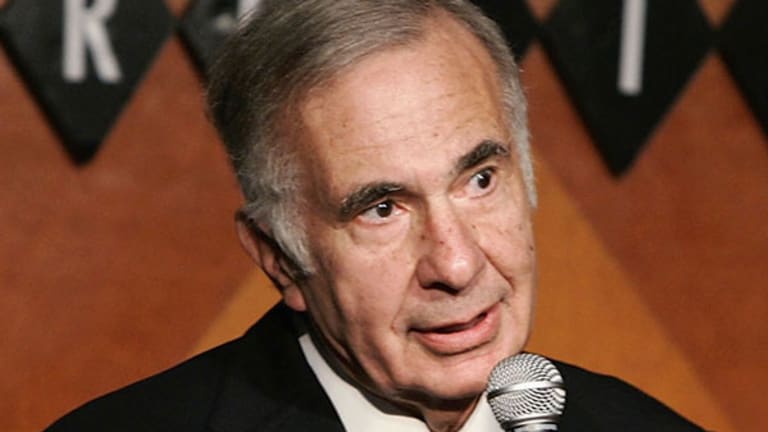 More Activists Are Fine With Management -- They Just Want the Cash
More activists are going after big companies not to change management but to unload their cash.
More activists are going after big companies not to change management but to unload their cash.
NEW YORK (TheStreet) -- When Carl Icahn targets a company, he's usually trying to shake up management. But with Apple (AAPL) - Get Report , the billionaire activist investor has been demanding the tech giant return more of its $178 billion in cash to shareholders.
"I think Tim Cook is the ideal CEO for Apple," Icahn said in an interview. "But I continue to believe, with a company as undervalued as Apple and with $178 billion in cash, a major stock buyback is a 'no brainer.'"
Icahn is just the most prominent example of a growing trend among corporate activists: Instead of seeking major changes in how the company is run, they just want the money -- either in a stock buyback or dividend.
"The activists are looking at these companies and saying 'Wow, you've got all this cash there,'" said Bruce Falbaum, principal at investment adviser Cohanzick Management. "'What are you doing with it? You're earning a nothing rate of return on your cash...Give it back to me. I'm a good investor. I'll figure out what else to do with it.'"
There's a good reason for all this pressure. Many companies, particularly in technology, are sitting on mountains of cash. Some of it was built up after the financial crisis as management sought a cushion against further downturns. Some of it has been parked overseas to avoid U.S. taxes. And some of it simply reflects the fact that some companies haven seen good investment opportunities.
Icahn, for one, has been publicly pushing Apple to step up its share buyback, which began in 2012. The company plans to announce a further buyback in April, though Icahn wants Apple to pick up the pace, he stated in a letter issued Feb. 11.
He's not alone. Here are other big-name companies targeted by activists for their cash: 
General Motors (GM) - Get Report  -- investor, financier and former Obama Administration official Harry Wilson notified the automaker he will nominate himself for a board seat at the annual shareholder meeting later this year. He wants GM to buy back at least $8 billion of shares, a proposal endorsed by several big hedge funds. GM has $25 billion in cash.
Microsoft (MSFT) - Get Report  -- ValueAct initiated a position in Microsoft in 2013. Since then, the tech giant has increased both share buybacks and dividends, which Reuters and Bloomberg both reported was a response to pressure from ValueAct.  Microsoft spokesman Tony Imperati declined comment and a call to ValueAct wasn't returned. Microsoft shares have outperformed the S&P 500 since ValueAct started buying.
Overall, buybacks have had mixed success. IBM's (IBM) - Get Report buybacks, whether activist-driven or not, haven't helped the shares. Despite spending $16.7 billion on buybacks and dividends in the first nine months of 2014, the shares gained just 1% over that time period versus a nearly 6% gain for the S&P 500.
Also, sometimes the impact is only temporary. Viacom (VIA) - Get Report shares, for instance, gained more than 65% 2013 as the company poured billions of dollars into buybacks and dividends. But the stock petered out in 2014. Now the entertainment company, which increased its debt to fund the moves, appears to have no room to do more.
The irony of all the corporate cash leading to buybacks and dividends is that much of the shareholder givebacks are fueled by debt. That may be because lots of corporate cash is trapped overseas and companies don't want to pay taxes to repatriate it. If they issue debt, on the other hand, they can use the overseas cash to pay off the bonds without paying taxes on it.
Cohanzick Management's Falbaum believes the push for shareholder givebacks will continue until interest rates move high enough that it no longer becomes attractive to issue debt to fuel the buybacks and dividend hikes. Another thing that could stop the party is if leverage got too high at lots of companies, leading to a rise in defaults.
"We have a long way to go before we get there," Falbaum said.