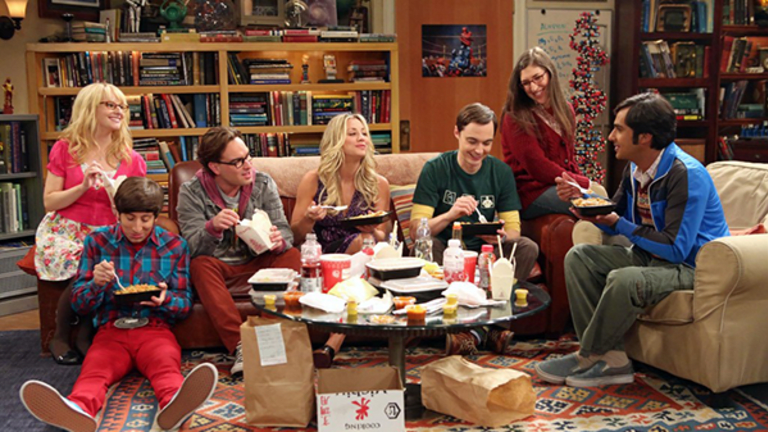 CBS Chief Crows About Value of His Network
CBS at its upfront event wooed ad buyers with a 'Star Trek Discovery' clip, Stephen Colbert sang a show tune, and Leslie Moonves emphasized his network is still No. 1.
CBS (CBS) isn't like most media companies.
While it is one of four broadcasters and like its main rivals owns a group of local TV stations, it doesn't own a lot of cable TV networks, or at least those not named Showtime, a premium channel with a long history. For CBS, that's been an advantage. The network remains the soul of the company, and its continued prominence comes from a focused lineup aimed at mainstream America.
As he has done many times, CBS CEO Leslie Moonves took the stage at Carnegie Hall in New York on Wednesday afternoon for the network's annual upfront presentation to ad buyers. It was yet another opportunity for Moonves to pound away at some undeniable, and for the rest of the industry, excruciating facts: CBS has been the country's most-watched network for nine consecutive years, and going back a bit further, 14 of the past 15 years.
That CBS continues to get ever-higher fees from pay-TV providers for shows such as The Big Bang Theory, NCIS and Survivor might seem incredible to the generation of Netflix (NFLX) , Amazon (AMZN) , AMC Networks (AMCX) and others. There's an exceptional range and depth of cutting-edge serials being made these days. But CBS isn't trying to be compelling or push envelopes. It has other priorities.
"One thing is very clear that in this fragmented world, the social and economic value of any medium with the power to bring people together is more important than ever," Moonves said. "And that's what we do here."
CBS, which was the last broadcast network to hold its upfront this spring, announced its fall lineup after bringing Stephen Colbert on stage to hammer away at the president while celebrating Late Night's ascendancy over contrite Trump hair-ruffler Jimmy Fallon, host of The Tonight Show at Comcast's (CMCSA) NBC.
"Who would have though one year ago that Stephen Colbert would be winning late night and Bill O'Reilly would be doing podcasts in his underwear," Moonves added.
Former Dallas Cowboys quarterback Tony Romo made an appearance, however sheepish, to promote CBS's most valuable property, the National Football League, and James Corden followed to announce that he'll once again be hosting the Grammy Awards next year from Madison Square Garden.
Clips of the upcoming Star Trek Discovery were played on a jumbo video screen, and Moonves took ample time to promote the serial, which will be available only on subscription-based digital service CBS All Access. The success of CBS's digital platforms, along with a Showtime standalone offering and CBSN, its ad-supported news website, have become important revenue generators.
CBS staples Bull, Criminal Minds and Scorpion also will be back next season, and they'll be joined by three comedies: Young Sheldon, a Big Bang Theory spinoff featuring a 9-year-old boy genius growing up in East Texas; 9JKL, starring Mark Feuerstein as an actor who's newly single and returns home; and Me, Myself & I, starring Bobby Moynihan in a single-camera comedy about the defining moments in one man's life.
Additionally, CBS unveiled dramas SEAL Team, S.W.A.T. andWisdom of the Crowd.
So, while cable TV networks have struggled to sustain subscribers and the fees that go along with them, CBS has done just the opposite. The network recently posted a rather impressive 28% jump in the revenue it receives from pay-TV providers and local TV stations. That increase underscores the value of mass-market programming and live sports, led by CBS's contract with the NFL but also including its coverage of the NCAA men's basketball tournament and a slate of college football games.
For the first time in its history, advertising accounts for less than 50% of CBS's  revenue.   
"No [pay-TV] service can exist without CBS programming," Moonves said before taking a dig at his rivals. "Not every channel can say that, though Lord knows this week it hasn't stopped them from trying."
, which Cramer manages as a charitable trust, is long CMCSA.