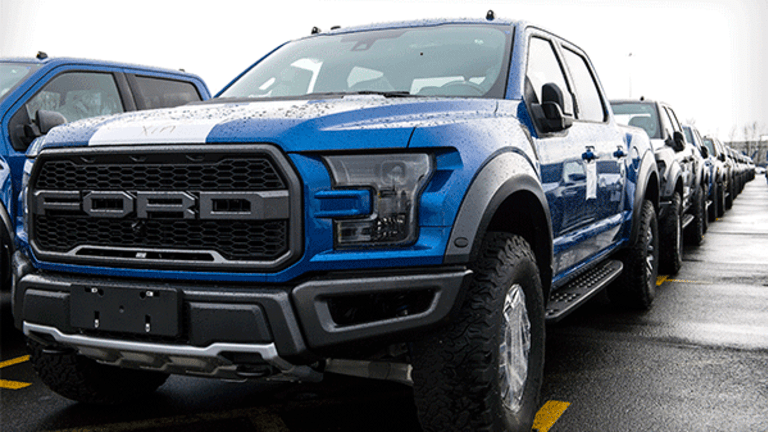 Moody's: We Now See a More Serious Set of Challenges at Ford
Moody's chimes in on Ford's CEO change.
Moody's thinks more than a couple of tires are flat over at Ford (F) .
"The surprise and urgency of Ford Motor Company's appointment of a new President and CEO, particularly with the backdrop of a number of operating successes and board approval of a range of technology-related investment initiatives, reflects a credit-negative event at the company," Moody's senior vice president Bruce Clark wrote on Wednesday. "We are concerned that this could reflect a more serious set of challenges in these areas [execution, culture, etc.] than Moody's had previously anticipated."
Moody's left its rating and stable outlook on Ford unchanged. Ford shares fell as much as 1% to $10.94.  
On Monday, Ford announced that CEO Mark Fields has been replaced with former Steelcase (SCS) CEO and turnaround specialist Jim Hackett. Investors cheered what could be a cost-cutting focused Ford under Hackett. Ford didn't hide in its statement detailing Hackett's appointment that one of his main goals is to "strengthen operations." The auto giant also didn't hide the fact one of its biggest problems is fixing its culture. 
"We need a transformational leader," Ford executive chairman Bill Ford Jr. told the media in a news conference detailing the ouster of Fields. Ford added that the company must "re-energize" its business and focus on improving shareholder returns. 
"There is still an obsession with hierarchy," Ford said, adding that the focus on one's position inside the company may be hurting decision-making.
Click here for the latest business headlines.
Read More Trending Articles:
GE Will Have to Stretch to Earn $2 Per Share Next Year, CEO Immelt Says
SoftBank's Reported $4 Billion Stake in Nvidia Could Have a Strategic Purpos