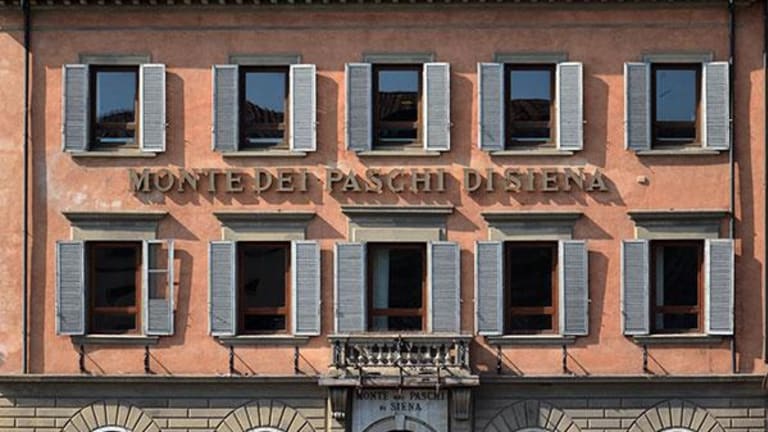 Monte dei Paschi Mulls Debt-for-Equity Swap as Part of Third Rescue Package
The new proposal could trounce plans for a rights issue worth up to $5.6 billion,
The new proposal could trounce plans for a rights issue worth up to $5.6 billion,
Monte dei Paschi (BMDPY) announced on Monday night that it is now considering a debt-for-equity swap as part of its third rescue package. It also said that, with new CEO Marc Morelli now on board, the bank expects to announce a firm plan and timetable for its rescue on Oct. 24.
A debt-for-equity swap means Monte dei Paschi would likely alter plans to sell up to €5 billion ($5.6 billion) of new stock, which is nine times more than its current market value.
Dependent upon how much debt it is able to swap for equity, Monte dei Paschi might also benefit from lower interest costs and a less beleaguered balance sheet, both of which could help to make the bank more attractive to equity holders in the longer term.
"Considering the fast market evolution and preliminary indications received by institutional investors, detailed analysis have been started, inter alia, to incorporate, in the transaction structure the possibility of including a liability management exercise (a direct offer to holders of debt instruments issued or guaranteed by the Bank, aimed at their voluntary exchange into equity) pursuant to terms and conditions still under analysis," said Monte dei Paschi.
It said a shareholders' meeting to vote on its rescue plan will take place in November. 
For the half year ending June 30, Monte dei Paschi reported that it had €27.2 billion of debt on its balance sheet, which dwarfs the €560 million market capitalization that the company has been left with after its stock price fell to new record lows in September.
The shares were up 1.6%, to €0.1952, at noon on Monday but are down by 85% for the year to date. Monte dei Paschi was one of the only risers in the European banking universe on Monday morning amid a continued Deutsche Bank-induced bloodbath that pushed much of the sector into the red.
Monte dei Paschi announced a private sector-led rescue, effectively its third bailout in just as many years, at the end of July after European Banking Authority stress tests showed that the bank would not be able to withstand a severe shock to European financial or economic stability.
The private sector plan is supposed to involve Monte dei Paschi selling its entire non-performing loan portfolio to a securitization vehicle, at a price of €0.33 per euro, netting it close to €10 billion.
Subject to it completing the sale of its NPLs, the bank would then be able to tap shareholders for another €5 billion of equity, under the July proposal.
Although the bank's implosion during EBA stress tests may have increased the urgency with which Monte dei Paschi has sought another rescue, it has faced mounting pressures from regulators over a record pile of non-performing loans for some time.
It sold €3 billion of shares in June 2015 to plug another gap in its capital buffer that had been pointed out by the ECB. This followed a €5 billion capital raising in 2014, which took place after it came to light that the bank was struggling to cope with the after-effects of its disastrous acquisition of Banca Antonveneta before the credit crisis, as well as a rising stock of bad loans elsewhere across the business.