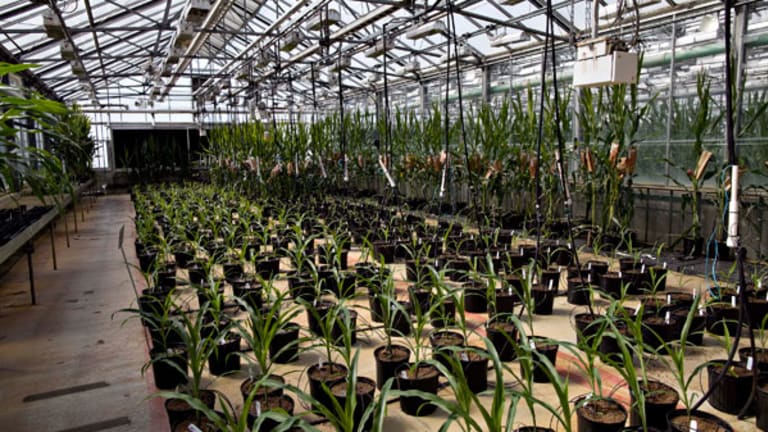 Monsanto Shares Surge on Dupont Deal
Monsanto shares surge as DuPont agrees to counter lawsuits and enter a licensing agreement.
NEW YORK (
) --
Monsanto
(MON)
shares were surging Tuesday after the world's biggest seed company and chemicals giant
DuPont
(DD) - Get Free Report
agreed to drop their matching antitrust and soybean technology patent lawsuits, and chose instead to sign licensing agreements on genetically modified seeds.
Monsanto shares were rising 4% to $103.40 after DuPont agreed to dismiss its claim that Monsanto engaged in anti-competitive practices and Monsanto waived a $1 billion jury award by withdrawing its charge that DuPont violated patents on Monsanto's Roundup Ready soybean technology. The lawsuits were pending in a U.S. federal court in St. Louis.
DuPont shares were slipping 0.6% to $48.84.
Instead of being enemies, they found a way to be friends.
The two companies negotiated an agreement in which DuPont will pay royalty fees of no less than $1.75 billion through 2023 to give its Pioneer seed unit rights to a broad range of Monsanto agricultural genetic technologies that include trait stacking.
Under the deal, Monsanto will receive access to certain DuPont Pioneer disease resistance and corn defoliation patents.
DuPont Pioneer will make four annual fixed royalty payments from 2014 to 2017 totaling $802 million for trait technology, associated data, and soybean lines to support their commercial introduction. And beginning in 2018, DuPont Pioneer will pay royalties on a per unit basis for Monsanto's Genuity Roundup Ready 2 Yield and Genuity Roundup Ready 2 Xtend soybean technology subject to annual minimum payments through 2023 totaling $950 million.
Paul Schickler, president at DuPont Pioneer, in a statement said, "this technology exchange helps both companies to expand the range of innovative solutions we can offer farmers, and to do so faster than either of us could alone."
The companies, both dominant players in the $34 billion seed market with Monsanto emerging as the leader and DuPont's Pioneer steadily gaining market share, have butt heads before.
Last August, DuPont was ordered by a U.S. jury to pay Monsanto for seed patent infringements, while the U.S. Department of Justice and state attorneys general tossed out investigations last year into antitrust complaints raised by DuPont.
Written by Andrea Tse in New York
>To contact the writer of this article, click here:
Andrea Tse
.