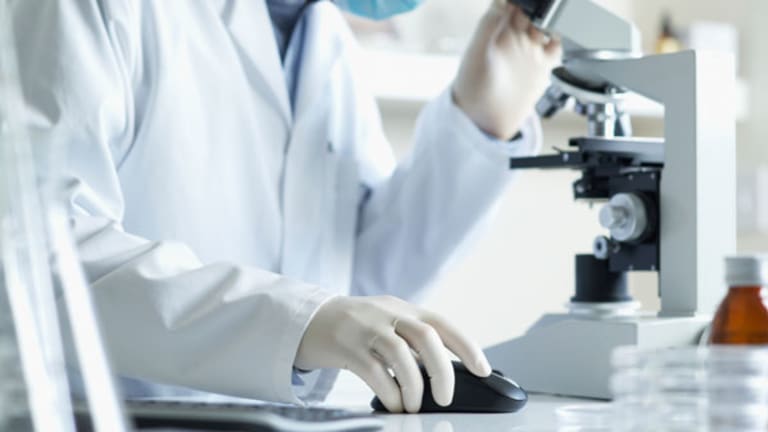 Monsanto Jumps on China Trade as Farmer Lawsuit Dismissed
Monsanto gained Monday after a U.S. appeals court dismissed a lawsuit filed by organic farmers.
NEW YORK (
) -
Monsanto
(MON)
was jumping Monday after a U.S. appeals court dismissed a lawsuit filed by organic farmers aimed at protecting them against legal action by the agricultural products maker, and China approved the importation of several of the company's seeds.
Monsanto, the world's largest seed company with $13.5 billion in sales in 2012, added 4.5% to close at $106.25.
Creve Coeur, Missouri-based Monsanto's patents won't be scrutinized after a U.S. court of appeals dismissed a case brought by organic farmers concerned the company would sue if more than trace amounts of Monsanto traits were found in their crops. Monsanto claimed that they would not take action over accidental contamination of fields even making "binding assurances."
The farming community brought the lawsuit in March 2011 as a preemptive measure, skeptical of Monsanto's aims after the company Monsanto filed over 800 cases against planters over the past five years charging them with utilizing their products without paying royalties.
"Monsanto's binding representations remove any risk of suit against the appellants as users or sellers of trace amounts (less than one percent) of modified seed," Circuit Judge Timothy Dyk wrote as explanation for the ruling.
Separately, China approved the import of some of Monsanto's genetically modified and genetically engineered seeds, a development that Morgan Stanley analyst Vincent Andrews called "the single most important box in our Monsanto investment thesis.''
Monsanto faced lawsuits in Brazil and Argentina over patent and intellectual disputes over their Roundup Ready soybeans. The Roundup Ready variant is less susceptible to the herbicide glyphosate that the company markets under the Roundup brand. Monsanto aims to win approval to sell these seeds in Brazil next year and in Argentina by 2015.
"Intacta is the key opportunity to get paid for soybeans in South America, and it is the key 2014-plus growth driver," said Andrews, who has an overweight rating on the shares with a 12-month price target of $125.
Norberto Yauhar, Argentina's Agriculture Minister said in a June 8th statement that China approved the import of the Intacta Soybeans and 3 other genetically altered products.
Monsanto spokeswoman Kelli Powers stated the company is unable to confirm the approval at this time.
The seed company faced public scrutiny after a spending bill, called HR933 was signed into law by President Obama in March 2013. Section 735 or the Farmer Assurance Act has been dubbed "The Monsanto Protection Act." The act which prevents federal courts from halting the sale or planting of genetically altered seeds prompted 300,000 Americans to sign a petition seeking its repeal, many concerned about unproven health risks that are thought to come from these crops.
The Senate is expected to vote on the 2013 Farm Act this evening. Sen. Jeff Merkley (D-Ore) is seeking an amendment that would do away with Section 735. If the amendment does not pass, the act will be in place until it expires in September.
Written by Robert Arenella in New York