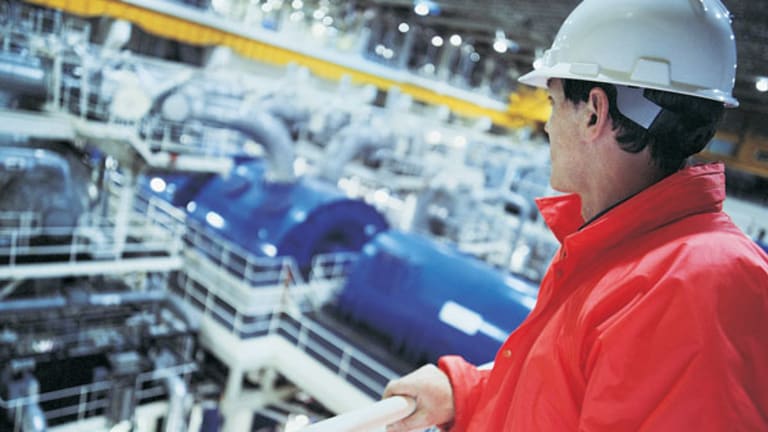 Monsanto CEO Sees Rescue in Latest Results
Monsanto boss Hugh Grant trumpets a turnaround with the company's latest third-quarter results.
(Updated from 9:38 a.m. EDT with more details on the earnings report)
NEW YORK (
) --
Monsanto
(MON)
shares were popping Wednesday morning after the company raised financial outlook and turned in better-than-expected quarterly financial results.
The report also gave Monsanto boss Hugh Grant an opportunity to drive home some positive messaging as the company strives to rebound from a series of setbacks last year even as the rest of the agricultural industry saw surging business amid a boom in crop prices.
In spring and summer 2010, after a rebellion among its farmer-customers forced the company to cut prices for its newest test-tube corn, the controversial producer of genetically modified crop seeds had to revoke the ambitious growth goals it had set for the next three years.
Its stock fell 20% in 2010 and is down about 4% so far in 2011. Grant, whose vision has guided the company's long-range planning since he took over the top spot in 2003, faced a particularly humbling moment.
Now, however, his words seemed triumphant -- even in the prepared CEO remarks that always appear in corporate earnings press releases.
"We made significant changes to our business this year, and those changes resonated with our customers," Grant said in the statement. "We earned their business and achieved what we set out to achieve: unit volume growth in our core crops, a successful implementation of our agricultural productivity strategy and sustained cost-discipline across our operations."
Even as Monsanto celebrated its third-quarter earnings, yet more trouble has alreadly bubbled up for the company. Buried in the press release announcing results Wednesday, Monsanto disclosed that the
Securities and Exchange Commission
had launched an investigation into its use of "customer incentive programs" for its weedkiller products between 2009 and 2010.
The company said it has received a subpoena for documents in connection with the programs and that it is "cooperating with the staff's investigation."
Monsanto has seen its share of regulatory trouble. The Department of Justice has been investigating possible antitrust violations in the seed industry since 2009. Monsanto, which has acquired more than 20 of the nation's biggest seed producers and sellers over the last decade, has long pursued a strict policy with its customers, obligating them to buy its bioengeenered seeds every year rather than use them in multiple planting seasons. Farmers who disobey are blacklisted forever.
Though Monsanto hasn't been named as part of the government's antitrust probe, it's widely understood that the St. Louis agricultural giant is the focus.
Third-quarter net income of $1.26 a share surpassed the $1.10 that Wall Street's sell-side analysts were expecting. Sales of $3.59 billion also topped the consensus target of $3.36 billion.
Compared with a year ago, Monsanto's profit surged 77% to $680 million from $384 million, or 81 cents a share. Sales rose 21% from about $3 billion a year ago.
The company told investors to expect full-year 2011 earnings of $2.84 to $2.88 a share, above the $2.72 to $2.82 that it had been predicting. Analysts' consensus target for the year was $2.92 a share.
Monsanto shares were changing hands at $69.22 in early trading Wednesday, up about 3.5% from the previous close. Volume was heavy, with 2 million shares turning over over as of 10 a.m. EDT, almost half the daily average.
-- Written by Scott Eden in New York
Disclosure: TheStreet's editorial policy prohibits staff editors and reporters from holding positions in any individual stocks.