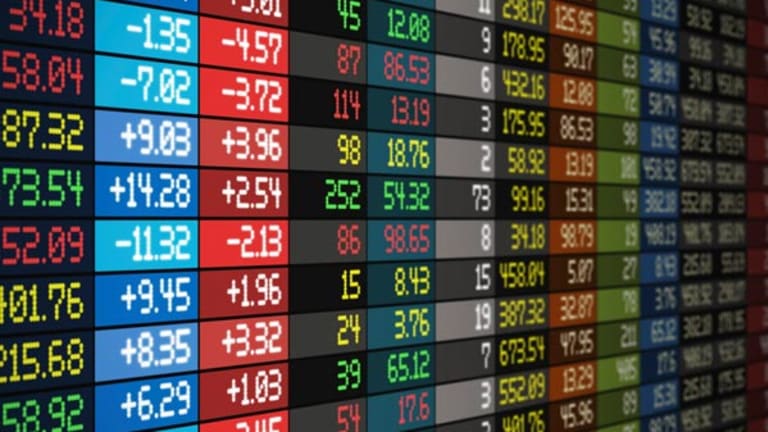 Wall Street 'Money Never Sleeps' Yawns
Gordon Gekko is back, and he's good, but the sequel to <I>Wall Street</I> is overwrought.
NEW YORK -- (
)
Wall Street Money Never Sleeps
, Oliver Stone's much anticipated sequel to the 1987 epic, could easily be called
Cameos Never Sleep
.
This movie has a lot on its plate once you sort out all the nods to Wall Street, media and society players (Bud Fox (Charlie Sheen) is back, thankfully; sorry, no Darien; there's Graydon Carter; and practically the whole news crew of
CNBC
gets some air time).
You also have to sit through the soap operalike relationship between Jacob Moore (Shia LaBeouf) and Winnie Gekko (Carey Mulligan), which plays out in a magnificent downtown loft. They are much more tender than Bud and Darien were; Jacob doesn't smash any glasses or tell anyone to "get the ---- out" of his apartment.
>>TheStreet's Debra Borchardt interviews Oliver Stone about 'Money Never Sleeps.'
>>TheStreet hits the red carpet at the Ziegfeld Theatre in New York for the premiere
.
Stone archly tackles the 2008 financial crisis and layers on MBS, CDOs and distressed debt through the lens of two Wall Street firms, Keller Zabel and Churchill Schwartz, which seem to translate into Bear Stearns/Lehman Brothers and
JPMorgan Chase
(JPM) - Get Free Report
/
Goldman Sachs
(GS) - Get Free Report
, respectively, sort of.
That is most telling when Keller gets beaten down to accept $3 (
close enough to $2
) a share from Churchill at the start of the financial meltdown.
Some viewers may note several shots of the "Lipstick Building" on Third Avenue in midtown Manhattan, where a real-life financial scoundrel, Bernie Madoff, plied his trade. Speaking of Manhattan, there are some breathtaking shots of the island, and Stone brings back the music of David Byrne as accompaniment.
The plot centers on Gordon Gekko's (Michael Douglas) attempt to restore his relationship with daughter Winnie, who resented him for, well, going to prison for insider trading and not being there for her brother, Rudy, who turned to drugs and eventually suicide.
Winnie works for a left-wing political Web site and is dating Moore, an alternative energy trader (nod to green stocks) at Keller Zabel. The antagonist is "Bretton James" (Josh Brolin), a Churchill Schwartz partner and Moore's nemesis because his short-selling and rumors (aided by a personal hedge fund) quickened the decline of Keller Zabel, which was overexposed to toxic housing debt.
The wipeout of Keller Zabel also led to the untimely death of its founder Louis Zabel (Frank Langella), Moore's mentor, so Moore wants revenge. Brolin comes off more flinty Texas oilman than Wall Street titan, although his specialty is oil stocks -- not the fusion company Moore likes.
Missing from this movie is the trading floor camaraderie that you had in the original between Bud and Marv and the steady hand of Lew Mannheim. I'm not sure how Moore would have fit in with that crowd.
As for Gekko, although he is much older and weathered, you find yourself looking forward to any time he is on the screen. He gives a rousing speech to students at Fordham University that revisits the "greed is good" line.
The sage Gekko warns the audience about the upcoming housing collapse. "You don't know it yet, but you're the NINJA generation -- no income, no job, no assets," he says.
The classic Gekko eventually re-emerges in finance in London, and before long is back to habadashery and cigars, but you'll have to see the movie as to how he gets his financing.
One other character worth mentioning is the great Eli Wallach, who plays a wizened Street player who likes to make a haunting, whistling noise signifying that everything is blowing away.
Money Never Sleeps
, while overall a decent film worth seeing, tries too hard. It's sappy in spots and comes off slick and overwrought in others, although it does have Stone's great sense of timing. It also doesn't travel at breakneck speed the way the original did, but maybe that's because Stone wanted to highlight the relationships, the redemption. Still, the movie just doesn't seem real enough, unlike its predecessor, which viscerally captured an era. It's not quite
Godfather II
as a sequel, but it's better than
III
.