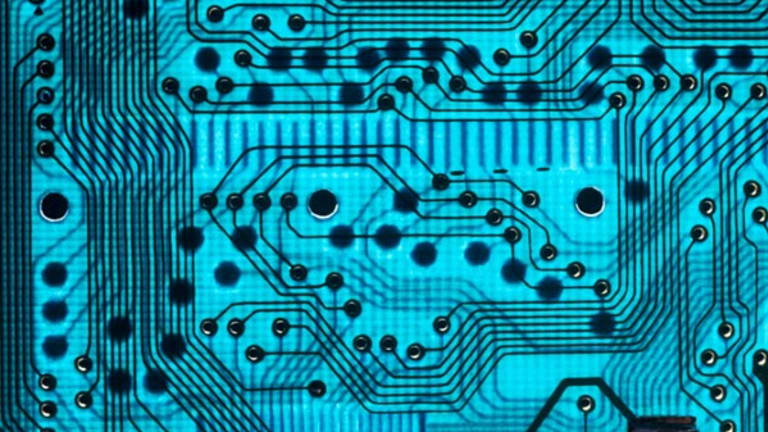 Monday's Tech Winners & Losers
Wireless Facilities climbs after getting a $35.8 million Army contract.
Shares of
Wireless Facilities
( WFII) were among technology's winners Monday, rising 3% after the wireless infrastructure company said it received a $35.8 million Army contract.
The three-year contract calls for the company to develop processes and procedures for a U.S. Army foreign military sales customer in the overhaul and repair of short-range air defense missiles.
"This FMS contract provides for comprehensive weapons systems support, testing and maintenance of short-range air defense missiles to ensure the combat-tested missiles continue to perform at optimum levels well into the future," Wireless Facilities said. Shares were trading up 7 cents to $2.45.
Affiliated Computer Services
( ACS) shares rose 1% after the information technology company announced the resignations of its chief executive and chief financial officer. The resignations came after an investigation into the company's historical stock-option grants turned up evidence that the two executives violated ACS' code of ethics. Mark King, CEO, will be replaced by Lynn Blodgett, who had been chief operating officer. Warren Edwards, CFO, will be replaced by John Rexford, the previous vide president of corporate development. The appointments are effective immediately. ACS shares were up 34 cents to $51.08.
Shares of
Pixelworks
(PXLW) - Get Pixelworks, Inc. Report
slid 8% after the chipmaker announced new restructuring moves aimed at reducing costs by $16 million to $18 million a year. The cost savings are in addition to the $9 million in savings that Pixelworks said it expected from a previous restructuring plan.
"The new plan includes further consolidation of its North American operations to achieve compensation and space cost savings over the court of the next several quarters," Pixelworks said. The company expects to record charges of $3.5 million to $4 million. Shares were down 23 cents to $2.48.
Streamline Health Solutions
(STRM) - Get Streamline Health Solutions, Inc. Report
fell 7% after the software company posted third-quarter results that missed expectations. For the period ended Oct. 31, Streamline reported a loss of $334,000, or 4 cents a share, on revenue of $3.6 million. Two analysts polled by Thomson First Call had an average estimate for a loss of a penny a share and revenue of $4.1 million. During the year-earlier period, the company posted a loss of $454,000, or 5 cents a share, on revenue of $3.2 million. Streamline said its results were hurt by two large software licensing agreements that didn't close during the quarter. Shares were trading down 36 cents to $5.10.
Other technology movers included
Sirius Satellite Radio
(SIRI) - Get Sirius XM Holdings, Inc. Report
, down 11 cents to $4.15;
Intel
(INTC) - Get Intel Corporation Report
, down 28 cents to $21.31;
Apple Computer
(AAPL) - Get Apple Inc. Report
, up 68 cents to $92.31;
Cisco Systems
(CSCO) - Get Cisco Systems, Inc. Report
, down 29 cents to $26.55;
Microsoft
(MSFT) - Get Microsoft Corporation Report
, down 10 cents to $29.66;
Sun Microsystems
(SUNW) - Get Sunworks, Inc. Report
, down 8 cents to $5.48;
Lucent Technologies
( LU), down 1 cent to $2.58;
Oracle
(ORCL) - Get Oracle Corporation Report
, down 25 cents to $19.35;
Rambus
(RMBS) - Get Rambus Inc. Report
, down 7 cents to $23.03; and
Applied Materials
(AMAT) - Get Applied Materials, Inc. Report
, down 22 cents to $18.30.