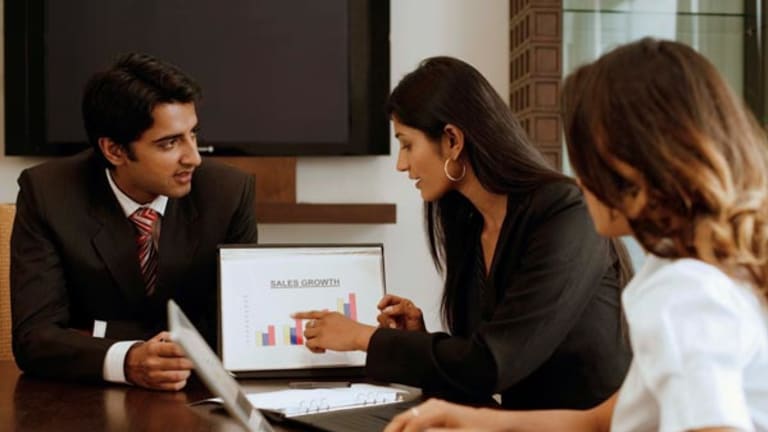 Monday's Analysts' Upgrades and Downgrades
Who made what calls.
CHANGE IN RATINGS
Ariba
( ARBA) upgraded at Cowen from Underperform to Outperform. 2007 should prove to be the earnings trough, and the company trades at a discount to its peers.
Beckman Coulter
( BEC) downgraded to Peer Perform at Bear Stearns. Stock is up 21% on the year, and approaching the $75 price target. Above-average sales growth is already priced in.
Circuit City
(CC)
rating reinstated at Goldman Sachs. It is removing the Not Rated designation from CC and reinstating the stock with a Neutral rating. Cut its 2008 estimates to ($0.38) from $0.22, noting that pressure on financial results should abate. Company appears more open to pulling back aggressive investment posture, but see challenges in macro headwinds, peaking TV cycle, and competitive pressure from Best Buy. Price target at $11.
Cree
(CREE)
downgraded at Morgan Keegan to Market Perform. Stock looks overbought on takeover rumors, that may prove unfounded.
Cubic
(CUB)
downgraded at BB&T to Underweight. Stock is trading at a hefty premium to its peers, and looks overbought compared to the underlying fundamentals.
EMC
(EMC)
upgraded at Citigroup from Hold to Buy. $23 price target. Company has attractive long-term growth prospects. Estimates also raised, following coverage restriction.
EMC upgraded at Bear from Peer Perform to Outperform. $26.50 price target. Stock looks cheap on a sum-of-the-parts valuation.
Optium
( OPTM) upgraded at Jefferies to Buy rating from Hold. However, FY 2008 EPS estimates lowered to $0.21 from $0.39 while price target holds at $12.
Parker-Hannifin
(PH)
downgraded from Outperform to Market Perform at Friedman, Billings Ramsey. Stock has reached the $115 price target, and is already valuing the company's solid outlook.
Red Hat
(RHT)
downgraded at Credit Suisse to Neutral from Outperform. Cites expected catalysts won't materialize in the short-term. Lowered target price to $22 from $27.
Rockwell Automation
(ROK)
downgraded at JP Morgan to Neutral. Stock is up 15% since April, and the recent turbulence in the credit market could weigh on the company.
Reliance Steel
(RS)
downgraded at UBS to Neutral rating from Buy. Price target dips to $62 from $70, and FY08 EPS holds at $0.54.
Vishay
(VSH)
upgraded at Weisel from Market-weight to Overweight. Fundamentals have likely stabilized after a weak June quarter, and the stock looks inexpensive based on its average historical valuation.
STOCK COMMENTS / EPS CHANGES
Apple
(AAPL)
numbers boosted at Citigroup. Now seen reaching $185. Estimates also raised, to reflect higher expected gross margins. Component pricing continues to trend well. Buy rating.
Bunge Limited
(BG)
2007 estimates raised at Credit Suisse to $4.95 from $4.75 based on unexpected demand in Brazilian fertilizer. Maintained $99 target price.
Equinix
(EQIX)
numbers raised at Jefferies. Price target lifts to $115 from $110, and FY08 EPS estimates upped to $0.10 from $(0.47). Reiterates Buy rating.
Herbalife
(HLF)
2008 estimates raised at Goldman to $3.00 from $2.95. See potential for reacceleration in top-line results, particularly in Mexico, as well as additional earnings from self-manufacturing some product. Maintained Buy rating and $50 target.
Juniper Networks
(JNPR)
numbers raised at UBS. Price target lifts to $37.50 from $35, and FY08 EPS estimates upped to $1.00 from $0.98. Reiterates Neutral rating.
Las Vegas Sands
(LVS)
numbers raised at Jefferies. Price target jumps to $163 from $124, and FY08 EPS estimates upped to $4.03 from $3.56. Reiterates Buy rating.
Las Vegas Sands cut from Focus List at JP Morgan. Stock is up more than 50 points since July, though Overweight rating maintained. Estimates also raised.