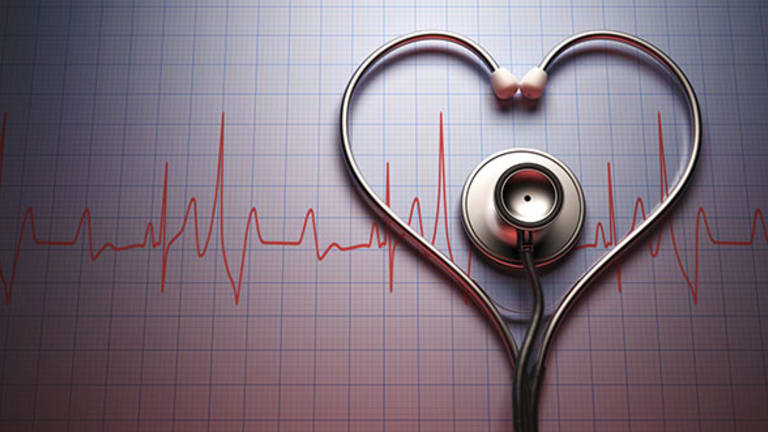 Mixed Outcomes for La Jolla Pharma Shock Drug Fuels Debate Over Sales Potential
LJPC-501 reversed dangerously low blood pressure in patients suffering from a severe form of shock, but the drug did not improve total organ function or reduce mortality.
La Jolla Pharmaceuticals' (LJPC) - Get La Jolla Pharmaceutical Company Report LJPC-501 quickly reversed dangerously low blood pressure in patients suffering from a severe form of shock, but the drug did not improve total organ function or reduce mortality, according to results from a phase III clinical trial presented Sunday.
Raising blood pressure was the main goal of the LJPC-501 study, so La Jolla likely has enough data to win FDA approval of the drug next year.
Convincing hospitals to purchase LJPC-501 without evidence of improved longer-term outcomes for shock patients could prove to be more challenging for La Jolla, which carries a market capitalization approaching $1 billion.
"I am sure there will be ongoing debate about this," said Dr. Rinaldo Bellomo, an intensive care doctor at the University of Melbourne, Australia and an investigator in the LJPC-501 study.
Distributive shock is a life-threatening condition most often caused by sepsis, in which blood pressure falls to dangerously low levels despite adequate cardiac function. The tissue and organs of distributive shock patients, starved of oxygen-rich blood flow, start to fail and can lead to death.
Distributive shock is typically treated with vasopressor drugs (catecholamines and vasopressin) that constrict blood vessels to raise blood pressure.
In its phase III study known as ATHOS-3, La Jolla enrolled 341 critically ill patients with distributive shock that was not responsive to high doses of vasopressors. Half of the patients in the study were treated with LJPC-501 on top of their vasopressor regimen, while the other half received a placebo plus vasopressors.
LJPC-501 is a synthetic form of human angiotensin II that also raises blood pressure, but in a different way from the currently approved vasopressor drugs.
Three hours after the start of treatment, 70% of the LJPC-501 patients achieved a pre-specified target blood pressure increase compared to 23% of placebo patients. The difference was statistically significant, achieving the primary endpoint of the study.
La Jolla first announced top-line results from the ATHOS-3 study in late February. The study is being presented today at the American Thoracic Society annual conference and published simultaneously in the New England Journal of Medicine.
Sunday's ATHOS-3 presentation and publication includes data not previously disclosed from important secondary endpoints tracking patient outcomes in the hours and days following treatment with LJPC-501.
After 48 hours, LJPC-501 did not improve total organ function compared to placebo. Both LJPC-501 and placebo patients showed a similar, one-point average increase on the Sequential Organ Failure Assessment (SOFA) score. Higher SOFA scores indicate worsening overall organ function.
When looking at just cardiovascular organ function, a subset of the total SOFA score, LJPC-501 did show a statistically significant improvement compared to placebo at 48 hours. La Jolla believes this result is clinically significant outcome because it shows LJPC-501 can help doctors wean distributive shock patients off higher, more toxic doses of catecholamines.
LJPC-501 demonstrated a 22% reduction in the risk of death after seven days compared to placebo, but the difference was not statistically significant. After seven days, 29% of the LJPC-501 patients died compared to 35% of placebo patients.
"The ATHOS-3 trial is an important study because it provides intensive care clinicians with very strong data that angiotensin II [LJPC-501] is an effective and safe vasopressor drug when added to other vasopressor drugs in the management of shock," said Bellomo, the Australian intensive care doctor and investigator in the study.
"The mortality data suggest the need for larger trials to test whether angiotensin II [LJPC-501] therapy increases survival in this very sick group of patients," he added.
Lead ATHOS-3 study author Dr. Ashish Khanna of the Cleveland Clinic believes it's a mistake to brush off the significance of having another class of drug to raise blood pressure in critically ill shock patients.
"What it means for the bedside clinician is we have now completed this jigsaw puzzle of three different pieces -- catecholamines, vasopressin and now angiotensin -- needed for a robust blood pressure response. With all three, we should be able to achieve a system where we can keep them balance so we can actually do good service to the human body. We supply patients with what is needed, keep their blood pressure normal, prevent organ injury and then fix the source of the problem," said Khanna.
If LJPC-501 is approved and widely adopted by hospital emergency rooms and intensive care units to treat the most at-risk distributive shock patients, peak sales could reach $500 million annually, according to Cowen analyst Phil Nadeau. He has an outperform rating on La Jolla.
"Our consultants says there is a desperate need for new options in the CRH patient population, and that any agent that demonstrates an ability to increase blood pressure will be adopted," Nadeau wrote in a recent research note. CRH refers to distributive shock patients who don't respond to first-line treatment with catecholamines.
Last March, soon after La Jolla announced initial blood-pressure results from the LJPC-501 study, two experts weighed in more skeptically about the utility of the drug absent significant improvement in outcomes.
Dr. Jim Russell, chair of the ATHOS-3 data safety monitoring board, told BioCentury, "Clinicians already have a number of choices. I don't think uptake in the market will be very big without further studies. In particular, I think we probably need a larger study powered for a clinically meaningful endpoint such as organ dysfunction, or mortality, or both. We need to see at minimum a significant increase in vital organ function. Many clinicians would say you need to see a significant decrease in mortality."
Russell is a professor of medicine at the University of British Columbia. He did not respond to an email seeking further comment on the new data from the ATHOS-3 study presented Sunday.
Similarly, Dr. Scott Manaker of the University of Pennsylvania told BioCentury in March, "I'm not sure why one would use angiotensin II to simply increase blood pressure if it's not going to lead to improved long-term outcomes."
Asked Friday to provide additional perspective on the new LJPC-501 data, Manaker said, "Thanks for the invitation but I am declining discussions with financial entities for a variety of reasons."
La Jolla CEO George Tidmarsh did not respond to an email seeking comment.
Read More Trending Articles:
We Quickly Learned Why Ford's New Truck Named After a Killer Dinosaur Is a Beast
Cisco Could Be Looking to Acquisitions to Help Solve Its Biggest Challenge
Amazon Should Be Terrified by This New Service Walmart Is Quietly Testing in China
There's Something Bad Happening at Staples That Should Remind Everyone How Bleak Retail Is Right Now
Adam Feuerstein writes regularly for TheStreet. In keeping with company editorial policy, he doesn't own or short individual stocks, although he owns stock in TheStreet. He also doesn't invest in hedge funds or other private investment partnerships. Feuerstein appreciates your feedback; click here to send him an email.