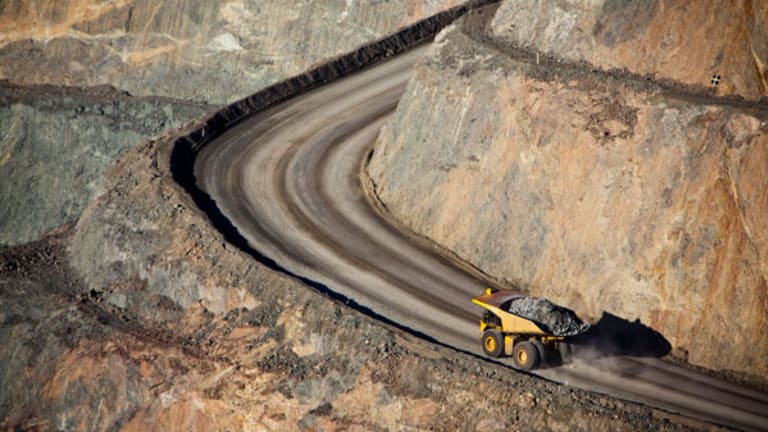 Publish date:
Miners May Be Winning Aussie Mining Tax Battle
The world's mining giants step up their battle with the Australian government, which signals Wednesday that it may revise its contentious plan to tax Down Under mines.
The world's mining giants step up their battle with the Australian government, which signals Wednesday that it may revise its contentious plan to tax Down Under mines.
Rio Tinto's Hamersley iron ore mine in Western Australia
NEW YORK (
) -- Mining giants have stepped up their battle with the Australian government, which signaled Wednesday that it may revise its contentious plan to tax the so-called "super profits" of resource extractors Down Under.
Aussie Prime Minister Kevin Rudd and his key aides met Wednesday with several top managers from multinational
mining companies with major assets in the country
, including
BHP Billiton
(BHP) - Get Report
,
Rio Tinto
(RTP) - Get Report
and
Xstrata
. The upshot of those talks: nothing, not yet at least.
During the meeting, miners tried once again to pound home their
chief criticisms of the Resource Super Profits Tax
, which Rudd announced on May 2 to such an uproar that, some observers say, it has endangered his government this election year.
First, miners don't want the levy to apply to mines in operation before the tax goes into effect (slated for 2012, though it still needs to pass through parliament); they want a grandfather clause, in other words.
Miners also want the government to reduce the headline tax rate of 40% on a 6% rate of return. In comments to the press, Australian ministers stood fast on this point, at least for the time being, saying they would be making no such compromise.
The companies also continued to argue that different tax rates and regimes ought to apply to different metals or resources, since important distinctions between them would render a one-size-fits-all plan incoherent, miners say.
In a letter to Australian shareholders Wednesday, Rio Tinto's chairman, Jan du Plessis, played a political card, as the industry has been doing since the tax was announced, saying that nothing less than the future of the nation was at risk.
"Your board has serious concerns about the impact of this proposed new tax," du Plessis wrote, "not only for Rio Tinto and the mining industry, but indeed for the whole of Australia's future economic prosperity."
The tax, du Plessis went on, "has been developed in a vacuum and is divorced from the day-to-day realities of business."
Meanwhile, BHP Billiton's equity received a downgrade Wednesday from
JPMorgan
(JPM) - Get Report
mining analysts in London, who cited valuation relative to peers and sheer diversity -- BHP's sprawling operations mean that it mines just about every kind of metal and mineral that it's possible to mine -- as the chief reasons for the cut. At the moment, the analysts said they believe that a rally will continue in "higher beta stocks" -- that is, mining companies with leverage to one kind of metal, copper especially.
BHP's New York-listed American depositary receipts were trading Wednesday morning at $66.81, down 1.5%. Rio Tinto shares were losing 0.8% to $49.55.
The JPMorgan analysts, who cut their rating on BHP to underweight, struck a cautious, almost fearful note in their 59-page report Wednesday, which tackled the whole of the metals space. It's a sentiment that seems to have become
increasingly common among commodities players
.
Though the firm remains bullish, the analysts wrote, "The the risk to this call is the very real and present danger that Q3 this year could see a hard landing in China aligned with peak softness in Western markets."
Translated, China's recent moves to end rampant speculation in its real estate markets and stave off the creation of a dangerous asset bubble will lead to a slower-growing economy in the People's Republic. Because Chinese industry has come to dominate global trade in raw materials, any softening there will without question hurt metals prices.
Combined with the Aussie tax and the European debt crisis, fears of a slower China have contributed to a volatile few weeks in commodities and commodities-linked stocks.
Meanwhile, the ramifications of a piece of domestic policy from a nation on the other side of the planet continued to make global waves.
Caterpillar
(CAT) - Get Report
, for instance, has said that the Aussie mining tax could hurt sales of its giant mining trucks,
Reuters
reported Tuesday, while the mining-equipment specialist manufacturers,
Joy Global
(JOYG)
and
Bucyrus
(BUCY)
, both based in Milwaukee, have said the same.
-- Written by Scott Eden in New York
RELATED STORIES:
>>Buried Treasure: Mines in Australia
>>Mining Winners: Rio, BHP, Cliffs
>>Aussie Super Tax: Five Stocks to Watch
>>Aussie Mining Tax: Future Global Trend?
Scott Eden has covered business -- both large and small -- for more than a decade. Prior to joining TheStreet.com, he worked as a features reporter for Dealmaker and Trader Monthly magazines. Before that, he wrote for the Chicago Reader, that city's weekly paper. Early in his career, he was a staff reporter at the Dow Jones News Service. His reporting has appeared in The Wall Street Journal, Men's Journal, the St. Petersburg (Fla.) Times, and the Believer magazine, among other publications. He's also the author of Touchdown Jesus (Simon & Schuster, 2005), a nonfiction book about Notre Dame football fans and the business and politics of big-time college sports. He has degrees from Notre Dame and Washington University in St. Louis.