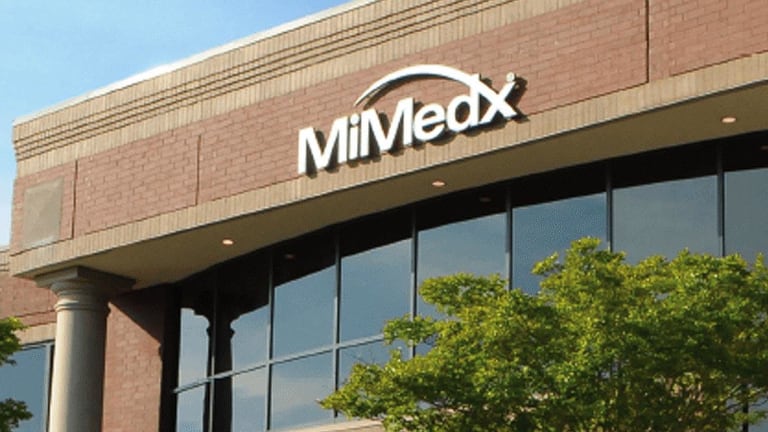 MiMedx Shares Plummet as CEO and COO Resign Amid Investigation
The biopharmaceutical company has been under investigation for inaccurate accounting practices.
MiMedx Group Inc. (MDXG) - Get Free Report  plummeted almost 40% on Monday after the company announced the resignation of its CEO and COO.
Shares have fallen $2.48 -- 38.8% -- to $3.98 a share on the news that CEO Parker "Pete" Petit and COO William "Bill" Taylor would step down from their positions. Petit also resigned from his role as chairman of the company's board, but will remain as a director. Taylor will no longer serve as MiMedx's president or as a director on the company's board.
The biopharmaceutical firm has already gone through several changes among its leadership, with both the company's chief financial officer and vice president having left the company in the past month, according to a press release. MiMedx, based in Marietta, Georgia, develops regenerative, biomaterial products such as allografts for various healthcare sectors including dental, surgical and sports medicine.
The moves come as part of a larger internal investigation, according to the company's 8-K filing on the matter.
"These resignations are based on the Board of Directors' business judgement regarding the Company's leadership and direction, and arise, in part, from information the Audit Committee has identified through its previously announced independent investigation. This investigation is ongoing and there may be other actions taken based, at least in part, on information from the investigation," according to the filing.
The investigation stems from MiMedX needing to restate its financial reports as far back as 2012 based on allegations "regarding certain sales and distribution practices" at the company. Specifically, the investigation has focused on dealings with two distributors, in which the "implicit arrangements" of the deals "modified the explicit terms of the contracts," which affected how revenue was collected, according to another company 8-K.
The company's board of directors tapped Charles Evans as the new chairman. Evans has served on MiMedx's board as a director since 2012. Meanwhile, David Coles will serve as the interim CEO for the company. Coles comes to MiMedx from Alvarez & Marsal, where he was a managing director for the professional services firm.
"The Board is confident that now is the right time for MiMedx to transition its leadership team as we look to the future and prepare our Company for its next chapter," Evans said in the press release. 
The board has said it has commenced its search for a new CEO and will evaluate both internal and external candidates, according to the release.