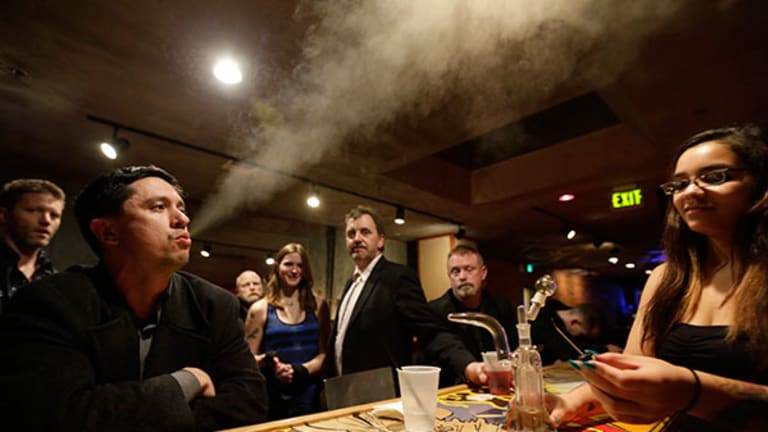 Millennials Are Getting High on Weed Instead of Drunk on Beer - How to Invest in This Trend
An insightful new study on weed use vs. alcohol consumption.
An insightful new study on weed use vs. alcohol consumption.
Consumers, especially millennials, increasingly view marijuana as a safer alternative to alcohol, potentially bad news for Molson Coors (TAP) - Get Report and Craft Brew Alliance (BREW) - Get Report .
Since 2008, 18- to 25-year-olds' incidences of alcohol consumption over the past year fell 2.5%, while marijuana incidence increased 4.6% during the same period, Cowen analyst Vivien Azer wrote in a note on Thursday. Past month alcohol uses has fallen every year since 2010, while past year cannabis use has increased every year since 2008. The trend continues as these consumers age up into the next-highest age bracket: past month alcohol incidence among 26- to 29-year-olds has fallen 2.8% over the past two years.
Among alcohol stocks, the best prepared to manage this new competition is Constellation Brands (STZ) - Get Report due to its strong wine portfolio, Azer wrote. Constellation "has among the most defensive alcohol portfolios as it relates to cannabis risk...tend[ing] to under-index to cannabis consumers." Women and middle- and high-income consumers both prefer wine to beer and are less likely to consume marijuana. Constellation's imported beers are favored by Latinos, who have the lowest rates of marijuana consumption of any ethnic group, and by young and high-frequency drinkers.
In contrast, Molson Coors' portfolio overlaps with the demographic groups most likely to consume marijuana, leaving it at risk for sales cannibalization. Molson Coors only makes beer and is the second-largest player in both the U.S. and Canada. California and Canada are both set to legalize recreational use in 2018, potentially creating 75 million new marijuana consumers.
"While Molson Coors' portfolio is diverse and spans a variety of price points, the company's core offerings tend to be lower-priced, thus appealing to lower-income consumers that tend to over-index to cannabis," Azer wrote, adding that she's "encouraged" by Molson Coors' attempts to increase its market share among women and its cost savings program.
Craft Brew Alliance generates more than half of its sales in California and the Pacific Northwest, "some of the largest cannabis markets in the U.S." (Recreational usage is legal in both Oregon and Washington State, and soon to be legal in California.) Craft beer as a whole is declining, compounding Craft Brew Alliance's potential problems going forward. However, its distribution partner Anheuser-Busch InBevBUD owns a 31.51% stake in the company and has the option to acquire it outright the next few years, offering "both good downside support...[and] upside potential."
Azer attributed this trend to changes in risk perception.
About 36.9% of young adults believed in 2016 that five or more drinks one or two times per week is harmful, a slight increase from 2010 and 2015, while just 19.1% believe smoking marijuana one or two times per week is harmful, down from 27% in 2010 and 37% in 2015. Nearly 82% of marijuana users and 25% of non-marijuana users believe alcohol is more dangerous, or 53% overall, and 40% overall think they're equally harmful, "creating a notable opportunity for more research to shift consumer perception."
Although data is slight, Azer notes that a California survey by cannabis delivery service Eaze found that 82% of its customers reduced their alcohol consumption after taking up marijuana, and a Cowen proprietary survey in Ontario found that 72% of marijuana users drink less. About 80% of the Ontario respondents said they would not simultaneously consume alcohol and marijuana.
While U.S. Attorney General Jeff Sessions said last month that marijuana usage is "only slightly less awful" than heroin addiction, a Marist and Yahoo News poll in March found that 56% of U.S. adults believe that marijuana usage is socially acceptable and 49% support legalization.
"As cannabis use continues to increase, this preference to avoid dual use, or to moderate alcohol to accommodate dual use, would represent a sustained headwind for alcoholic beverage trends," Azer added.
Read Related Article:The April 20 Weed Holiday Is Here: These 5 Businesses Are Soaring in States Where Pot Is Legal