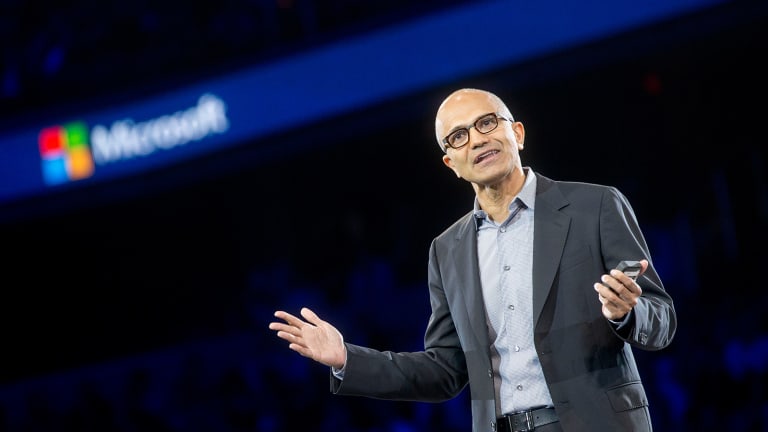 Microsoft Shares Jump as Cloud Drives Q1 Results: What Wall Street's Saying
The commercial cloud, which blends Microsoft's enterprise and cloud computing offerings, wowed analysts in the first fiscal quarter.
Microsoft Inc.  (MSFT) - Get Free Report  analysts liked what they saw from the software giant on Thursday. 
The company's results were buoyed by surging growth from multiple cloud products in the first fiscal quarter, driving shares up 6.7% to $84.00 at the open on Friday. Microsoft's commercial cloud -- which includes the commercial edition of Office 365, the Azure cloud computing platform and the Dynamics 365 enterprise planning and customer relationship platform -- grew 56% on the quarter and hit an annualized rate of $20.4 billion in sales. 
Azure revenues increased by 90%, more than doubling the 42% growth rate of Amazon's (AMZN) - Get Free Report Amazon Web Services. Now if only CEO Satya Nadella could boost gaming sales, which increased just 1% in the quarter.
Here's what Wall Street analysts were saying about the impressive quarterly results: 
Adam Holt, MoffettNathanson
"[I]t is remarkable to see how many different drivers are working for [Microsoft] now, from Azure and Dynamics to Office and Windows. It is hard to find a bear case on the top line, and margins were clearly better than expected while Q2 looks low and numbers should move higher for FY18."
Brent Bracelin, KeyBanc Capital Markets
"Commercial cloud revenue increased by 55% y/y to cross the $20B goal set by management in 2015. Cloud gross margin also rose sharply to 57% from 52% last quarter on economies of scale. This reinforces our bullish view that Microsoft could more than double cloud revenue by 2021, while delivering impressive operating leverage at scale. We are raising our estimates and increasing our price target to $94 from $82 applying an EV/FCF multiple of 17.5x our new F2019 FCF estimate of $5.01."
Kirk Materne, Evercore ISI
"While the company's Xbox One X console launch will weigh on 2Q gross and operating margins, guidance came in largely in line with Street expectations, implying strong operating profit growth across the rest of Microsoft's businesses. Further, we believe strong top line performance across each segment of Microsoft's Commercial Cloud including Azure (+90%), Dynamics 365 (+69%) and Office 365 Commercial (+42%) provides us with greater confidence that our FY18 revenue forecast could prove conservative. ...
"Overall, we believe Microsoft remains well positioned to deliver steady top line and bottom line growth over the next 3-5 years given the breadth of its cloud portfolio, its growing annuity revenue base, and its strong balance sheet ($53bn in net cash)."
Keith Bachman, BMO Capital
MSFT results and guidance were extremely strong across the board. We are raising our FY19 FCF estimate from $4.67 per share to $4.87 per share. Moreover, we think our FCF estimate could be conservative and we think $5.00 per share in FY19 is a reasonable scenario. We are raising our target price from $86 to $94, and we believe that MSFT's product breadth, global reach, and consistent execution warrant MSFT forming a core holding for many investment styles. We retain our Outperform rating.
Michael Nemeroff, Credit Suisse
"A stronger than expected Q1 driven mostly by revenue and margins outperformance in its Commercial Cloud (CC) segment (Azure, Office 365 Commercial, Dynamics 365), which mgmt. expects to continue to steadily improve throughout the fiscal year, likely sets the stage for further EPS upside in F2018. As expected, mgmt. provided actual CC revenue for the first time, but the surprise was that the CC gross margin came in at 57%, 400bps above our estimate, which is expected to trend higher much faster than we previously forecast, generating higher than consensus EPS. ... Our Outperform thesis on MSFT is based on our expectations for strong cash flow growth and earnings power potential over the next few years, at least, fueled by (1) significant commercial cloud growth and (2) higher cloud gross margins over time."
It looks like it's the end of an era for the Microsoft Kinect:
More of What's Trending on TheStreet: