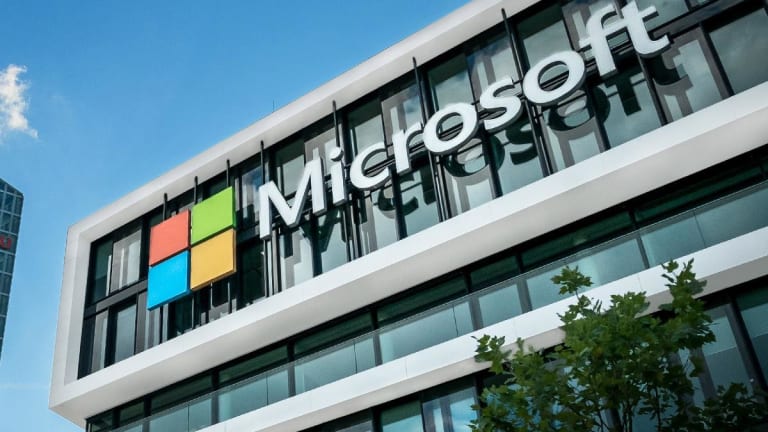 Microsoft Tops Estimates on Enterprise Strength: 10 Key Takeaways
The software giant reported double-digit growth for a slew of major businesses. And outside of some gaming headwinds, it expects the December quarter to be strong as well.
Like clockwork, Microsoft (MSFT) - Get Microsoft Corporation (MSFT) Report  once more topped analyst estimates on the back of strong momentum for many of its enterprise-focused businesses.
After the bell on Wednesday, Microsoft reported September quarter (fiscal first quarter) revenue of $33.06 billion (up 14% annually) and GAAP EPS of $1.38 (up 21%), topping consensus analyst estimates of $32.15 billion and $1.24. Revenue for all three of Microsoft's reporting segments came in above the guidance the company issued in July.
On its earnings call, Microsoft, which has a history of guiding conservatively, forecast its three reporting segments would collectively post December quarter revenue of $35.15 billion to $35.95 billion. That implies 9% annual growth at the midpoint and compares with a consensus estimate of $35.9 billion.
Revenue guidance for the Intelligent Cloud segment, which covers the Azure cloud platform and server software, is above analyst estimates. Guidance for the Productivity and Business Processes segments, which covers Office, Dynamics (business app) and LinkedIn revenue, is in line with estimates. And guidance for the More Personal Computing segment, which covers Windows, Surface, gaming and Bing revenue, is below estimates due to expected gaming revenue pressures.
Microsoft also reiterated guidance for its revenue to grow by a double-digit percentage in fiscal 2020 (ends in June 2020). And whereas the company previously indicated its operating margin would be "stable" in fiscal 2020, it's now guiding for slight growth.
Microsoft shares finished after-hours trading up 0.5% to $137.90. With shares up 35% on the year heading into earnings, Wall Street had been wagering that the company would deliver another strong report.
Here are some notable takeaways from Microsoft's earnings report and call.
1. Enterprise Deal Activity Was Very Strong
Microsoft's commercial bookings rose 30% annually last quarter, after having grown 22% in the June quarter. That helped Microsoft's commercial remaining performance obligation, which covers all the revenue it has under contract but hasn't yet recognized, grow 26% to $86 billion. On the call, Hood indicated Microsoft is seeing both strong deal renewal activity and an uptick in long-term deals.
2. Azure Growth Continued Slowing, But Remains High
Azure revenue rose 59% annually, after having grown 64% in the June quarter and 73% in the March quarter. Hood reiterated that growth remains strong for "consumption-based" Azure services such as its cloud infrastructure (IaaS) and developer platform (PaaS) offerings, and relatively slower growth for "per user" offerings such as Microsoft Enterprise Mobility + Security software and Power BI business intelligence software.
Microsoft still doesn't break out revenue figures for Azure, the clear-cut #2 player in the public cloud services market behind Amazon Web Services (AWS). Amazon.com (AMZN) - Get Amazon.com, Inc. Report , which in July reported its AWS revenue rose 37% in Q2 to $8.38 billion, will share AWS' Q3 performance when it reports on Thursday.
Microsoft and Amazon.com are holdings in Jim Cramer's Action Alerts PLUS member club. Want to be alerted before Jim Cramer buys or sells MSFT or AMZN? Learn more now.
3. Corporate Windows Demand Was Quite Strong
With the qualifier that this growth rate can fluctuate some from quarter to quarter, Microsoft's "Windows commercial" revenue, which stems from direct sales to businesses and other organizations, rose 26% last quarter. That's up sharply from the June quarter's 13% growth, with Hood noting that sales got a lift from strong uptake for Microsoft 365 subscription plans that combine Windows, Office 365 and security offerings.
And against a backdrop of strong business PC demand ahead of Microsoft's ending of Windows 7 support in January, Microsoft's Windows OEM revenue rose 9%, matching the June quarter's growth rate. A 19% increase in Windows Pro license revenue more than offset a 7% drop in Windows non-Pro revenue, which is consumer-centric and is pressured by Chromebook adoption in the low-end PC market.
Microsoft expects Windows commercial revenue to be strong again in the December quarter thanks to Microsoft 365. Likewise, Windows OEM revenue growth is expected to again outpace the PC market's growth, although Hood indicated (amid ongoing Intel (INTC) - Get Intel Corporation (INTC) ReportPC CPU shortages) that supply chain constraints could be a headwind.
4. Office Largely Performed as Expected
Office commercial revenue rose 13%, after having grown 14% in the June quarter. Office 365 commercial revenue rose 25%, thanks to 21% seat growth and a higher average revenue per user (ARPU).
Office consumer revenue, which is smaller, rose 5%. Consumer Office 365 subscriptions rose by 800,000 sequentially and 3.1 million annually to 35.6 million. Hood mentioned "transactional strength in Japan" boosted consumer and (to a lesser extent) commercial Office growth.
5. Gaming Revenue Is Under Pressure -- For Now
With the Xbox One now long in the tooth and a next-gen Xbox expected by the 2020 holiday season, Microsoft's total gaming revenue was down 7%, even though its "Xbox content and services" revenue was flat.
Moreover, Microsoft expects gaming revenue to be down by a mid-20s percentage in the December quarter, thanks to both weaker console demand and a difficult annual comparison caused by a third-party title (possibly Fortnite).
AMD (AMD) - Get Advanced Micro Devices, Inc. Report , it's worth noting, acts as the Xbox One's processor supplier and will also be the processor supplier for the next-gen Xbox.
6. Server Software Demand Was Better Than Expected
Microsoft's "server products" revenue, which involves licenses for software such as the Windows Server OS, SQL Server database and System Center systems management software, rose 12%. That's up from the 5% growth seen in the June quarter, and compares favorably with the negative growth some peers are seeing for traditional license revenue.
Hood admitted server products growth got a 4-point boost from purchases tied to the ending of support for Windows Server 2008 and SQL Server 2008. However, she also indicated it's benefiting from good demand for premium versions of Windows Server and SQL Server, and from a flexible licensing model that allows licenses to be used both on on-premise data centers and on public clouds.
7. LinkedIn, Dynamics and Surface Kept Chugging Along
LinkedIn delivered another quarter of 20%-plus growth, with revenue rising 25% amid a 26% increase in Marketing Solutions (advertising) revenue. Dynamics business app revenue rose 14% thanks to a 41% increase in revenue for Dynamics 365 cloud apps.
Surface revenue fell 4% to $1.14 billion ahead of October's Surface hardware refresh. However, Microsoft forecasts low-double digit Surface growth for the December quarter, in spite of a tough annual comparison.
8. Margin Growth Continued
Microsoft's gross margin (GM) rose 3 percentage points annually to 69%. That, along with the fact that operating expenses rose a moderate 8%, helped its operating margin rise by 4 points to 38%.
The company's closely-watch Commercial Cloud GM rose by 1 point sequentially and 4 points annually to 66% thanks to a "material improvement" in Azure's GM.
9. Capex Remains Fairly High
The September quarter's capital spending totaled $4.8 billion, down by $500 million sequentially but up by $500 million annually. Cloud data center investments accounted for much of this spending.
For the December quarter, Microsoft is guiding for capex to be down slightly on a sequential basis, but to once more be up annually.
10. Buybacks Totaled $4 Billion
Stock repurchases fell slightly from the June quarter's $4.2 billion, but were still well above the year-ago level of $2.6 billion. With Microsoft having recently added $40 billion to its buyback authorization, look for the company to keep buying back stock at a healthy clip.
TheStreet's Eric Jhonsa previously covered Microsoft's earnings report and call through a live blog.
This article has been corrected to state that Microsoft's March quarter Azure revenue growth was 73%, rather than 76%.