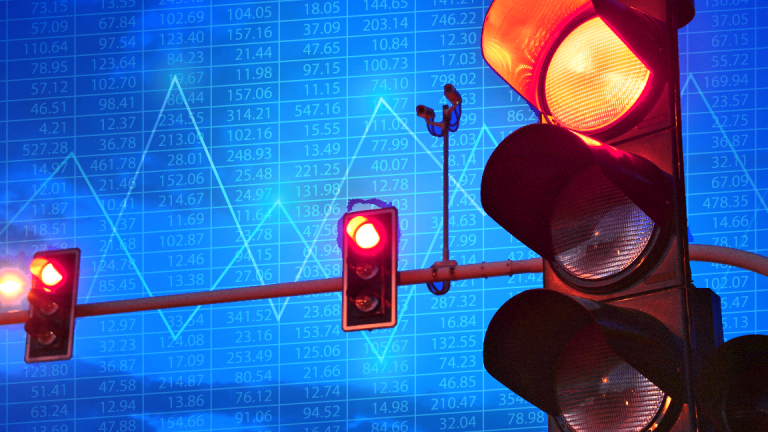 Microsoft and Starbucks Among the Stocks Insiders Are Selling Right Now
In just three months insiders have dumped close to $40 million of Starbucks stock. Can Wall Street shed some light on these bearish moves?
It's not all buy, buy, buy. Corporate insiders are busy offloading stock holdings too. And these can be just as insightful as insider buy transactions. Insiders have access to a wealth of company information and insights, so the timing of transactions can speak volumes about how they see shares performing in the coming months.
Here we use TipRanks' Daily Insider Transactions tool to delve into four stocks insiders are getting rid of right now. Note that we only screened for stocks with transactions of more than $500,000.
Microsoft
On Feb. 15, Jean Philippe Courtois made a sizable sale of Microsoft Corp. (MSFT) - Get Microsoft Corporation Report shares. The company's executive vice president and president of Microsoft Global Sales, marketing and operations, Courtois sold off shares worth $3.04 million. His previous transactions, now six months ago, also saw him sell shares totaling $6 million. Notably, over the last six months, MSFT shares are only up by 1.6% - so he hasn't missed out too much yet.
However, his move is at odds with Wall Street's strong buy consensus. Out of 20 analysts covering the stock, 18 rate the stock a buy. This is with only one analyst staying sidelined and only one analyst - Jefferies' John Difucci - recommending investors actually sell the stock.
This top-performing analyst, one of the Top 10 ranked by TipRanks out of more than 5,000, has a price target of just $75 on shares. From current levels this translates to downside of more than 30% from the current $108 share price.
Difucci cited concerns with Microsoft's sustainable cash flow growth as justifying his bearish call. He believes the stock is overvalued, writing: "We believe that the current share price of MSFT does not adequately reflect the significant risk of the dependency of the company's profit on the challenged PC ecosystem, or the significant risk associated with its foray into the Cloud business."
Microsoft is a holding in Jim Cramer's Action Alerts PLUS member club. Want to be alerted before Jim Cramer buys or sells MSFT? Learn more now.
3M
Formerly known by the rather long-winded name the Minnesota Mining and Manufacturing Company, 3M Co. (MMM) - Get 3M Company Report is an American multinational conglomerate operating in the fields of industry, worker safety, health care, and consumer goods.
Right now, MMM is demonstrating negative signals from both insiders and analysts. Starting with the insiders, it's notable they have sold shares worth $12.07 million in the last three months. Senior Vice President Paul Keel is one of the insiders selling, with a $1.68 million transaction on Feb. 8.
Meanwhile, the stock's Wall Street consensus is hold - with 5% downside potential ahead, according to the average analyst price target.
For example, five-star Jefferies' Laurence Alexander sees shares staying rangebound until a "more favorable global industrial outlook presents itself."
And JPMorgan's Stephen Tusa is decidedly more bearish. He has a sell rating on MMM and Wall Street's lowest price target of $158. That suggests shares could plunge 24% from current levels.
"We remain negative on 3M, as we see a fundamental disconnect between investor perception of business quality, and quality growth, the latter of which we believe ultimately drives the multiple, which we think should be lower," he wrote.
Estee Lauder
Estee Lauder Cos. (EL) - Get Estee Lauder Companies Inc. Class A Report owns multiple popular makeup and skincare companies including MAC, Clinique and Bobbi Brown. However, the stock has a very negative insider sentiment right now.
In the last three months, insiders have offloaded no less than $40 million of EL stock. The most recent sale, and one of the most significant, comes from President, CEO and Director Fabrizio Freda. He reduced his EL holding by close to $15 million on Feb. 7.
Prior to this, Freda made an even more significant transaction, selling off $21.64 million of stock on Nov. 15 and 16. Other insiders demonstrating a bearish sentiment on the stock include group presidents, owners, and Chief Financial Officer Tracey Thomas Travis.
In fact, there has only been one informative buy transaction in the last year - and that was now six months ago. Could this be the explanation? The average analyst price target stands at $152, which is now 2% under the current share price of $155. That's with shares putting on a 19% sprint year to date.
Top-rated Wells Fargo analyst Bonnie Herzog has a hold rating and $142 price target on shares. "While we're encouraged by continued strength in China/Travel retail, we're also increasingly mindful of tough comps & the importance of these segments in offsetting weakness elsewhere" explained Herzog. That includes lower net makeup sales from the Clinique and Smashbox brands.
She concluded: "All-in, we believe shares are fairly valued at current levels."
Starbucks
In the last year, shares in this coffee giant have rallied 24%. And with prices now circling $70, Starbucks Corp. (SBUX) - Get Starbucks Corporation Report insiders are taking the opportunity to sell millions of dollars' worth of Starbucks stock.
Notably Vivek Varma, executive vice president of public affairs, sold $4.9 million of shares on Feb. 13. That followed on from an even bigger sale he made on Feb. 1 of $5 million.
He isn't the only insider selling. Two group presidents (John Culver and Clifford Burrows) both also made sales worth well more than $10 million in the last couple of weeks. The result: insiders have, in total, sold $38.79 million of Starbucks shares in the last three months.
Interestingly, from an analyst perspective, these moves make sense. The average analyst price target of $69 falls just under the current share price. That means analysts are, on average, forecasting no upside potential for the coming months.
Indeed, Wedbush's Nick Setyan explained that despite a solid quarter he is staying sidelined on SBUX right now due to its valuation. "While we continue to see little risk to near- and medium-term expectations, we also do not expect near-term drivers of positive revisions to materialize" the analyst wrote.
He has a $66 price target on the stock (5% downside).
offers exclusive insights for investors by focusing on the moves of experts: Analysts, Insiders, Bloggers, Hedge Fund Managers and more. See what the experts are saying about your stocks now at
. Author: Harriet Lefton.