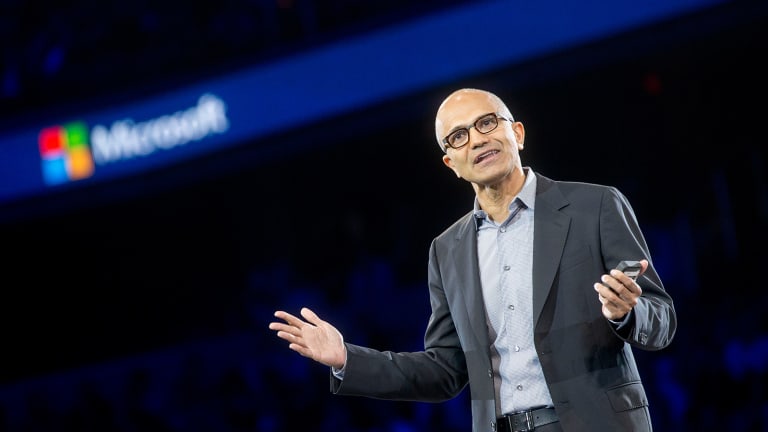 Microsoft's Software and Cloud News at Build Drive Home Its Big-Picture Thinking
At its annual developer conference, the software giant is eager to show how the whole of its product lineup is more than sum of its parts.
Microsoft (MSFT) - Get Microsoft Corporation Report  is going the extra mile to convince business software developers and CIOs that it has their priorities in mind as it continues battling the likes of Amazon.com (AMZN) - Get Amazon.com Inc. Report , Alphabet/Google (GOOGL) - Get Alphabet Inc. Report , Oracle  (ORCL) - Get Oracle Corporation Report and Salesforce.com (CRM) - Get Salesforce Inc. Report .
By tech event standards, the keynote address that Microsoft CEO Satya Nadella just gave on Monday at his company's Build developer conference was a wonky and low-key affair -- one that focused to a large extent on nuts-and-bolts improvements to existing apps and services rather than big new product launches.
But there were arguably two big themes that Nadella and other Microsoft execs managed to drive home: Microsoft is thinking carefully about the pain points that office workers and developers have to deal with, and the whole of Microsoft's arsenal of business software, cloud services, developer tools and programming interfaces (APIs) is more than the sum of its parts.
Dozens of product and service announcements -- some fairly incremental in scope, others more important -- have been made by Microsoft during the first day of Build. Notable new offerings and product updates include:
The Fluid Framework, a platform for web apps that's meant to power "shared interactive experiences" such as document collaboration (historically a strong point for Google's G Suite productivity apps). In addition to promising unmatched performance, Microsoft says the platform will give users a lot of flexibility to choose how content from different apps is shared, and will support bots that can do things such as recommend content and translate text. It will be integrated with Microsoft apps such as Word, Outlook and Teams, and also provided to third-party developers.
IE Mode for the Edge browser, which lets Edge users rely on an integrated version of the older Internet Explorer browser to access corporate websites that were built with IE in mind.
Solutions for integrating code-hosting and collaboration services provided by GitHub with Microsoft's Azure Active Directory service (used to manage employee access to corporate IT resources) and Visual Studio developer tool suite. The move comes seven months after Microsoft closed its $7.5 billion acquisition of GitHub.
A solution -- developed with Red Hat (RHT) - Get Red Hat, Inc. Report , which these days is both a partner and a rival of Microsoft's -- for automatically scaling workloads running on app containers deployed on Microsoft's Azure cloud platform. The solution relies on Kubernetes, a popular open-source solution for orchestrating large numbers of containers.
Microsoft Graph Data Connect. This is a solution for building apps that combine data obtained via Microsoft's extensive Graph API -- it provides access to data possessed by Office 365 apps and other Microsoft products -- with their own business data.
A slew of new database and IoT services for Azure. Among them: New dashboards, data connectors and customization options for the Azure IoT Central service for managing connected devices, and the ability of Azure SQL Database service to support serverless computing. Contrary to its name, serverless computing (a fast-growing field) still requires physical servers, but spares companies the trouble of having to spin up and manage individual server virtual machines.
An overhaul for the Cortana voice assistant meant to let users effortlessly converse with the voice assistant to do things such as schedule appointments and set reminders. Microsoft says the revamp is part of a broader effort to create (both for itself and developers) "powerful conversational interfaces from data and machine learning instead of from rules, intent and code."
In addition to showing off many of Microsoft's new offerings, Nadella & Co. used the keynote to provide case studies of how major enterprises are using one or more existing Microsoft offerings, as well as how developers are creating apps that deeply integrate with platforms such as Office 365 and the Dynamics 365 business app suite.
Two notable examples: Starbucks' (SBUX) - Get Starbucks Corporation Report use of Azure's AI/machine learning, IoT and blockchain services to make, respectively, product recommendations, monitor its coffee machines and track the movement of coffee beans through its supply chain; and Adobe's (ADBE) - Get Adobe Inc. Report integration of Microsoft's Power BI analytics/data visualization software (bundled with some Office 365 subscriptions) with its marketing analytics software.

Microsoft highlighting the extensive customer base for its Azure cloud platform. Source: Microsoft.
The broader message that Microsoft was trying to deliver: The array of apps and services that the company provides for businesses -- from Windows and Cortana, to Office 365 and Dynamics 365, to Azure, LinkedIn, GitHub, Visual Studio and everything else -- isn't something that any rival can hope to replicate. And with each passing year, the company is getting better at integrating these offerings both with each other and third-party apps and services.
Needless to say, such competitive strengths aren't always going to allow Microsoft to beat out formidable rivals such as Amazon Web Services (AWS), Salesforce and Google when competing for large enterprise deals. But the company's product breadth, R&D investments and big-picture thinking do appear to leave it well-positioned to build on its recent sales momentum,
a wide array of products and services.
Microsoft, Amazon.com, Salesforce.com and Alphabet are holdings in Jim Cramer's Action Alerts PLUS member club. Want to be alerted before Jim Cramer buys or sells MSFT, AMZN, CRM or GOOGL? Learn more now.