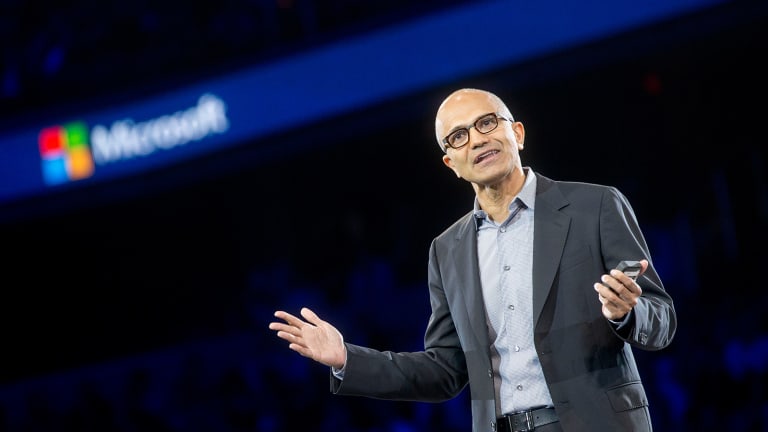 Microsoft's Willingness to Partner With Rivals Continues to Pay Dividends
From Red Hat to SAP to Sony, the software giant has formed plenty of alliances with competitors during the Satya Nadella era. And it's hard to complain about the results.
In a number of different ways, Microsoft's (MSFT) willingness to support rival platforms and technologies during the Satya Nadella era has been gradually paying dividends.
Fresh evidence of this phenomenon was seen earlier this week, when Microsoft disclosed that more server virtual machines running on its Azure cloud platform rely on Linux than on Microsoft's own Windows Server operating system. The remarks follow ones made in 2018 that indicated close to half of all Azure virtual machines run Linux.
Given how widely-adopted Linux is today as a server OS, supporting it on Azure, the world's No. 2 public cloud platform after Amazon Web Services (AWS), has long been a no-brainer. But it's worth noting that Microsoft hasn't merely supported Linux on Azure; it has gone out of its way to drive Linux usage by partnering with leading enterprise Linux developers Red Hat (RHT)  and SUSE Linux.
And Microsoft's support for open-source offerings on Azure has gone well beyond Linux. Among other things, the company has also launched Azure services for running open-source databases, and has been a major supporter of Docker, a popular platform for deploying app containers (lightweight alternatives to virtual machines that can be easily moved from one server to another).
Last year, Microsoft dialed up its support for open-source by spending $7.5 billion to acquire GitHub, a code-hosting and sharing platform that has been especially popular with open-source developers -- one of the company's main strategic goals here was to drive Azure adoption among GitHub developers. The company also contributed 60,000 patents to the Open Invention Network, a consortium that aims to protect Linux developers from patent lawsuits.
Microsoft is a holding in Jim Cramer's Action Alerts PLUS member club. Want to be alerted before Jim Cramer buys or sells MSFT? Learn more now.
Microsoft's strategy for growing its Office cash cow has also leaned heavily on a willingness to support rival platforms. In addition to creating feature-rich Office apps for both iOS and Android (a move that has received plenty of praise in recent years), Microsoft has been willing to partner with rivals such as Box (BOX) , Dropbox  (DBX) and SAP (SAP) on Office 365 integration deals.
Microsoft has also teamed with SAP, and for that matter Adobe (ADBE) , on the Open Data Initiative, an effort meant to ease data-sharing between corporate apps. And over just the last two months, it has formed an alliance with long-time game console rival Sony undefined  in which Sony will explore the use of Azure to power its game and content-streaming services, and has also teamed with database and business app rival Oracle (ORCL) to let companies running databases on Oracle's cloud infrastructure more easily access complementary Azure services in fields such as analytics and AI/machine learning.
As Microsoft keeps forming alliances that rivals that would have been very hard to imagine happening during the Steve Ballmer era, the company's top-line momentum is stronger than it has been in a long time.
The software giant's revenue rose 15% annually during the first nine months of fiscal 2019 (it ended in June), and while Azure has received much of the credit for this growth, it's far from the only contributor. And amid all of this growth, Microsoft has also become a standout in CIO surveys, with execs frequently indicating that their companies plan to up their Microsoft-related spending. "Microsoft could serve as a 1-word summary for [our] survey," JPMorgan wrote in the executive summary for its latest CIO findings.
Though by no means the only factor behind Microsoft's improved sales momentum and C-suite popularity, its pragmatic approach to working with rivals has undoubtedly been a significant factor.
Save 57% with our July 4th Sale. Join Jim Cramer's Action Alerts PLUS investment club to become a smarter investor! Click here to sign up!