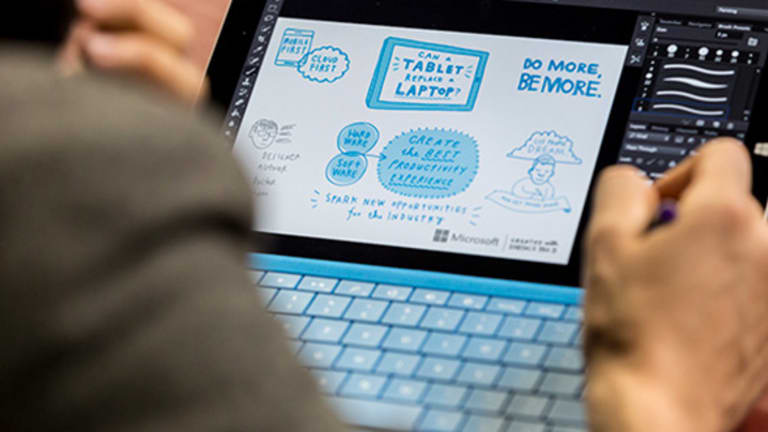 Microsoft, Oracle Could Take a Beating in Trump's Tech World
Geographically diversified tech behemoths could be negatively affected by Trump presidency while U.S.-centric companies are likely to benefit.
As investors navigate through Donald Trump's shocking victory against Hillary Clinton in the U.S. presidential election, there may already be potential winners and losers within the technology universe. Behemoths with international revenue streams are likely to be hurt by the Trump presidency while cybersecurity stocks can anticipate a boost, according to industry analysts. 
Short-term, movements in currency will affect companies with international revenue streams, Morningstar analyst Rodney Nelson said by phone, adding that this has been a point of contention since the Brexit vote for companies with exposure to the pound. Salesforce.com (CRM) - Get salesforce.com, inc. Report , for instance, translates its European revenue to the pound. 
Nelson explained that long-term, potential changes to international trade agreement may hurt hardware manufacturers that source components from overseas such as Microsoft (MSFT) - Get Microsoft Corporation Report . 
"While it may take time for the election results to change the overall demand environment, given valuations of many growth software names, we think the software market could trade with a multiple to the market," wrote RBC Capital Markets analysts Matthew Hedberg and Ross MacMillan in a note Tuesday night.
Trump's victory may lead to a short-term pause in IT spending against the backdrop of weak equity markets, Hedberg and MacMillan further noted. 
Trump's exclusionist philosophy could bode well for U.S.-centric software companies such as Intuit (INTU) - Get Intuit Inc. Report , Ultimate Software Group (ULTI) and Paylocity Holding (PCTY) - Get Paylocity Holding Corp. Report , according to the analysts. On the flip side, it could hurt geographically diverse behemoths like Microsoft, Oracle (ORCL) - Get Oracle Corporation Report , SAP (SAP) - Get SAP SE Report and VMware (VMW) - Get VMware, Inc. Class A Report . 
TurboTax owner Intuit sees about 95% of its revenue come from the U.S. while Ultimate Software and Paylocity both count 100% of their respective revenue from the U.S., according to data from FactSet. 
By comparison, only about 47% of Microsoft's revenue stems from the U.S., with Mainland China contributing to around 10%. Japan makes up about 4% of the pie, Germany forms about 3.2%, United Kingdom is approximately 2.7% and France constitutes around 2.3%.
Oracle's pie of revenue looks quite similar. After the U.S. that makes up 47% of the software giant's revenue, the U.K. comes a close second with 6.3% of revenue and Mainland China making up approximately 6.2%. Japan contributes to around 4% of total revenue. 
For SAP, about 33% of revenue stems from the U.S. and Germany makes up a big chunk of the pie with around 13%. Mainland China is estimated to generate approximately 6.5%. 
Within the tech universe, cybersecurity stocks have been a beneficiary of the election. 
"Cybersecurity was going to benefit no matter who won," said Wedbush Securities analyst Steve Koenig by phone. "They could benefit from any federal programs that would involve upping federal spending in security." 
For instance, the government is a customer of FireEye (FEYE) - Get FireEye, Inc. Report , he said, adding that Proofpoint (PFPT) - Get Proofpoint, Inc. Report is among the best-positioned in the sector thanks to its strong technology for email security, Koenig explained. Republican National Committee, for example, is Proofpoint's customer. 
Meanwhile, market volatility will lead to valuation compression and the tech sector could expect to see changes in M&A, Morningstar's Nelson said. 
For instance, the proposed tie-up for AT&T (T) - Get AT&T Inc. Report and Time Warner (TWX) is likely to experience even greater scrutiny under Trump who had publicly criticized the $85 billion merger during the campaign. It remains to be seen how telecom consolidation will pan out now that Republicans are in control.