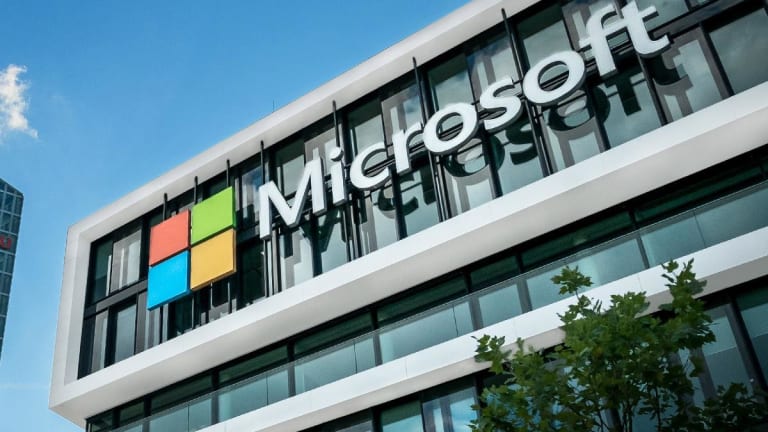 Microsoft Is Providing Massive Shareholder Returns
Microsoft is probably best known as a growth stock, yet its dividend should not be overlooked.
Coming into Microsoft's (MSFT) - Get Free Report Q3 earnings print, its stock was priced for near perfection, trading for approximately 28 times trailing twelve month earnings. To put this into perspective, Microsoft's 10 and 20-year average trailing P/E ratios are 20.2 and 16.6, respectively.
Under CEO, Satya Nadella, Microsoft has undergone an incredible transformation from old-tech laggard to resurgent growth name. Nadella's focus on the cloud has totally revolutionized the sentiment surrounding this stock. When valuations are sky high, it takes a lot to appease the market and Microsoft appears to have done so.
The company beat on both the top and bottom lines, sending shares up 0.5% after hours and rising 1.1% to $138.69 in pre-market trading Thursday. While the company's operational results were certainly impressive, one thing stood out to me above all of the rest: the shareholder returns.
Headline Results 
The Q3 report was headlined by revenues of $33.1 billion, representing year over year growth of 13.7%, operating income of $12.7 billion, representing 27% year over year growth, and net income of $10.7 billion, up 21% year over year. Diluted earnings per share came in at $1.38, which up 21% as well.
"The world's leading companies are choosing our cloud to build their digital capability," wrote Nadella in the quarter's press release. "We are accelerating our innovation across the entire tech stack to deliver new value for customers and investing in large and growing markets with expansive opportunity."
The company broke down its product and service revenues into 14 categories, with nine of them producing double digit growth.
Analysts and investors alike were enamored by Azure's 59% growth, Office 365 commercial's 25% growth, Dynamics 365's 41% growth, LinkedIn's 25% growth, server products and cloud service's 30% growth, and commercial Windows' 26% sales growth. When reading the report, these double-digit growth numbers go on and on.
Shareholder Returns 
It's no wonder that the shares are trading with such elevated multiples attached to them. But, as positive as these figures were, it was the second sentence of the report that caught my eye.
It read, "Microsoft returned $7.9 billion to shareholders in the form of dividends and share repurchases in the first quarter of fiscal year 2020, an increase of 28% compared to the first quarter of fiscal year 2019."
Not only has Nadella's leadership solidified Microsoft's standing as one of the most attractive growth names in the technology space, but now investors can view this company as one of the most generous companies in the world in terms of shareholder returns. 
It's extraordinarily rare that investors are able to have their cake and eat it, too, when it comes to owning a blue chip growth stock that also offers attractive attractive income. Investors interested in locking in attractive yields often think about owning consumer staples, utilities, or real estate investment trusts. They may consider consumer discretionary names or cyclical industrials when hoping to increase their growth potential, but rarely the technology sector.
Simply put, Silicon Valley isn't a place that-income oriented investors typically turn to meet their needs. However, as we move further into the digital age, I suspect that the massive cash flows generated in the technology sector will continue to translate into attractive dividends.
Marching Towards Aristocracy 
Since the turn of the new millennia, we've already witnessed large cap technology names begin to transform the income investing landscape. Companies such as Apple (AAPL) - Get Free Report , Cisco (CSCO) - Get Free Report , Oracle (ORCL) - Get Free Report , and of course, Microsoft, have all began working on impressive annual dividend increase streaks. You won't find many technology names on the current list of dividend aristocrats, but it's only a matter of time before that changes.
Microsoft has increased is annual dividend for 18 consecutive years, meaning that it has less than a decade to go before it reaches the magical 25-year mark of an aristocrat.
To some, Microsoft's current 1.5% dividend yield might not seem like much. It's less than the 1.83% yield that the S&P 500 currently offers. It's also less than the 1.76% yield offered by the U.S. 10-year Treasury. However, the company's five- and ten-year dividend growth rates are 12.1% and 14.1%. Treasury notes don't offer annual dividend increases and the S&P 500's 10-year dividend growth CAGR is less than half of Microsoft's, at roughly 6.5%. Microsoft recently rewarded investors with an 11% dividend increase and the company's strong bottom-line results point towards that double digit annual growth trend continuing.
During Q3, the company also increased its pace of buybacks. Microsoft spent $4.9 billion on buybacks during the third quarter. This was up from $3.7 billion during the quarter ending on Sept 30 a year ago. The $4.9 billion that Microsoft spent on buybacks was also well above the $3.5 billion that it paid in shareholder dividends during Q3. When the company announced its recent dividend increase back in September, it also added $40 billion to the buyback authorization. As net income increases, I wouldn't be surprised to see more and more funds dedicated to the buyback program.
Microsoft has effectively used its repurchase program to reduce its outstanding share count by more than 7% during the past 5 years. Reduced share counts help to ease the burden of a rising dividend on the balance sheet and current cash flows.
Assuming that the company does continue to reward investors with double digit annual dividend increases, it won't take long for the compounding process associated with double digit annual dividend increases to outpace much of the competition, generating significant yields on cost for investors buying shares today. This dividend growth, alongside of Microsoft's increased pace of buybacks, is yet another reason to consider owning this stock.
Save 57% during our Halloween Sale. Don't let this market haunt you; join Jim Cramer's Investment Club, Action Alerts PLUS. Click here to sign up!
Microsoft, Amazon and Cisco are holdings in Jim Cramer'sAction Alerts PLUS Charitable Trust Portfolio. Want to be alerted before Cramer buys or sells these stocks? Learn more now.
Nicholas Ward is long MSFT.