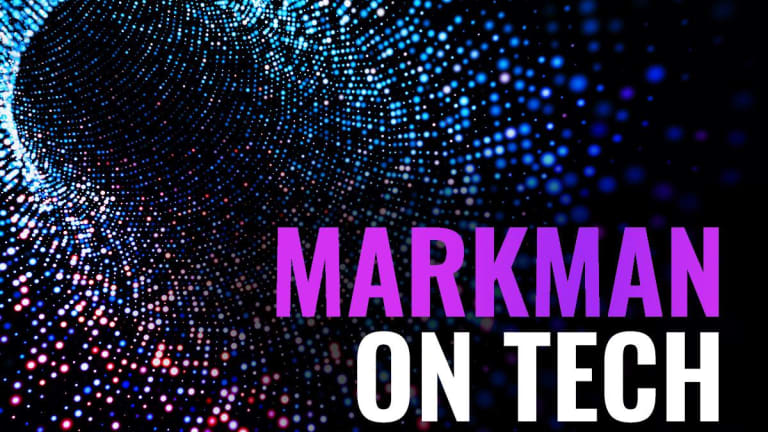 Microsoft, JCI and the UAE: The Internet of Things Blossoms in the Desert
Big glass box buildings have become common across the world's cityscapes. But they can be energy gluttons. Enter Microsoft and Johnson Controls for IoT software, switches and controls in a venture with a UAE recycling and waste-management company.
The sand dunes of Sharjah, United Arab Emirates, might seem like a strange choice for the future of smart, sustainable buildings.
But Bee'ah, a United Arab Emirates recycling and waste-management company, in April announced a huge development deal with Microsoft (MSFT) and Johnson Controls  (JCI) for internet-of-things software and switches and controls.
It's the start of a big, new business. And it's hiding in plain sight.
Big glass box buildings have become common across the world's cityscapes. They're easier to build, use considerably less concrete, and construction costs are more predictable. But despite better glass coatings and manufacturing techniques, the finished products can be energy gluttons.
Microsoft in 2018 said it would invest $5 billion over four years in this business. Product managers and software engineers at the Redmond, Wash., company began to build integrated operating systems for devices, cloud services to keep these systems secure, and advanced analytics so end users could gain insights.
Today, Microsoft's IoT platform lives inside its Azure Cloud computing platform. And the business is growing rapidly as manufacturers and partners begin to use IoT to solve problems.
In Nigeria, Schneider Electric (SBGSY) built a system to harness solar energy to power remote clinics and schools. Engineers monitor the system remotely and even perform preventative maintenance based on notifications for the Azure IoT cloud.
The joint venture of Schneider, the U.K. Department for International Development and government in Lagos will expand to 270 schools and benefit 190,000 students and 4.7 million patients in 2020.
The UAE project is smaller in scale but equally innovative.
The Bee'ah headquarters building looks like something out of the film Blade Runner. The Zaha Hadid Architects structure is inspired by the sand dunes of its home city, Sharjah. Aesthetically, the 75,000-square-foot building is a sleek, curvaceous architectural masterpiece.
And the project was designed to be the most sustainable in the world. The rooftop incorporates photovoltaic cells married to 1,890 kWh Tesla (TSLA) battery systems. Incorporated are state-of-the-art water-saving and recycling technologies, natural lighting, passive heating and cooling systems, and even a wind turbine.
All these systems are controlled by the Azure IoT cloud.
Microsoft engineers built a platform that enables developers to build a digital representation of the structure, taking into account all its fire, security and HVAC systems.
This digital twin can be endlessly modeled and tweaked in countless computer simulations, then applied to the actual building systems to maximize efficiency.
A.T. Kearney, the Chicago management consultant, predicts the IoT will lead to a $1.9 trillion productivity increase and $177 billion in reduced costs by 2020.
The cost savings is creating a vibrant new market for Microsoft's Azure cloud.
Microsoft shares trade at 26.6 times forward earnings and 8.5m times sales. The stock is up 34% in 2019. With a market capitalization of $1 trillion, Microsoft is the most valuable public company.
The stock is not inexpensive but most of the opportunity is still ahead. It's a buy for growth investors on pullbacks.
*
To learn more about Jon Markman's recommendations at the crossroads of culture and technology, check out his daily investment newsletter Strategic Advantage. To learn about Markman's practical research in the short-term timing of market indexes and commodities, check out his daily newsletter Invariant Futures.
The author owns shares in Microsoft.