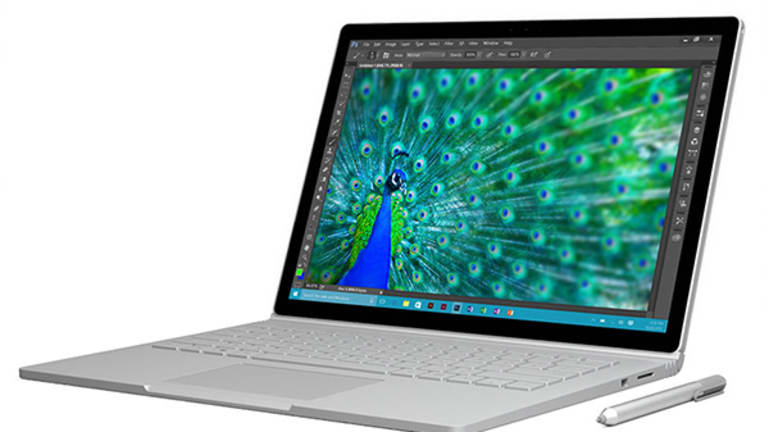 Microsoft Is Making a Play for Apple's Core Customers With Its New Devices
The software giant unveiled some new hardware and software Wednesday as it attempts to get consumers to rethink what PCs are capable of. Apple should take notice.
If last week's Microsoft (MSFT) - Get Microsoft Corporation Reportearnings report highlighted how well many of the company's less flashy enterprise businesses are faring, Wednesday's New York City event was about providing a jolt to a part of Microsoft's business that receives an outsized amount of media attention, and where the company's offerings have frequently been dismissed as dull or simply irrelevant in a mobile-centric world.
There's a lot within the PC hardware and software announcements made at the event for creative professionals -- and perhaps also many consumers -- to be intrigued by, and for Apple (AAPL) - Get Apple Inc. Reportto take notice of as it gets set to unveil (according to many reports) new MacBooks at its own event on Thursday. But the most important announcements, the ones that could impact tens of millions of PC users rather than just a tiny percentage of them, aren't the ones getting the most hype.
The largest of these announcements, arguably, is Microsoft's unveiling of a "Creators Update" for Windows 10 that will arrive next spring. The update brings an updated version of Microsoft's age-old Paint app that supports 3D content creation, including via the company's Surface Pen stylus. In addition, new versions of PowerPoint will support the design and importing of 3D objects, mobile apps will let users quickly create 3D scans of objects viewed by a phone's camera and a Microsoft site called Remix3D.com (integrated with Paint) will let users share and download 3D objects.
The Creators Update also gives gamers the ability to quickly broadcast, watch and interact with Xbox game streams; here, Microsoft is taking on Amazon's (AMZN) - Get Amazon.com, Inc. Report popular Twitch gamestreaming platform, as well as Alphabet's (GOOGL) - Get Alphabet Inc. Class A Report YouTube. New communications tools are also included; users can place icons representing their most important contacts on a Windows taskbar, and quickly send a message or share files after clicking on an icon.
Meanwhile, Microsoft's HoloLens augmented reality (AR) headset will -- with the help of the company's Edge browser -- be able to download 3D objects that can be placed within a virtual world or superimposed on top of a user's real-world view. And Dell, HP Inc. (HPQ) - Get HP Inc. Report , Lenovo and other hardware partners will be launching virtual reality (VR) headsets running on the Windows Holographic software platform powering HoloLens. Microsoft promises some of these headsets will cost just $299, undercutting Facebook's (FB) - Get Meta Platforms Inc. Class A Report $599 Oculus Rift and HTC's $799 Vive.
Apple, Alphabet and Facebook are holdings in Jim Cramer's Action Alerts PLUS Charitable Trust Portfolio. Want to be alerted before Cramer buys or sells AAPL, GOOGL, or FB? Learn more now.
Perhaps the second-biggest announcement was the unveiling of the Surface Dial, a $99 hockey puck-like wireless device that complements a mouse and can handle a number of different functions on Surface PCs. Among other things, the Dial can be used to quickly adjust app settings, scroll and zoom within documents and images, and be placed on a touchscreen to bring up a software menu that surrounds the device and can be controlled by rotating or clicking it. More features will doubtlessly roll out as developers get their hands on the device.
Then there are the new Surface PCs. A new version of Microsoft's Surface Book touchscreen notebook -- the original model launched last year -- features a more powerful CPU and GPU and a nicer display, and promises 16 hours of battery life. And Surface Studio, an all-in-one desktop rumored to be in the pipeline -- sports a 28-inch high-resolution touchscreen and a zero-gravity hinge that lets stylus users slide the system down to a desk's surface at a 20-degree angle.
Neither product is cheap: The new Surface Book starts at $2,399, and the Surface Studio at $2,999. Both are clearly aimed at professionals more than everyday consumers. However, some of Microsoft's OEM partners might just take inspiration from the products to launch similar, cheaper Windows PCs.
The biggest takeaway from all these announcements is how Microsoft is using hardware technologies -- touchscreens, AR and VR headsets, Surface Dial and smartphone-based 3D scanning -- to give consumers and professionals a fresh vision of what Windows PCs are capable of, ideally breathing new life into a moribund PC market.
Many of the apps and features enabled by these technologies will only appeal to a subset of PC users -- not everyone will be into creating 3D content, photo/video-editing or AR/VR, for instance. But collectively, they could lead some users who mostly rely on PCs for web browsing, productivity apps and occasional video-viewing, and thus see little need to upgrade, to rethink what they see PCs as useful for.
The other big takeaway is that Microsoft seems to be gunning for the very customers -- creative professionals and relatively affluent younger consumers -- that form the heart of Apple's Mac user base. Given how loyal many of these customers are to the Mac, many of them will be tough sells. But one can't deny that Microsoft has thought outside the box about how to win them over, and come up with some interesting ways to differentiate its products.
Whereas Apple still eschews using touchscreens within its Mac lineup -- the MacBook Pro models expected to be unveiled tomorrow reportedly feature an OLED touch strip that replaces traditional function keys, but their main displays remain non-touch -- Microsoft is embracing touch PCs in a big way, and showing PC touchscreens can be used for more than just taking notes. And while Apple has signaled the AR and VR markets are areas of interest, it hasn't launched any headsets yet. Nor has it shown off anything similar to the Surface Dial.
It wouldn't be correct to say Apple is standing still, but it does now feel as if Microsoft is pushing the envelope more within the PC market, while Apple, outside of keyboard innovations, is taking a relatively conservative approach. This might not matter much in the near-term -- the new MacBooks will most likely be well-received by Apple's base -- but the story could be different in the long run if the technologies Microsoft is promoting take off.