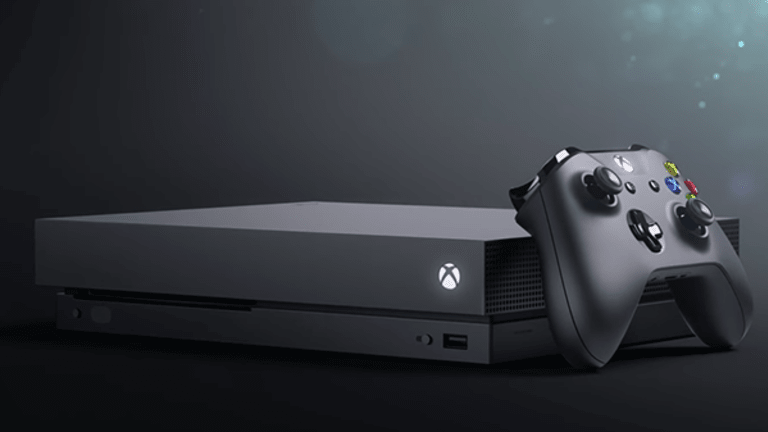 Microsoft's New Xbox One X Shows It's Done Trying to Please Everyone
The company's latest console caters squarely to gaming enthusiasts, and is priced accordingly.
This column has been updated from June 12 to note Microsoft has begun taking standard Xbox One X pre-orders, and to mention the addition of Xbox chief Phil Spencer to Microsoft's senior leadership team.
Microsoft Corp.'s (MSFT) Xbox One X console, priced at $499, now available for standard pre-orders and featuring the kind of specs one might normally find on a gaming PC, says a lot about how the software giant has come to accept what its Xbox business is, and what it isn't.
When thinking of the difference between what Microsoft envisioned the Xbox business becoming following the original Xbox's launch in 2001, and where the business stands today, I can't help but see some parallels with the Walt Disney Co.'s (DIS) Epcot theme park.
While hatching plans for it in the 1960s, Walt Disney envisioned Epcot as a futuristic model city. It wasn't meant simply to be a place to entertain tourists, but an ultra-modern, carefully-designed community that would serve as a blueprint for urban planning.
Disney unfortunately died in 1966, before he could bring his Epcot vision to life. Sixteen years after his death, a theme park bearing the Epcot name was launched. And though it's far less ambitious than Disney's original vision, and overshadowed by the neighboring Magic Kingdom, Epcot remains reasonably successful, attracting 11.7 million visitors in 2016.
So it is with Microsoft's Xbox franchise. For much of the 2000s, the company didn't see Xbox merely as a console play, but as the heart of an ambitious effort to dominate home entertainment. For several reasons -- the largest arguably being the continued popularity of Sony Corp.'s  undefined PlayStation consoles, the growing use of mobile apps and games as home entertainment sources and the rise of smart TVs and low-cost streaming devices -- Microsoft never realized its vision.
But that doesn't mean the business qualifies as a failure. Just ask Xbox chief Phil Spencer, who was just added to Microsoft's 16-member senior leadership team.
Microsoft's gaming revenue, which covers hardware sales, game sales and game royalties from Xbox developers, totaled $1.9 billion in the March quarter, and $3.6 billion in the seasonally big December quarter. And though the Xbox One console's cumulative sales appear to be well below the 53 million-plus sales Sony has reported for its PlayStation 4 console, Microsoft is nonetheless believed to have sold more than 25 million of the systems since their late-2013 arrival.
Just as importantly, Microsoft now claims 52 million active users for its Xbox Live platform -- many of whom use it to access streaming services and a portion of whom are subscribed to the $60-per-year Xbox Live Gold service, which supports multi-player gaming. Microsoft has also reported that 3.9 billion hours were spent using Xbox Live last November and December, up 23% annually.
On the other hand, 52 million active users pales in comparison to the 600 million-plus active users Apple Inc. (AAPL) might now have for its hardware (judging by a 2016 estimate). Or the 2 billion-plus Android active users Alphabet Inc./Google (GOOGL) now claims. Or, for that matter, the 500 million-plus active Windows 10 devices (Xbox Ones included) Microsoft said were in existence as of May. It's also equal to about half of Netflix Inc.'s  (NFLX) global subscriber base.
One can argue that these aren't apples-to-apples comparisons (pardon the pun). That Xbox Live targets users of a living room game console, while Netflix is a streaming service and iOS, Android and Windows are mass-market computing platforms meant for a wide variety of consumers. But that's the point. Even just in the realm of digital home entertainment, the Xbox is simply a successful niche platform.
And the Xbox One X's specs and pricing suggest Microsoft has learned to stop worrying and love the niche. At $499, the One X, codenamed Scorpio and due to ship on Nov. 7th, costs $100 more than Sony's PlayStation 4 Pro. Like the PS4 Pro, which launched last fall, the One X targets gaming enthusiasts who want to play titles at 4K resolution on a console, rather than on a gaming PC featuring a high-end Nvidia Corp.  (NVDA) or Advanced Micro Devices Inc. (AMD) GPU.
Jim Cramer and the AAP team hold positions in Apple and Alphabet for their Action Alerts PLUS Charitable Trust Portfolio. Want to be alerted before Cramer buys or sells AAPL or GOOGL? Learn more now.
In return for an extra $100, gamers get a console promised to deliver 6 teraflops (TFLOPs) of GPU performance, through a custom AMD chip that also contains an 8-core, 2.3GHz. CPU. Though trailing the 10-plus TFLOPs delivered by Nvidia's most powerful PC GPUs, that's still over 40% more GPU horsepower than what the PS4 Pro delivers, and over 4 times as much as what's provided by the Xbox One S, which launched last summer and (excluding a one-week promotion) features a $299 starting price.
Notably, whereas the PS4 Pro launch coincided with the launch of Sony's PlayStation VR headset -- it works with both standard PS4 units and the Pro, but delivers a better experience with the latter -- Microsoft made no mention of VR during the One X's unveiling on Sunday at the E3 gaming conference. The company previously signaled that VR content for the One X/Scorpio would arrive in 2018, and that it's looking to support wireless VR headsets for the console (they likely won't be cheap).
This contrasts sharply with Microsoft's VR strategy for the PC -- here, it's working with OEMs such as HP Inc. (HPQ) , Dell Technologies (DVMT) and Lenovo to launch cheap wired VR headsets that work with Windows 10 PCs. With the VR platform space now featuring a ton of competition, and with early VR gaming experiences a mixed bag, Microsoft appears focused on delivering a great high-end VR gaming experience on the Xbox rather than a more compromised mass-market solution.
More and more, it feels like Microsoft is done trying to have the Xbox franchise be everything for everyone. The fact that the company hasn't launched a cheap Xbox set-top for streaming and casual gaming (it was once rumored to be in the pipeline) also fits with this. As does the limited attention it's now giving to the Xbox's Kinect motion sensor, which for a while was embraced by casual-game developers but never used much by more advanced titles.
Considering the payoff that Microsoft is getting for its big investments in fields such as mobile and cloud productivity apps, server software and public cloud services, the Xbox's status as a platform embraced by tens of millions of gamers, rather than many hundreds of millions of consumers, isn't anything for the company to get too bent of shape over. Just as Disney's theme parks business can live with the fact that Epcot didn't live up to Walt Disney's high hopes.