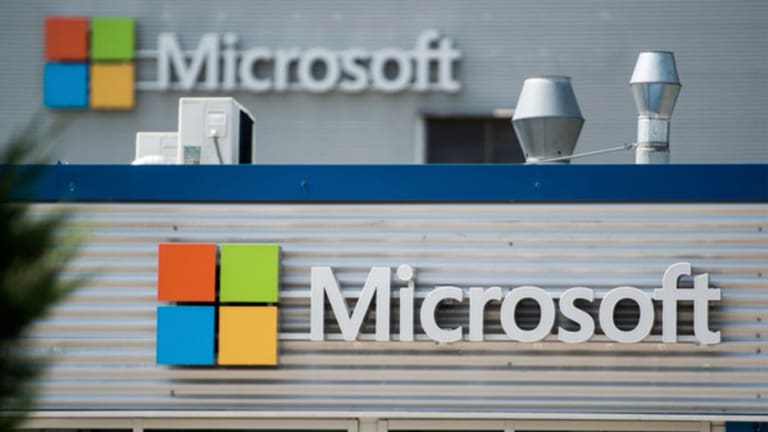 Microsoft Gains by Following Through on its 'Mobile-First, Cloud-First' Vision
The company's Ignite conference provides fresh proof that it's serious about pursuing artificial intelligence and cloud services. The tech world is taking notice.
The company's Ignite conference provides fresh proof that it's serious about pursuing artificial intelligence and cloud services. The tech world is taking notice.
Considering how often Microsoft (MSFT) - Get Report and CEO Satya Nadella have talked up the company's artificial intelligence and cloud services plans since Nadella became CEO in early 2014, it's not surprising those fields have received plenty of attention at this week's Ignite conference for IT pros using Microsoft products.
What is arguably surprising is the aggressiveness of some of the A.I. and cloud projects Microsoft unveiled, and the long list of new partners announced for its offerings.
Project Catapult, a Microsoft initiative to develop programmable chips known as FPGAs to power its A.I. and cloud services, is a prime example of the company going the extra mile to differentiate its services. By using FPGAs instead of either the GPU-based accelerator cards deployed by many cloud peers to handle A.I. workloads or custom ASICs similar to Google's Tensor Processing Unit, Microsoft can quickly reprogram its chips to handle new machine learning algorithms.
Nvidia (NVDA) - Get Report, by far the largest provider of server GPUs for A.I. workloads, can't be thrilled about Project Catapult, even if Microsoft also uses Nvidia's chips. Intel (INTC) - Get Report exec Diane Bryant says Microsoft is the reason her company spent $16.7 billion to buy major FPGA developer Altera. More recently, Intel spent a reported $408 million to acquire A.I. ASIC and software developer Nervana Systems.
Meanwhile, the A.I.-powered services announced by Microsoft for Office 365 and its Dynamics 365 cloud business app suite show a willingness to use machine learning to rethink how employees use age-old products. This is partly made possible by the fact that Microsoft's cloud apps have been built to securely expose data to A.I. services that can act on it.
Examples include using A.I. to offer curated outlines on topics for PowerPoint presentations, and finding and pushing corporate data to Word and Outlook users that could be relevant to an e-mail or document. The pending LinkedIn acquisition should provide a rich new data source for such services.
As for cloud partnerships, while Microsoft has a long track record of announcing them, the volume of deals with tech and corporate giants disclosed at Ignite is worthy of attention. A few of the more notable deals include:
Microsoft also disclosed that its Bot Framework, which was launched earlier this year and lets third parties build apps and services relying on A.I.-powered chatbots, is now supported by more than 45,000 developers. That tops the 34,000 developers supporting Facebook Messenger's bot platform, which also launched this year.
For a company that many mobile and cloud developers were quite cool to not long ago, that developer figure is impressive. The software giant has been backing up its promises to pursue a "mobile-first, cloud-first" vision with concrete actions, and both companies and developers are clearly taking notice.
Shares of Microsoft were up 1.9% to $57.95 on Tuesday, and are up 33% over the last year.