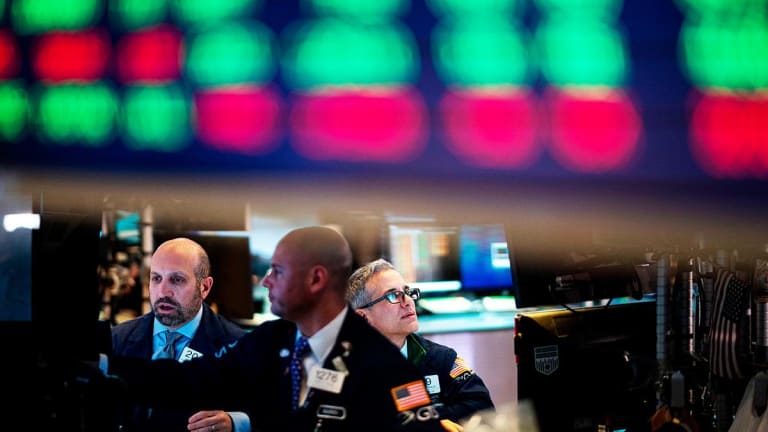 Microsoft, Fed Cuts, Budweiser Sale, Drones & Tiger Woods-5 Things You Must Know
Microsoft rides cloud to record high, Fed officials trigger new rate cut hopes, Budweiser dumps Aussie assets, U.S. Navy down drown and Tiger looks his age at Royal Portrush.
1. -- The New Big Blue
Microsoft (MSFT)  is set to open at a fresh record high Friday, giving the Redmond-Washington-based tech giant a market value of well past $1 trillion, after it posted stronger-than-expected fourth quarter earnings driven largely by its fast-expanding cloud computing business.
Microsoft smashed Wall Street forecasts with a bottom line of $1.37 per share, a 21.2% surge from the same period last year built in part on 21% gain for Cloud computing revenues thanks to its popular Azure product.
"Microsoft under Nadella deserves credit for transforming itself from a firm difficult to partner with and rapacious in competition to one that is still a very tough competitor but also a company that will partner with other vendors if it makes its customers' work lives better, "said Canaccord Genuity analyst Richard Davis.
2. -- About That Cut ...
New York Fed Governor John Williams told a conference in his home city Thursday that rate setters were better off taking "preventative measures than to wait for disaster to unfold" when considering the level of policy support needed for a slowing economy, adding "it pays to act quickly to lower rates at the first sign of economic distress.
Fed Vice President Richard Clarida echoed William's proactive approach, telling Fox Business Network that you "don't have to wait until things get bad to have a dramatic series of rate cuts", a view that rate-traders took as a signal that the Fed could cut its key benchmark rate, which currently sits in the region of 2.25% to 2.5%, by as much as 50 basis points when the Fed meets later this month in Washington.
An NY Fed spokesperson, however, attempted to walk back William's remarks, calling his views "academic" and "not about potential policy actions. Still, the CME Group's FedWatch tool is currently pricing in a 50.4% chance of a 50 basis point rate cut at the end of the month, up from just 23% before the Williams and Clarida comments.
3. -- Raise a Glass 
Less than a week after scrapping the planned IPO of its Asia business on the Hong Kong market, which would have raised around $10 billion in cash for the world's biggest brewing company, Anheuser-Busch InBev (BUD)  said Friday that it's agreed to sell its Australian division for around $11.3 billion.
AB InBev said it will sell Carlton & United Breweries, as well as the right to commercialize the portfolio of AB InBev's global and international brands in Australia, to Japan's Asahi Group Holdings for $A16 billion ($11.3 billion). Most of the sale proceeds, AB InBev said, will be used to whittle-down the company's $100 billion debt pile, much of which was added during the 2016 acquisition of rival SAB Miller.
4. -- Drone Downing
Global oil prices jumped higher in early European trading Friday, reversing some of this week's sharp declines, after the U.S. Navy said it shot down an Iranian drone that was threatening an American vessel in the Strait of Hormuz, a busy shipping area that separates Iran from the Gulf states and carries nearly a fifth of global oil deliveries each year.
President Donald Trump said the drone incident was the "latest of many provocative and hostile actions by Iran against vessels operating in international waters", adding that "the United States reserves the right to defend our personnel, facilities and interests."
Brent crude contracts for September delivery, the global benchmark, were seen $1.01 higher from their Thursday close and changing hands at $62.94 per barrel in early European trading while WTI contracts for August, which are more tightly linked to U.S. gas prices, were marked 68 cents higher at $55.98 per barrel.
5. -- Tiger Clubbed
Extending his unbeaten record into a fifth consecutive century, Father Time gripped Masters winner Tiger Woods with both hands Thursday, firmly guiding the 43-year old Masters champion to an opening round 78 at the 148th Open Championships that likely ends his hopes of another major win in his renewed quest to challenge Jack Nicklaus's place in golfing history.
"I'm not 24 anymore," Tiger told reporters after his worst opening-round score ever at an Open Championships. "Life changes, life moves on. I have to be realistic about my expectations and hopefully peaking at the right time. I peaked at Augusta well, and hopefully I can peak a few more times this year."
American JB Holmes leads the pack into day two at Northern Ireland's Royal Portrush, following his 3 under par opening round Thursday, with countryman Brooks Koepka, who has won four of the past ten major championships, hot on his heels as play gets underway on the North Atlantic coast.