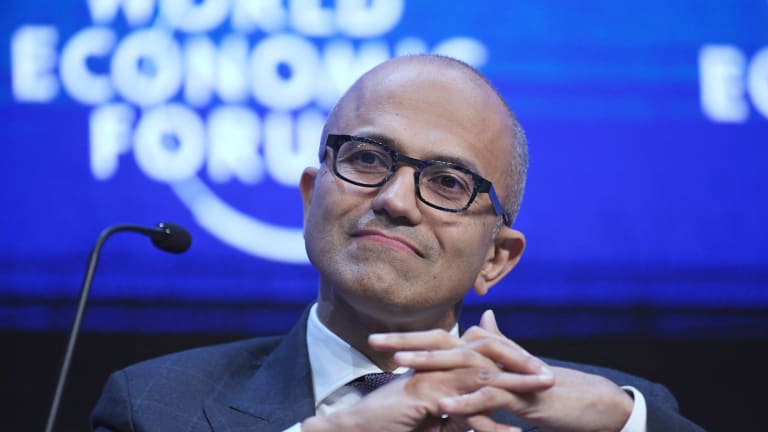 3 Key Takeaways From Microsoft's Stellar Earnings Report
The software giant appears to be firing on almost all cylinders.
It was a banner day for megacap tech stocks on Friday, and one of the companies leading the charge was software giant Microsoft Inc.  (MSFT) - Get Microsoft Corporation Report .
After the close on Thursday, Microsoft reported fiscal first quarter revenue of $24.54 billion (up 12%) and GAAP EPS of $0.84, topping consensus estimates of $23.52 billion and $0.71. And with the caveat that the company has been guiding conservatively for a while, it forecast fiscal Q2 revenue of $27.8 billion to $28.6 billion, in-line with a $28.1 billion consensus.
In response, shares rose 6.4% to an all-time closing high of $83.81 on Friday, and are now up almost 27% for the year.
Here are key takeaways from Microsoft's report:
1. The Windows and Office cash cows remain quite healthy -- especially Office.
In spite of a sluggish PC market, Microsoft's Windows OEM licensing revenue grew 4% and its revenue from Windows commercial sales and cloud services grew 7%. That compares with 1% and 8% growth, respectively, in the June quarter.
Meanwhile, Office commercial and consumer revenue grew 10% and 12%, respectively, after registering 5% and 13% growth in the June quarter. Office 365 commercial seats grew 32% annually, and Office 365 consumer subscriptions grew by one million sequentially and four million annually to 28 million.
It's been clear for several quarters that Office 365 isn't merely replacing traditional Office license revenue, but growing the amount of long-term revenue Microsoft gets from Office customers. Still, the pick-up seen in commercial growth last quarter is pretty encouraging, and says a lot about how the steady addition of new apps and services to corporate 365 plans is leading businesses to up their Office-related spending (there are some parallels here with what Adobe (ADBE) - Get Adobe Inc. Report is doing with its Creative Cloud suite).
Windows, on the other hand, still isn't likely to produce much growth in the coming quarters. But with the help of a relatively healthy high-end PC market -- it contains higher average license prices and less piracy than the low-end market -- and Microsoft's attempts to monetize its giant Windows base via services such as Windows Store transactions and OneDrive subscriptions, there's a good chance total Windows revenue growth can keep outpacing PC shipment growth.
2. For now, the server/cloud business is having its cake and eating it, too.
Microsoft's total "server products and cloud services" revenue, which covers server software and the Azure cloud platform, grew 17% annually. That's soundly above the June quarter's 12% growth rate.
Azure, which posted 90% revenue growth, had much to do with this. But the company also managed to see revenue from on-premise server software rise 2% ahead of an anticipated October launch for the latest version of its SQL Server database (SQL Server 2017). That makes for quite the contrast with the on-premise license revenue declines seen by many old-guard enterprise software peers.
One interesting detail here: While the growth rate for total server/cloud revenue rose by five percentage points, Azure's growth slowed to 90% from 97%, and server product growth stayed at 2%. That suggests Azure accounted for a meaningfully higher portion of server/cloud revenue than it did in the June quarter. Unfortunately, unlike Amazon Inc. (AMZN) - Get Amazon.com, Inc. Report with AWS, Microsoft still doesn't break out just how much revenue it gets from Azure.
3. Spending is ticking higher, but so are margins.
After seeing operating expense growth held in check the last couple of years by job cuts (many of them hitting Microsoft's phone operations), the company now forecasts operating expenditures will grow 4% to 5% in fiscal 2018 (ends in June 2018), even after backing out the LinkedIn acquisition. After trying to streamline the business during the first couple years of the Satya Nadella era, it looks as if Microsoft is once more comfortable with growing headcount.
At the same time, Microsoft is now forecasting its operating margin (excluding LinkedIn) to rise in fiscal 2018, after previously guiding for a small decline. A better-than-expected gross margin is helping out here. The company had previously guided gross margins -- pressured lately by the shift in Microsoft's sales mix from software licenses to cloud subscriptions -- to be down one percentage point in fiscal 2018, but now expects to do a little better with the help of cloud margin improvements.
More of What's Trending on TheStreet:
Editors' pick: Originally published Oct. 28.