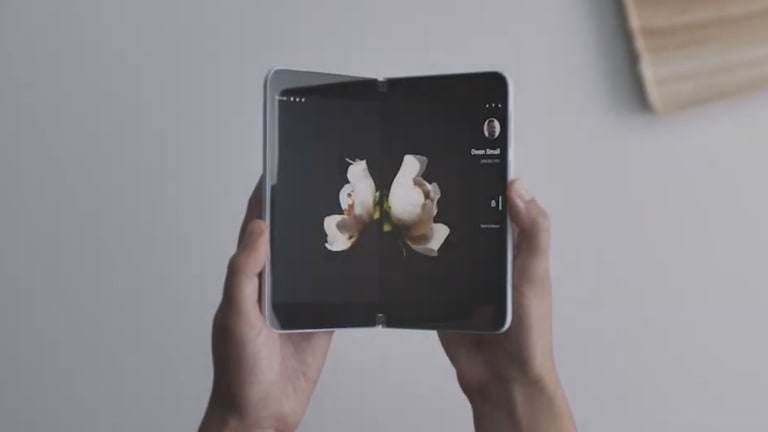 Here's Why Microsoft's New Dual-Screen Smartphone Will Probably Fail
Observers marveled at Wednesday's surprise unveiling by Microsoft of an Android-based smartphone with two hinged screens, the Surface Duo. Make no mistake though -- the gadget is a retread in a fraught product category for the software giant.
Microsoft (MSFT) - Get Free Report has had an unrelenting history of failure in the mobile computing market, with the exception of laptops. So what could possibly go wrong as the company returns to the smartphone market with the announcement Wednesday of the "Surface Duo"?
The dual-screen, folding phone-like device has all the makings of a major failure. 
The Duo, made of two hinged displays each measuring 5.6 inches on the diagonal, was the surprise unveil during a media event held by Microsoft in New York on Wednesday morning. Microsoft shares declined 1% on Wednesday on a day when the overall market fell a significant amount; the tech giant also unveiled a larger dual-screen folding device, this one a Windows-based model of the Surface line of tablet computers dubbed the "Neo (a Microsoft blog post outlines the various Surface models that were announced). Shares were up 1% on Thursday at a recent $136.35. 
Longtime mobile market observers have reason to be skeptical of the Duo.
"Microsoft has done nothing but fail in smartphones for the past two decades, and this latest device does little to change that," said Neil Mawston, executive director with mobile technology analysis firm Strategy Analytics, in an email exchange with TheStreet. 
"The Duo [will have] very high pricing, and questionable hardware design," he said.
Microsoft did not give pricing for the device, which won't be released until the 2020 holiday season, but Mawston estimated the Duo will retail for around $2,000, a price that, if true, would place the handheld in the "ultra-premium" market of mobiles.
But there are abundant historical and practical reasons to expect failure from the Duo.
On the practical side, the entire gadget press seems to have forgotten the concept of "vaporware," stuff that is announced and then doesn't ship. Microsoft perfected the phenomenon over decades, promising things that it didn't always deliver. 
Moreover, reporters on the scene, such as Engadget's Devindra Hardawar, barely got to use the thing. Hardawar was only allowed to hold the Neo for 30 seconds, and was not even allowed to turn the device on. Even when Steve Jobs unveiled the first iPhone, in January of 2007, it was only six months before the thing went on sale, not a full year. And journalists at the time at least got a glimpse of the iPhone's then-incomplete software. The Microsoft event was a new low in placeholder unveilings. 
Two disturbing things are clear, then: None of the gadget press can give the world a concrete feel for how the Duo actually feels to use; and, two, Microsoft is hoping that unknown doesn't prevent developers from writing apps in the next year in order to prime the pump for Duo. 
The latter is the more serious issue. Developers don't write apps for a speculative platform. They commit once they see users adopting a device or platform in large-enough numbers to make the investment of energy and time worthwhile. Hence, Microsoft will have a very difficult time getting any developers interested in Duo during a year in which the device is not in anyone's hands. 
Meantime, just as concerning, Microsoft's hardware approach looks like a bad choice. The category of dual-screen smartphones, said Mawston, has generally been a failure. 
"Two-screen smartphones have never taken off in the past," he said. "Kyocera, NEC, ZTE and others have launched several dual-screen smartphones in the last decade and every one has flopped," noted Mawston.
As Mawston sees it, "consumers prefer one large continuous screen to two smaller separate screens." Mawston was drawing a distinction between the two hinged screens in this case, and the alternative approach of Samsung's (SSNLF) and others, who have made devices with a single glass substrate that bends, as is the case in Samsung's "Galaxy Fold."
From an historical standpoint, Microsoft has a glorious history of bad moves in the mobile market. Before the iPhone, Microsoft, under then-CEO Steve Ballmer, was shipping poorly conceived Windows user interfaces on the tiny screens of the previous generation of mobile devices, a kludge that was all but unusable. 
Microsoft then botched its acquisition of mobile phone giant Nokia, in 2013, a move that didn't prevent the decline of its mobile phone business, and may have even worsened it by forestalling better options for the business at the time.
Microsoft later wrote down the investment in Nokia, laying off 18,000 employees in July of 2014, and taking a $1.1 billion charge under current CEO Satya Nadella, followed by another 7,800 layoffs in 2015, and an even bigger $7.6 billion charge, before finally selling the mobile phone business to IH Mobile, a unit of China's Foxconn. And Microsoft subsequently shuttered its mobile operating system effort. 
In other words, mobile has been catastrophically bad for Microsoft, usually because the company has been late to the game, very late, and has offered a confusing mix of the same old ideas in a new guise -- trying to shove the desktop onto a handset -- combined with some copy-cat efforts to emulate successful ideas. 
As Jobs might say if he were still alive, Microsoft is always skating to where the puck is or has been, in mobile, rather than where it will be. 
To be sure, so much has gone right under Nadella's tenure that it is tempting to hope mobile can be different this time around for Redmond. Microsoft is one of the kings of cloud computing, the messaging to Wall Street by chief financial officer Amy Hood has been flawless and the company has sidestepped the regulatory and public relations debacles that have hit every one of its mega-cap peers in the last few years. 
But mobile is different. As history has shown, mobile is not in Microsoft's DNA. That's why the Surface Duo will likely be another failure for Microsoft in the history books. 
Save 57% During Our Fall Sale. Join Jim Cramer's Action Alerts PLUS investment club to become a smarter investor. Click here to sign up and save!
Microsoft is a holding in Jim Cramer'sAction Alerts PLUS Charitable Trust Portfolio. Want to be alerted before Cramer buys or sells MSFT? Learn more now.
Tiernan Ray neither trades nor owns any shares of any companies mentioned in this article.