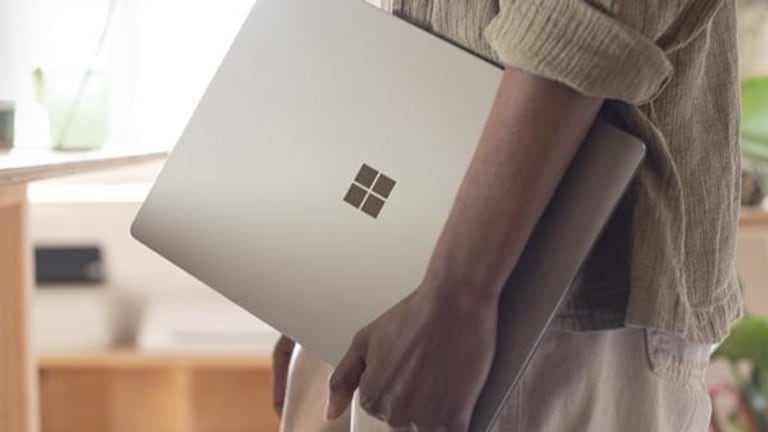 Here Comes Another Microsoft Overhaul
Microsoft is looking at a cloud-first strategy.
Microsoft Corp. (MSFT) - Get Free Report will be unveiling a business reorganization plan July 5 that will shift the company to a cloud-first organization, the subscription-based Puget Sound Business Journal reported Friday. 
Microsoft's Azure cloud services business has been able to increase public cloud adoption rates to 34% among enterprises from 20% last year. Amazon.com Inc.'s (AMZN) - Get Free Report Amazon Web Services cloud business remains the industries top player, however, reporting $3.7 billion revenue in 2016, which was more than the next five competitors combined. 
Microsoft shares were up 1.1% in morning trading on Friday. 
The tech giant has slashed more than 4% of its workforce as CEO Satya Nadella has worked to restructure the company. 
What's Hot On TheStreet
Get ready Tesla fanboys: Tesla Inc. (TSLA) - Get Free Report CEO Elon Musk said Friday there would be "news on Sunday" about the company's much anticipated Model 3. While that's all fine and good, what Musk won't tell people is how his electric car company may be speeding toward a monopoly.
Tesla's master plan may hold the key for saving the future of the auto industry, a Moody's Analystics researcher told TheStreet.
With the advance of self-driving vehicles, Tony Hughes, managing director at Moody's Analytics, argued it is not the cars themselves that could lead to the decline in the automotive industry but ride-sharing services like Uber or Lyft. The plan CEO Elon Musk has laid out to create a fleet of self-driving Tesla vehicles for ride-sharing purposes could be the way to save automakers from a demise.
A VIP gives his market outlook: Nobel Prize winning-economist Robert Shiller told TheStreet's Anders Keitz that U.S. equities markets are "quite high" currently but may go even higher in coming months, and that's why he's not exiting the market completely. Indeed there's another thing that could have an unpredictable effect on the market Shiller explains: The narrative around Donald Trump.
"Short-run forecasting of the market is very hard," said Shiller. "I think it's a time for caution, but it could go up substantially."
Apple iPhone 8 pictures leak: Apple's (AAPL) - Get Free Report iPhone 8 looks kind of cool. That is if yet another photo leak is to be believed. Noted Apple information leaker Benjamin Geskin tweeted photos of an alleged iPhone 8 finished prototype on Thursday evening (head here to see). Suffice it to say, Apple is gearing up for the mother of all product launches. And consumers look ready to respond.
About 92% of iPhone owners say they are "somewhat likely or "extremely likely" to upgrade their smartphone in the next 12 months, according to a note from Morgan Stanley. The loyalty rate is up sharply from 86% one year ago.
Nike managed to excite Wall Street: After a major restructuring announcement, Nike (NKE) - Get Free Report was able to boost Wall Street's views on the company's prospects. On an earnings call Thursday evening, Mark Parker, Nike CEO and board chairman, said its pricey new Air VaporMax sneakers drove sales in the quarter and that there will be new styles coming to the brand sometime this summer. There are also "a few more surprises along the way," Parker said.
As TheStreet's Lindsay Rittenhouse reports, Nike also confirmed that it teamed up with Amazon (AMZN) - Get Free Report to sell certain products on the e-commerce conglomerate's site. The company is also selling directly to consumers via Instagram.
Appleis aholding in Jim Cramer'sAction Alerts PLUS Charitable Trust Portfolio.Want to be alerted before Cramer buys or sells AAPL? Learn more now.
Visit here for the latest business headlines.
Read More Trending Articles:
Here's Why Amazon Could Feast on the Remaining Carcass of Rite Aid After Failed Walgreens Merger
Nike Officially Arrives on Amazon, but Then Adidas' Stock Does Something Bizarre
Walgreens Punches One of Its Biggest Rivals in the Face With This Surprising New Deal