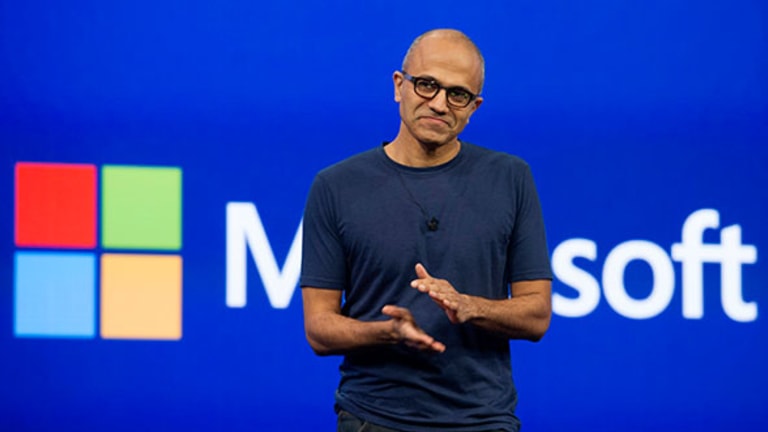 Microsoft Just Made a Slew of Announcements -- Here Are the 5 Most Important
The tech giant released significant news on Monday about its cloud strategy, integration with LinkedIn and changes to Windows/Office.
Microsoft Inc. (MSFT) - Get Free Report kicked off its big Ignite conference in Orlando on Monday, an event focused on products and services catering to the enterprise community that runs through Friday. 
The tech giant made a slew of announcements tied to its key IT products, including Azure cloud, Office, Skype and Windows. Microsoft also surprised attendees with some major news about quantum computing -- a field that's quickly becoming a hot emerging technology among Silicon Valley giants.
In addition, Microsoft CEO Satya Nadella held a keynote address where he talked about how businesses are using the company's HoloLens virtual reality headset to collaborate on projects. In one case, he pointed to how Ford (F) - Get Free Report uses HoloLens to view virtual versions of car models, instead of constructing the usual 5,000-pound clay models. 
Shares of Microsoft were sliding 0.1% to $73.13 on Tuesday afternoon after falling roughly 0.2% on Monday. The stock has climbed over 17% so far this year, however.
Here are the most significant things the software giant announced:
1. Microsoft is going all-in on the cloud wars. 
Several of Microsoft's long-discussed cloud services are finally available to enterprises. Azure Stack, Microsoft's hybrid cloud system, was first announced in 2015, but only started shipping in July. Now, Azure Stack should be in use at some enterprises. 
Azure Stack is expected to be a big growth driver for Microsoft in its ongoing war to win the enterprise cloud market. The system works by combining an on-premises cloud computing system (also known as a private cloud) with Microsoft's Azure public cloud services. It's a cloud architecture that's preferred by a lot of organizations such as government entities and financial institutions that want to store sensitive data in the cloud, but not necessarily on a public cloud.
"That is a big, big deal for Microsoft and it's the future of cloud computing," said Patrick Moorhead, president of Moor Insights & Strategy. "This whole notion of being able to have two separate environments, but still connected when you need it, is big because it's really the data center trend." 
Microsoft is still trying to catch up to Amazon.com Inc.'s (AMZN) - Get Free Report lead in the public cloud with Amazon Web Services, but it's quickly pulling ahead of rivals such as IBM Corp. (IBM) - Get Free Report and Salesforce.com Inc. (CRM) - Get Free Report in the enterprise segment with hybrid cloud offerings like Azure Stack.
2. LinkedIn is coming to many key Microsoft programs.
Microsoft's $26 billion acquisition of the professional-oriented social network is starting to pay off. LinkedIn information will now be displayed in Office programs, as well as Microsoft's customer relationship management software product, Dynamics. The feature allows users to easily search and access information about coworkers at an organization. 
According to Moorhead, the move will give Microsoft a big lead over Salesforce, which views user data as the "holy grail." Ironically, Salesforce made its own failed bid to buy LinkedIn and also tried to block Microsoft's transaction by claiming it would give them a monopoly over the customer relationship management market. 
"You can get longer-term information like education, see info they posted on social media -- deeper insights into the person you're trying to meet with," Moorhead explained of the integration.
Don't miss these top stories on TheStreet:
3. Windows and Office get specialized.
Microsoft is doubling down on its efforts to be the preferred software provider in the enterprise and education sectors by releasing specialized bundles of Windows and Office. Microsoft 365 F1 caters to first-line workers who are usually the first employees to deal with customers, like customer service representatives. It's a package of software that includes Office 365, Windows 10 and Microsoft's Enterprise Mobility and Security suite, as well as StaffHub, an app that lets employees manage shifts remotely, among other things. 
The company also released Microsoft 365 for educators that inclueds Office 365, Windows 10, Enterprise Mobility and Security, as well as Minecraft: Education Edition. The announcement builds on their previously announced Windows S operating system, which comes with security and software tailored for educators.
4. Microsoft Teams might be replacing Skype for Business.
Microsoft's workplace chat app and Slack competitor, Microsoft Teams, is being integrated into Office 365. Teams will replace the Skype for Business plugin in Office 365, which marks a major transition for Microsoft, since Skype has been its flagship messaging app for a long time. 
The company did say that it intends to release an updated Skype infrastructure next year that will be targeted to companies that aren't using the cloud and have on-premises data centers. 
5. Microsoft is preparing for the future of quantum computing.
Few people actually understand the applications of quantum computing just yet, but Microsoft seems to be laying the groundwork for a broad vision in the space. The company said it's rolling out a new programming language for quantum computers that developers will be able to play with using Microsoft's simulator and application writing tools. The tools will be available by the end of the year. 
In all, this is more of a long term play that brings Microsoft to parity with its rivals. 
"All these companies have to show something that shows we're on top of this for the next 10 years," Moorhead explained. "IBM and Intel Corp. (INTC) - Get Free Report and even Google (GOOGL) - Get Free Report are showing off quantum computing, so Microsoft has to come out with something lest they risk looking like a laggard."
Don't miss these top stories on TheStreet: